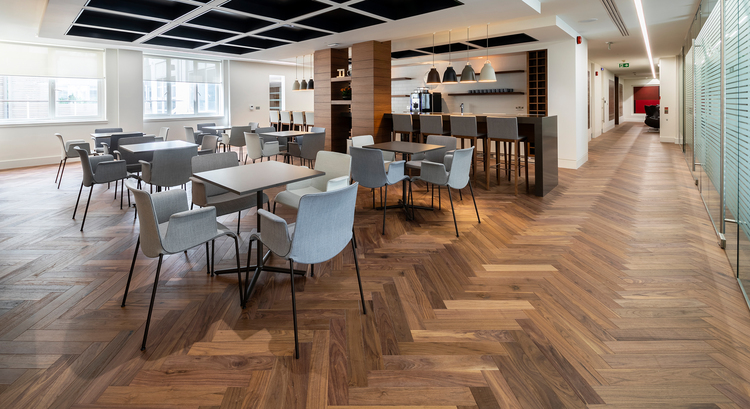 Case studies
CFC Office, Gracechurch Street
Project: CFC Office, Gracechurch Street

Design: Cardo

Location: London
Creating a calm, stylish interior in a corporate office using Domus Wood flooring
Architectural and interior design company Cardo have project-managed the ongoing design and refurbishment of the CFC Underwriting office on Gracechurch Street in the City of London since 2009. Previous floorplans included traditional desk setups and working areas for staff. The objective behind the most recent part of the project using Domus Wood flooring was to create a more comfortable environment for informal meetings and a space for relaxation.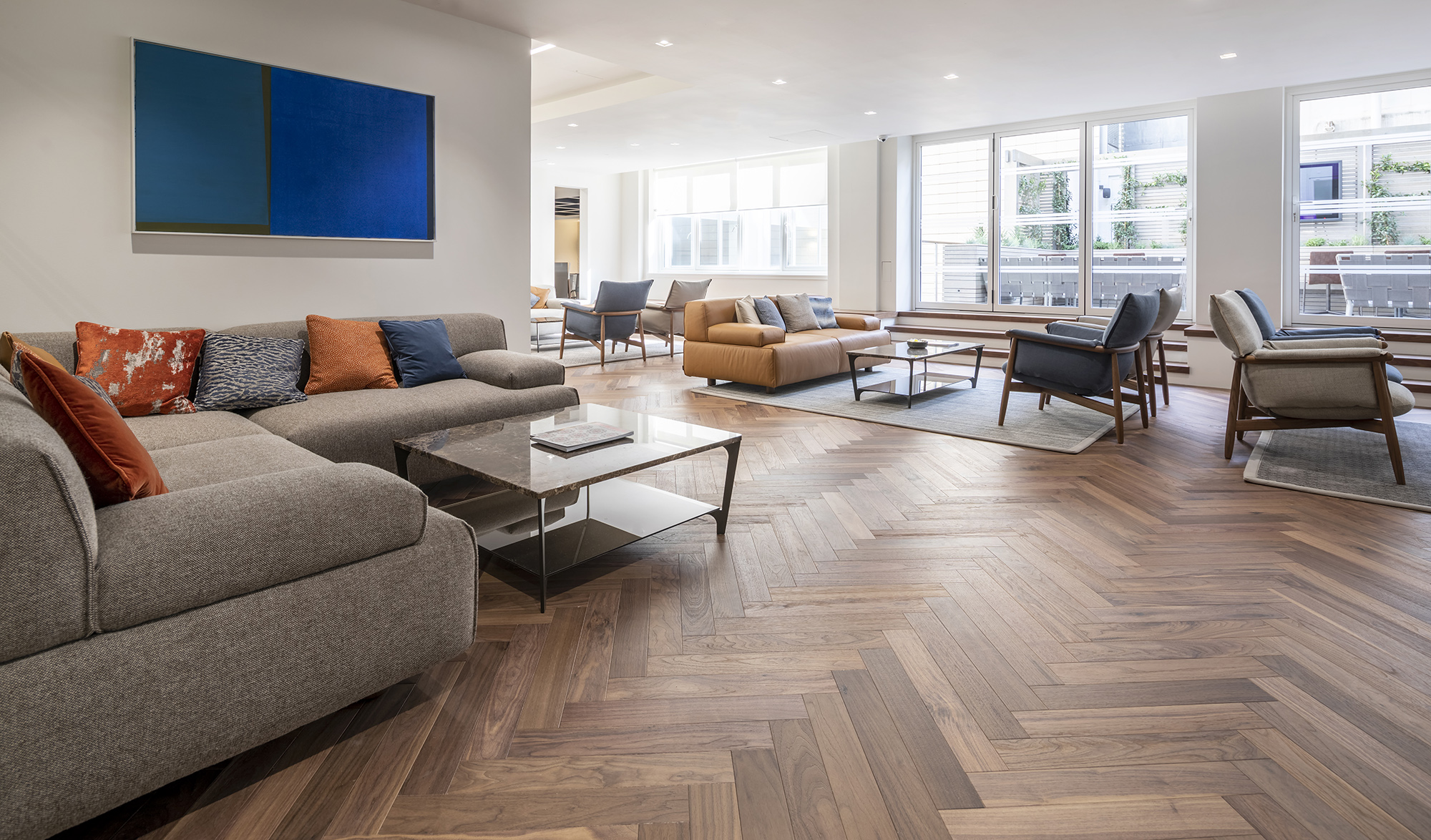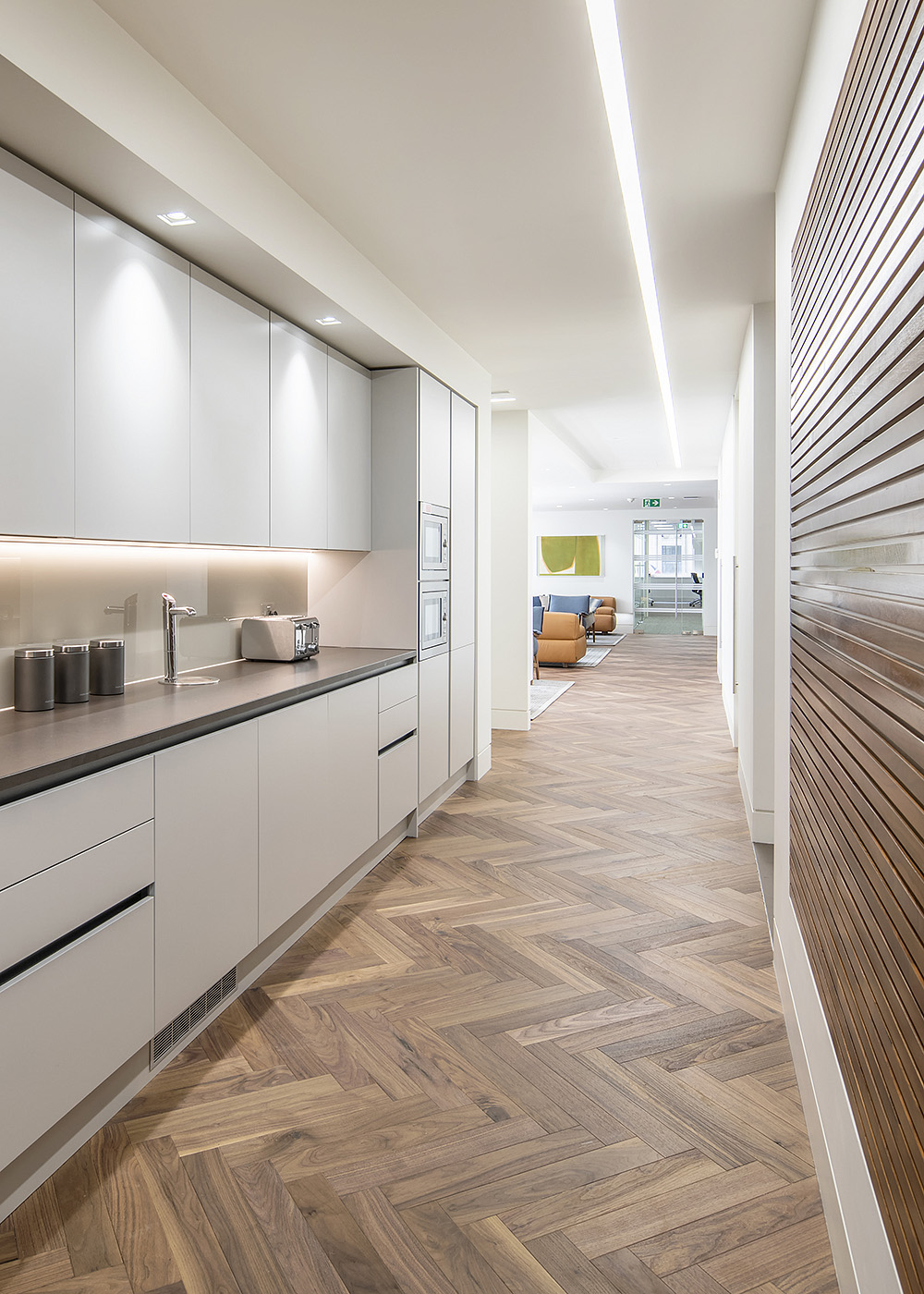 Practicality & maintenance considered, without sacrificing beautiful design
Creating a holistic and functional working environment was paramount to the design and layout. Cardo specified 250 SQM of Domus Engineered Wood Aura Parquet (WDMK 901 Herringbone) throughout the 'recreational space'.
In terms of aesthetics, the tonal variation and characterful swirling grain pattern of the American Walnut (Juglans nigra) enhances the interior with its mix of rich cocoa and coffee tones. At the same time, the herringbone format introduces a striking geometric pattern to the flooring design. Using a matt lacquer finish helps protect the floor from staining and wear from foot traffic in terms of practicality and maintenance.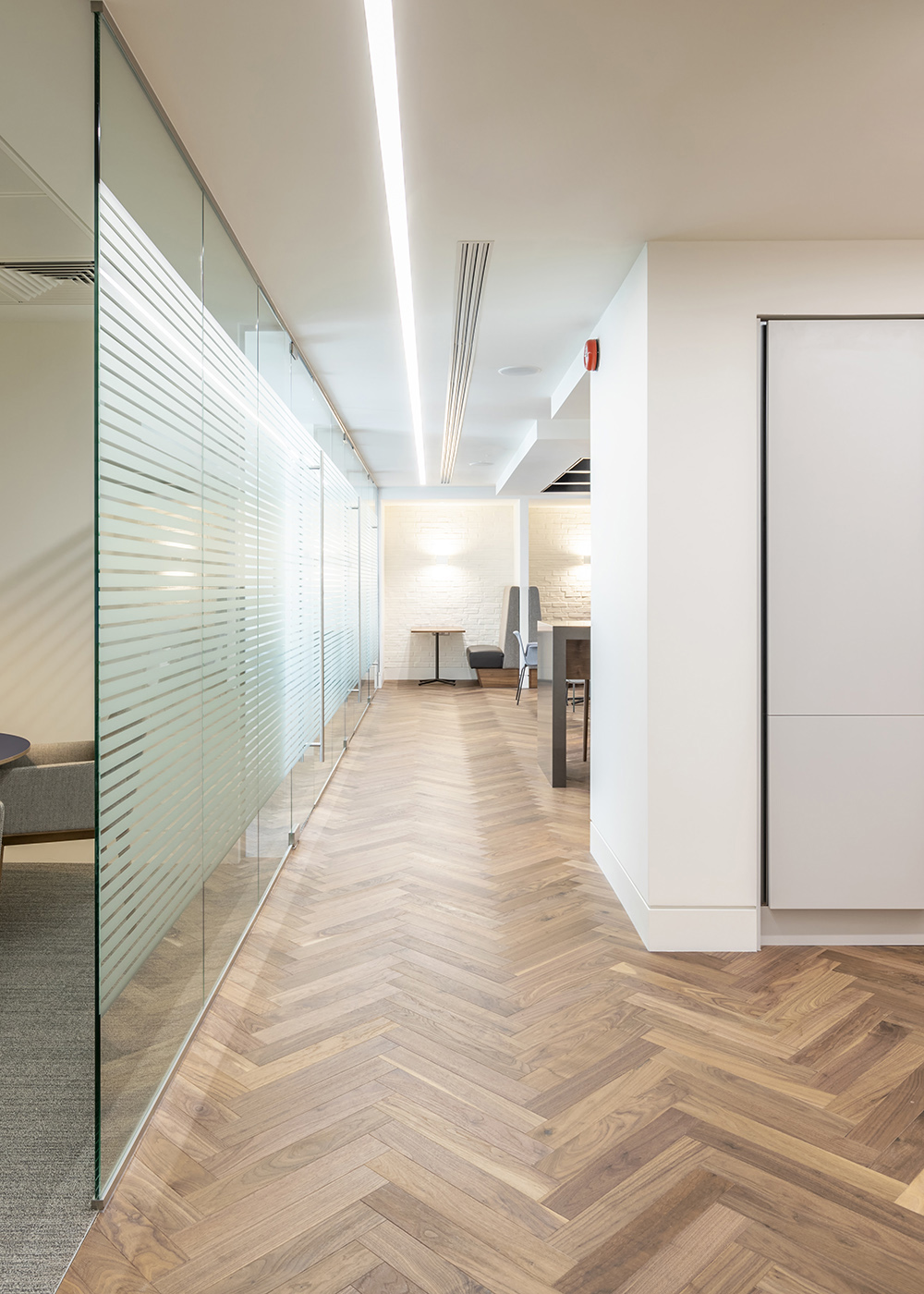 The rich tones of the wood flooring help create a welcoming atmosphere
The space benefits from a high level of natural light that further enhances the look of the wood. Harmonised with clean white walls, the flooring's modern-classic look and rich colouration is an integral design feature within the overall space, offering a stylish contemporary feel to the informal workspace setting. Within the café-style dining area, which includes a kitchen plus a mix of high stool, booth and regular seating, the flooring brings warmth and character next to other 'hard' materials.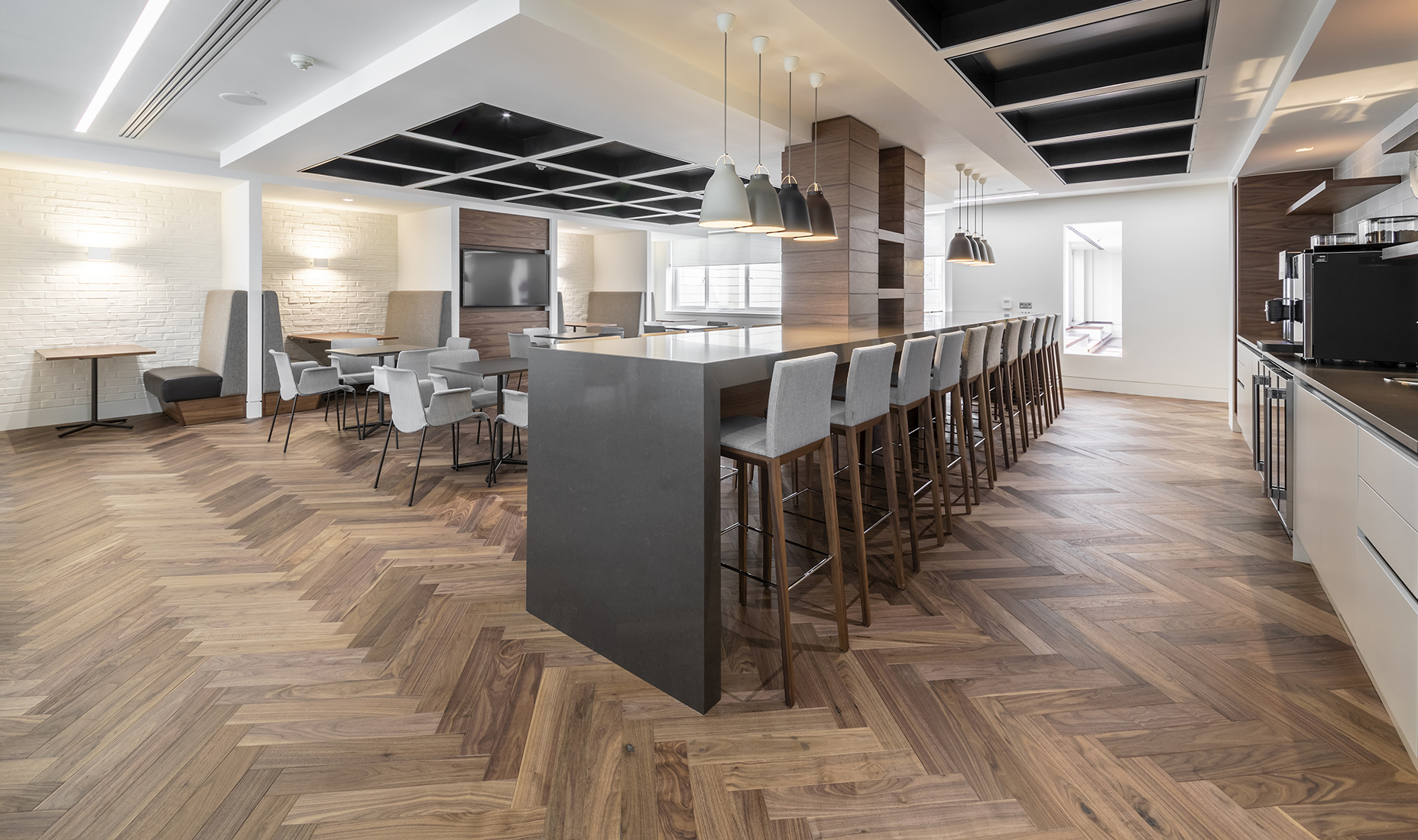 A casual lounge space for employees to unwind
In the lounge-style break out areas, the walnut flooring perfectly complements the modern eclectic mix of mid-century style furniture, including tan leather sofas, fabric upholstered chairs and rich-coloured marble and wood coffee tables. The overall result is a focused series of kitchen, dining and meeting areas offering an open, clean and pragmatic layout, reflecting how the office staff use the space daily.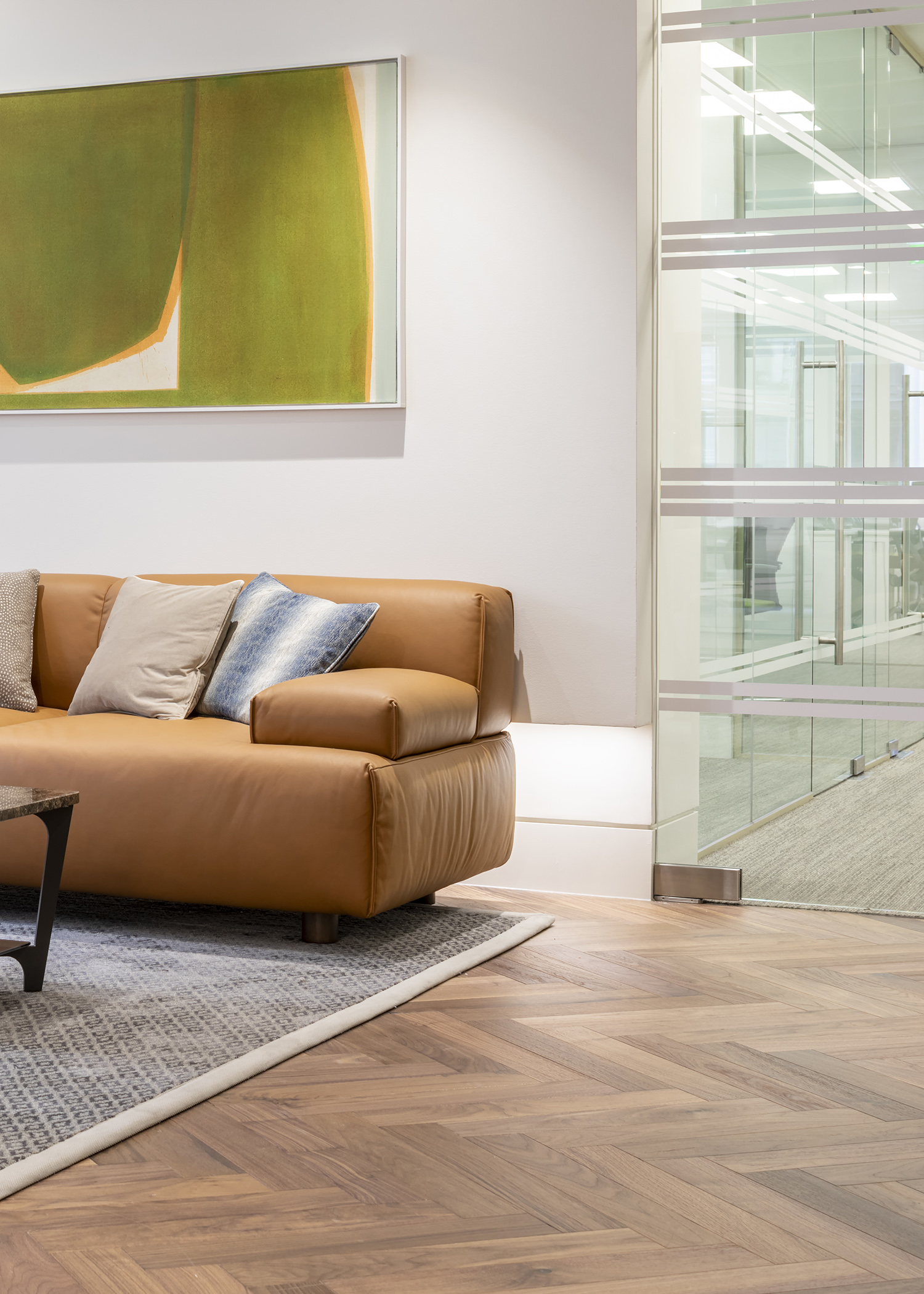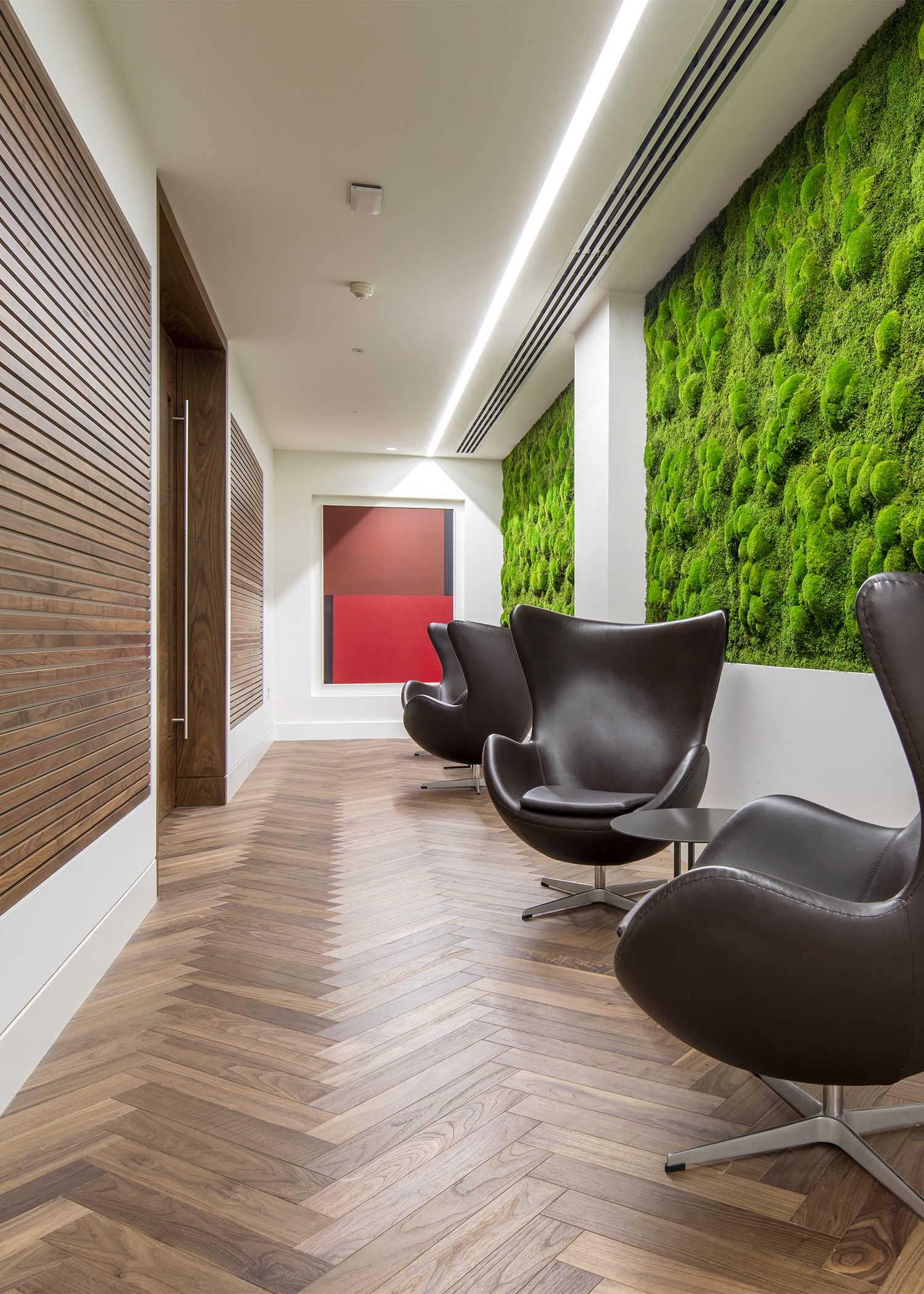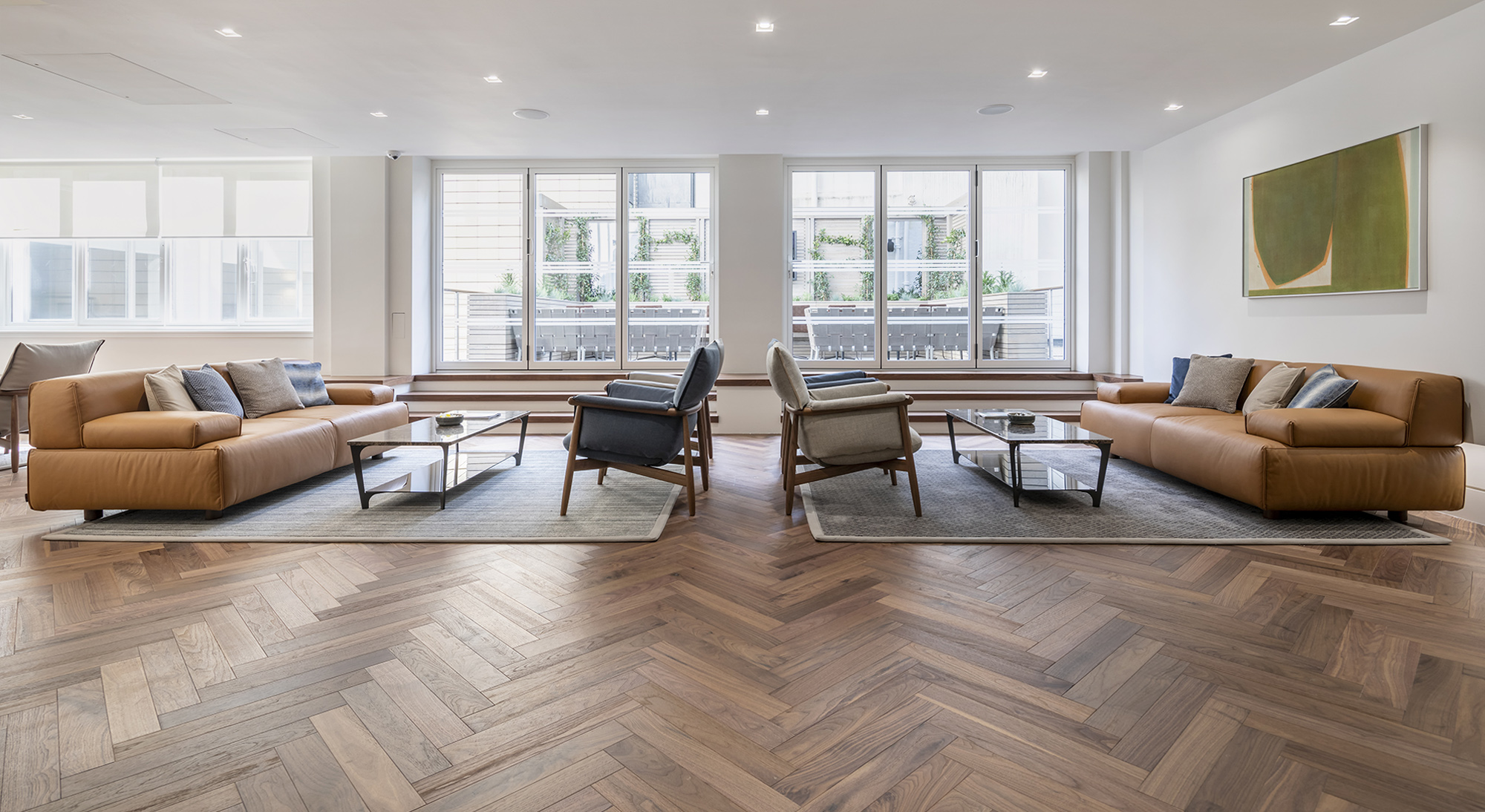 Discover more Engineered Wood
Natural, high-performance & precise

Engineered Wood is the natural flooring material most widely specified for commercial and residential projects. It is available in three significant collections — Domus Wood, Pergo Wood and Robur Wood.
A high-performance structured product suitable for heavy foot traffic, its real wood top layer with all its infinite detail and character radiates natural beauty. There is a wide selection of plank widths and lengths, parquet formats in herringbone and chevrons, grades and finishes.
For further information or technical advice please contact us