Case studies
Manor Cottage
Project: Manor Cottage

Design: Mailen Design

Location: Oxfordshire
Mailen Design worked on the contemporary restoration of Manor Cottage, a Grade II listed manor house in Oxfordshire, incorporating both tiles and wood flooring from Domus into the final project design.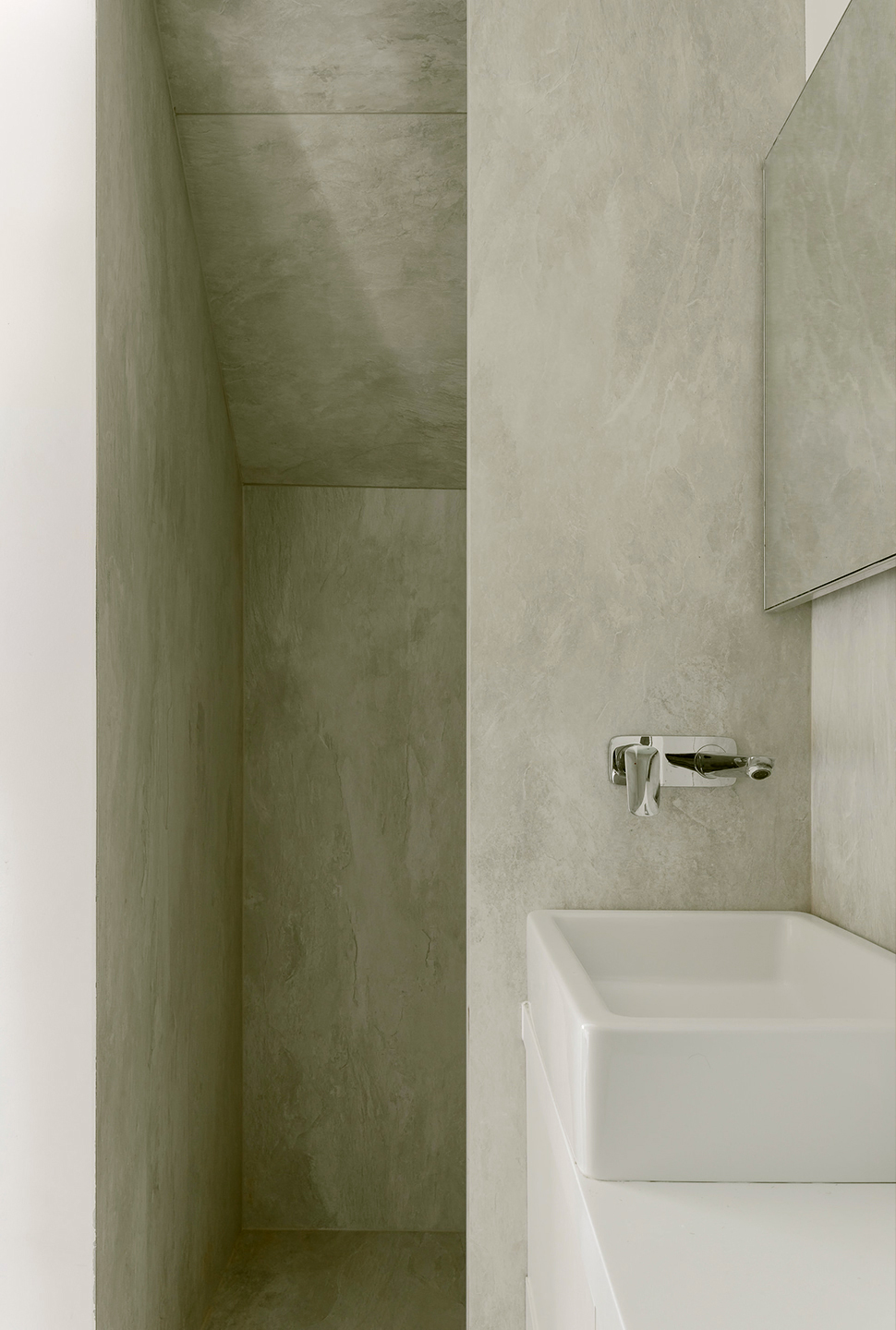 Originally dating back to 1672, the oak timber frame property had suffered from years of poorly chosen modifications and the use of inappropriate materials.

The modernisation stripped the house back to the structural core, before sensitively repairing the timber frame and masonry. Natural materials were used to repair the lime mortar and to provide insulation through eco-friendly breathable wood fibre panels before re-introducing natural lime render to the exterior.

The interior design has a contemporary feel, but with a subtlety that allows the previously hidden historic natural materials to come to the forefront. The predominant colour palette is grey and monochrome, with the addition of natural wood features such as doors, furniture and floors, which add warmth and complement the original exposed timber frame which is visible across many of the ceilings and walls.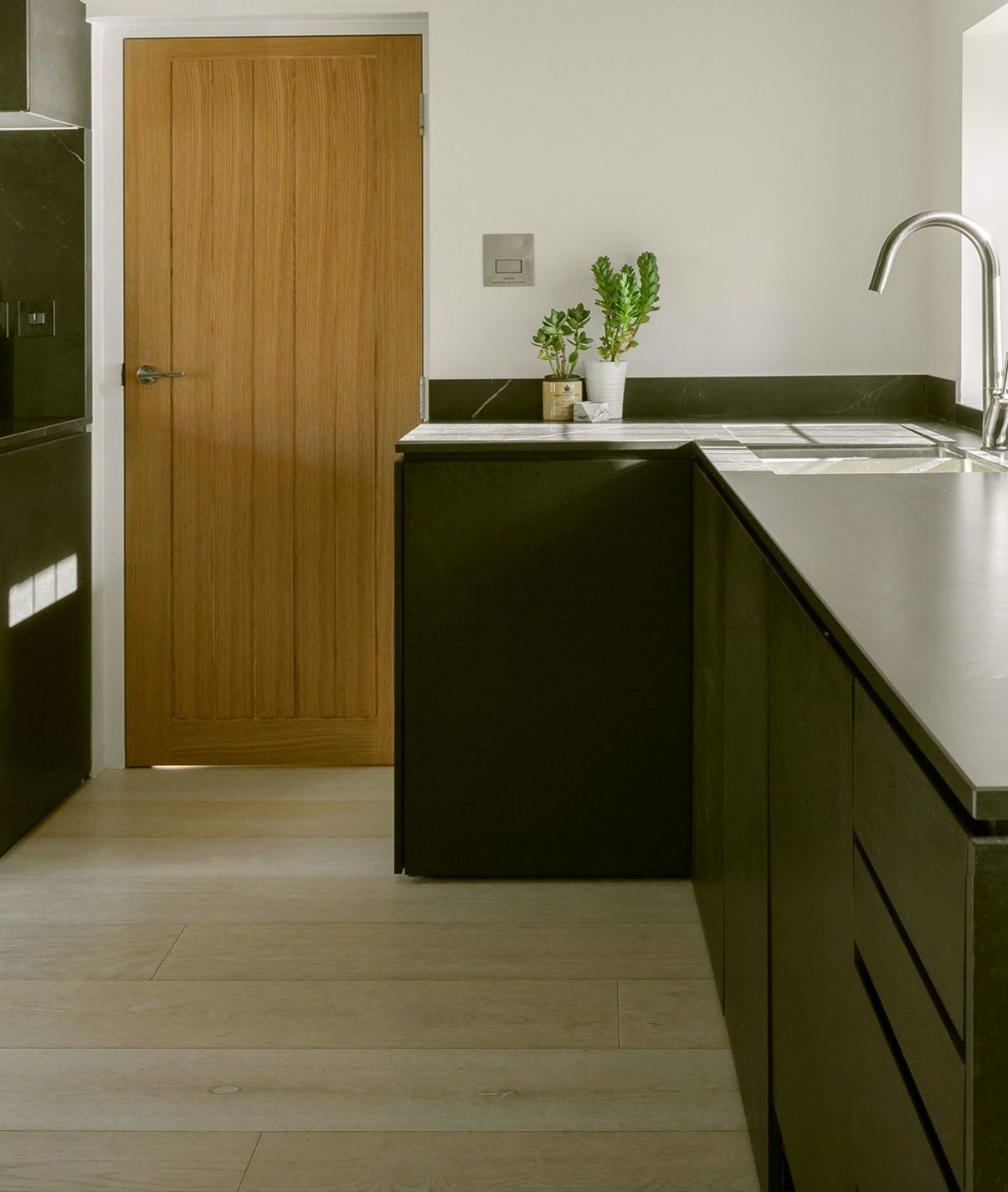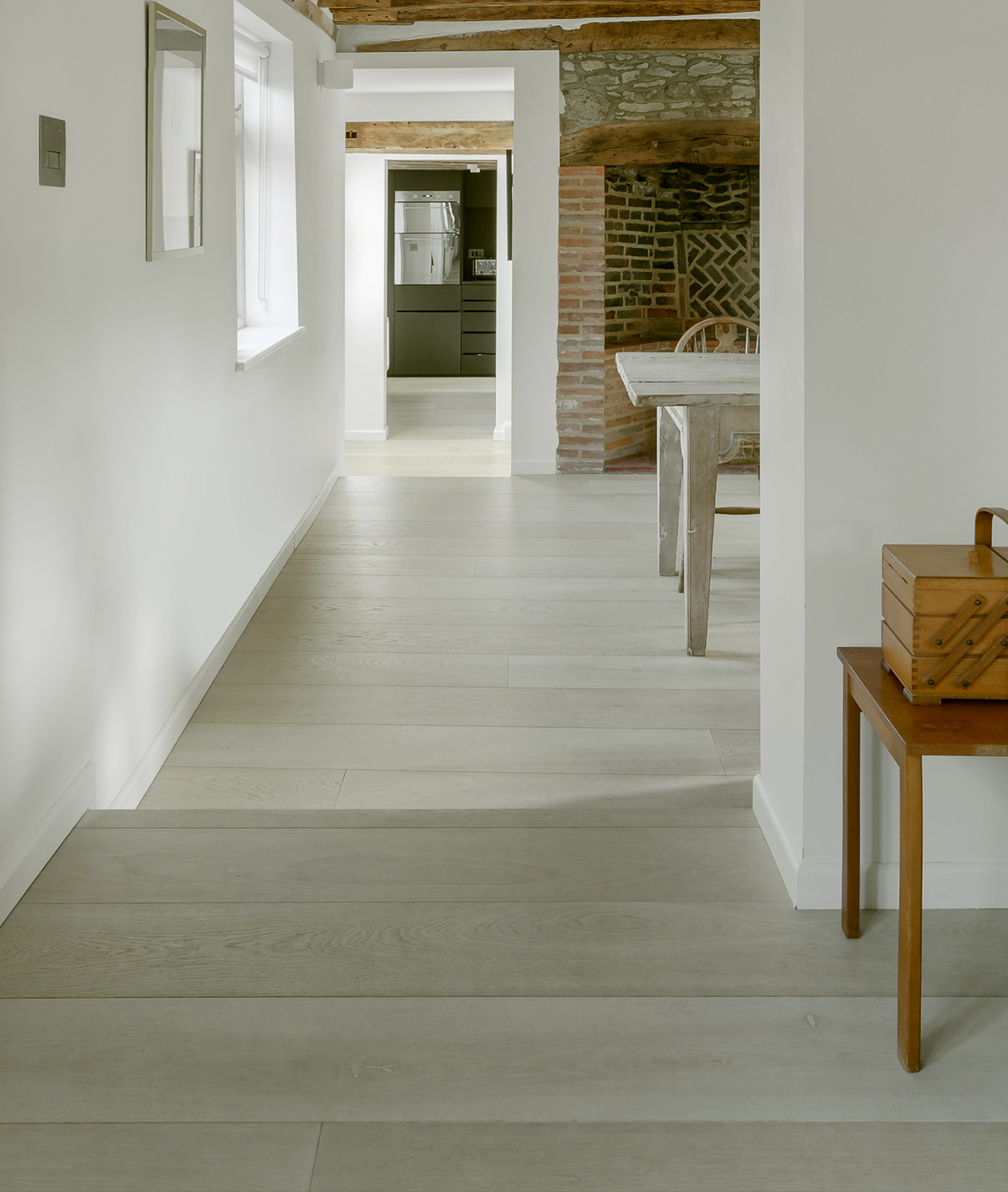 The property includes over 65 SQM of Domus' FSC® certified engineered wood flooring in a pale oak tone which runs throughout the entire downstairs areas, including the kitchen, hallway, living room and dining room. The long, wide planks introduce a calm elegance and soft, understated warmth to the rooms. Domus Wood flooring is made from premium quality European oak engineered wood which conforms to the highest technical standards, with an 11mm engineered multi-layer birch base and 4mm oak surface.
Kitchen
To offer depth and balance against the pale, natural wood floor in the kitchen, black porcelain stone slabs with elegant white veining have been fabricated for use as the counter worktops and splashback. This coordinates beautifully with the sharp black cabinetry and crisp white painted walls.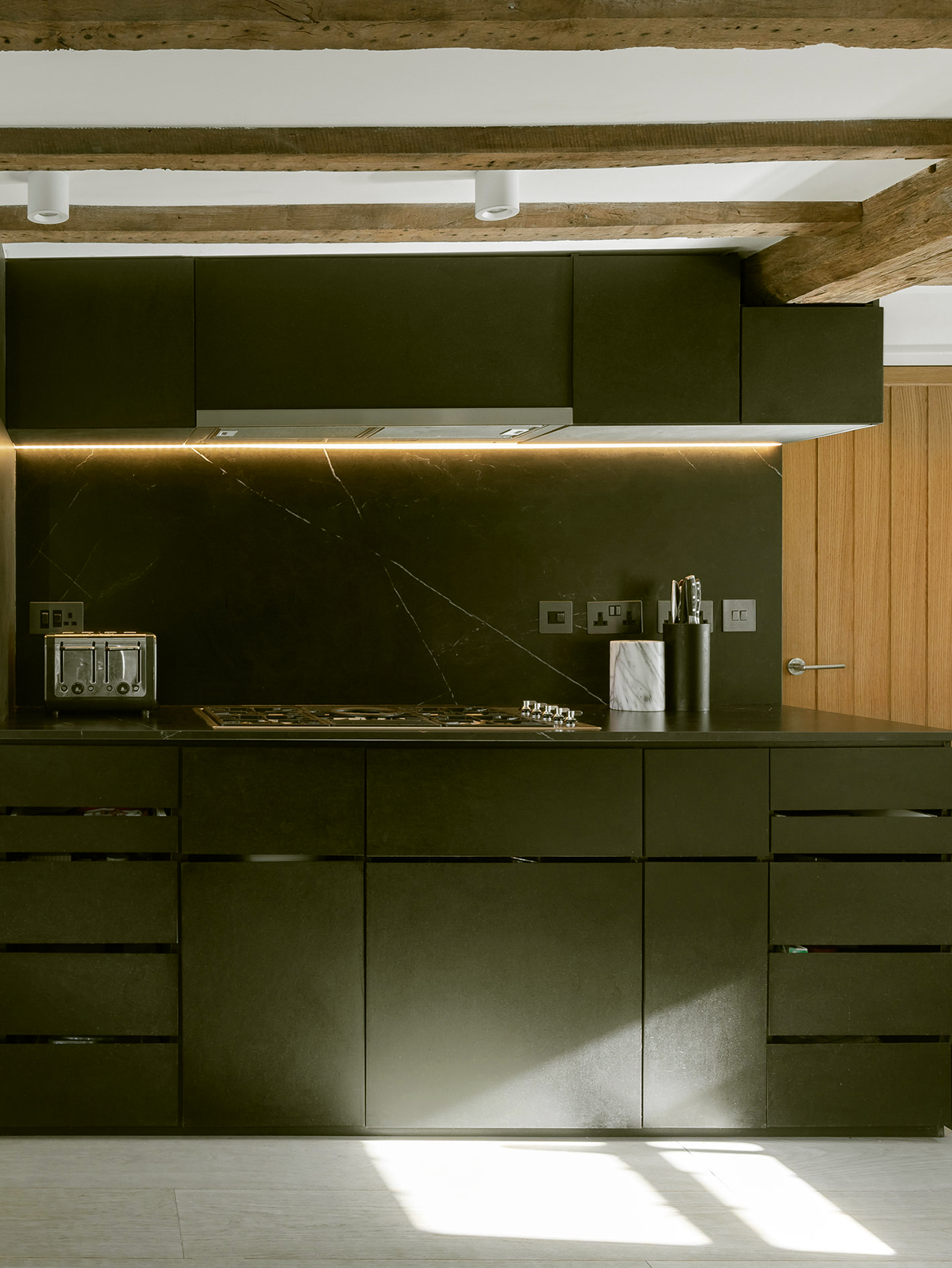 Bathrooms
Continuing the monochrome colour palette in one of the bathrooms, Domus' Petrology 8 porcelain stone tiles in black sit alongside Dechirer La Suite Net tiles in white.
Petrology 8 is a highly textured tile in a matt finish which replicates the appearance and texture of natural slate. This design sits within a recess in the wall behind the sink, while the same material has also been fabricated into a shelf for the sink itself. This is used next to Dechirer La Suite Net, a delicate textured patterned tile designed by Patricia Urquiola for Mutina. Displaying a geometric abstract design set into the surface of the tile, Dechirer La Suite Net is a subtle yet striking design which is further enhanced next to the dark colour and heavy texture of Petrology 8.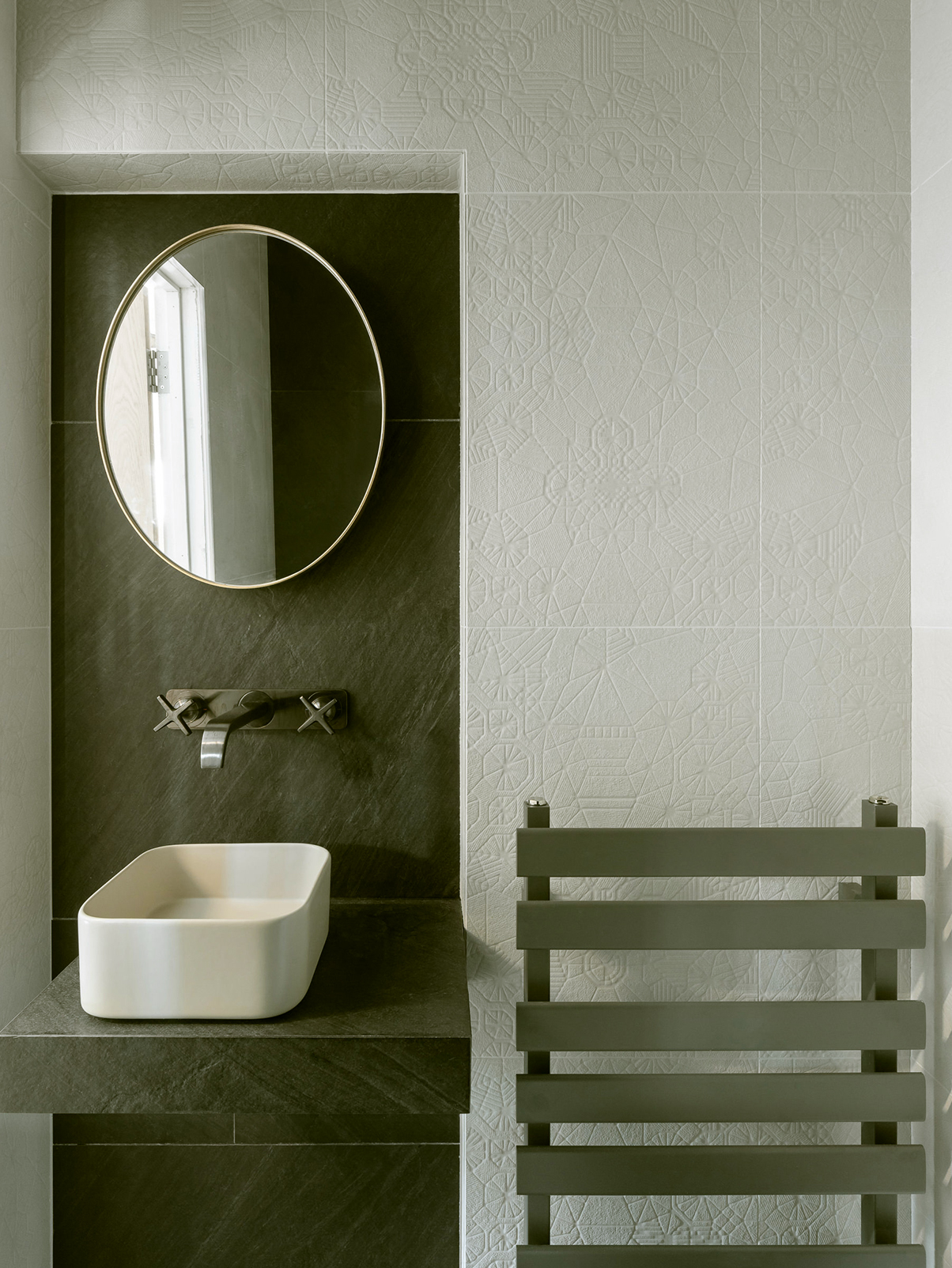 In the master bedroom en-suite, XL format porcelain stone tiles from Domus' Ardoise Magnum collection are used on the walls and floors and in the walk-in shower. In a pale white/grey colour with soft veining and an uneven surface texture, Ardoise Magnum offers the appearance of natural hewn stone in a hardwearing easy-to-clean porcelain material.
For further information or technical advice please contact us