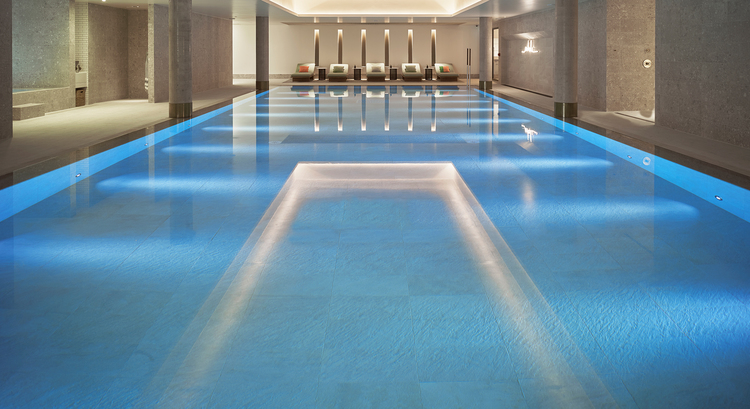 Discover
Swimming Pool Solutions
Domus has over 50 years of experience with swimming pool design providing products for all areas of the project, particularly for the wet areas, spas and wellness areas, changing rooms and showers.
Different projects have different technical and safety requirements, for example there are stringent safety requirements for public swimming pools compared to private residential pools. In addition to slip resistance in compliance with the applicable standards, Domus is able to meet all technical and safety requirements for projects using tiles in swimming pools.
Domus' specification team can provide CAD drawings for the different elements required to design a swimming pool, including steps, internal and external corner details plus nose edging and grating. Domus can also create M40 NBS specifications, and offer technical advice regarding screeds, pool tank renders and waterproofing with our specialist partner, Mapei.
Porcelain is the principle material specified and includes tiles for the pool deck and surrounds, edges, drainage gullies and gratings, steps and pool-tank.

Porcelain tiles are a high performance, technically superior product, available in slip resistance finishes suitable for wet areas and bare feet. It is highly fit for purpose, non-porous and impervious to water. Stain and chemical resistant, and easy to clean, this material requires no sealing or maintenance.
Porcelain ensures high standards of hygiene are met and with the inclusion of large format lightweight slabs, fewer grout joints are created.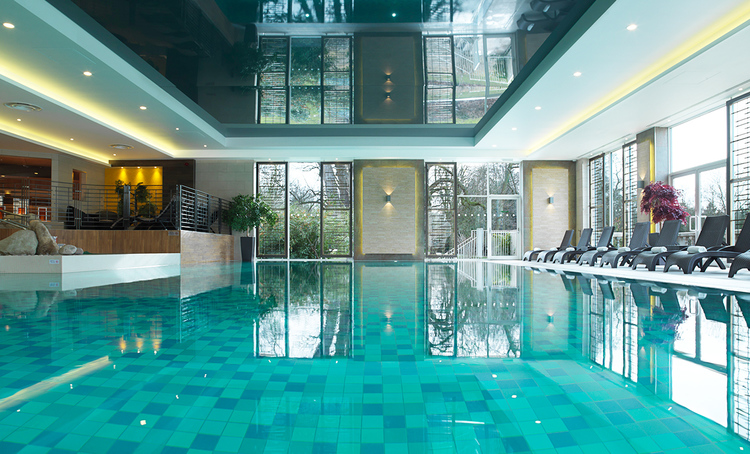 Project: Sopwell House, Hertfordshire. Architect: AB Hotels Ltd
Swimming pools have evolved. They are more than just functional municipal venues, they are now carefully curated lifestyle experiences.
The hotel, hospitality, leisure, health and wellness industries have transformed the market, demanding engaging and sophisticated spaces.
Likewise, for the private home or the modern residential apartment with shared leisure facilities, contemporary pool design has advanced significantly utilising superior quality materials and creative specifications.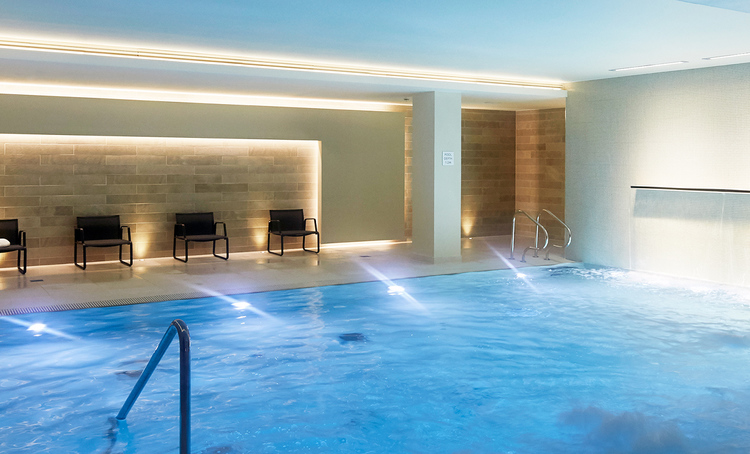 Project: Apex Hotel, Bath. Architect: Ian Springford Associates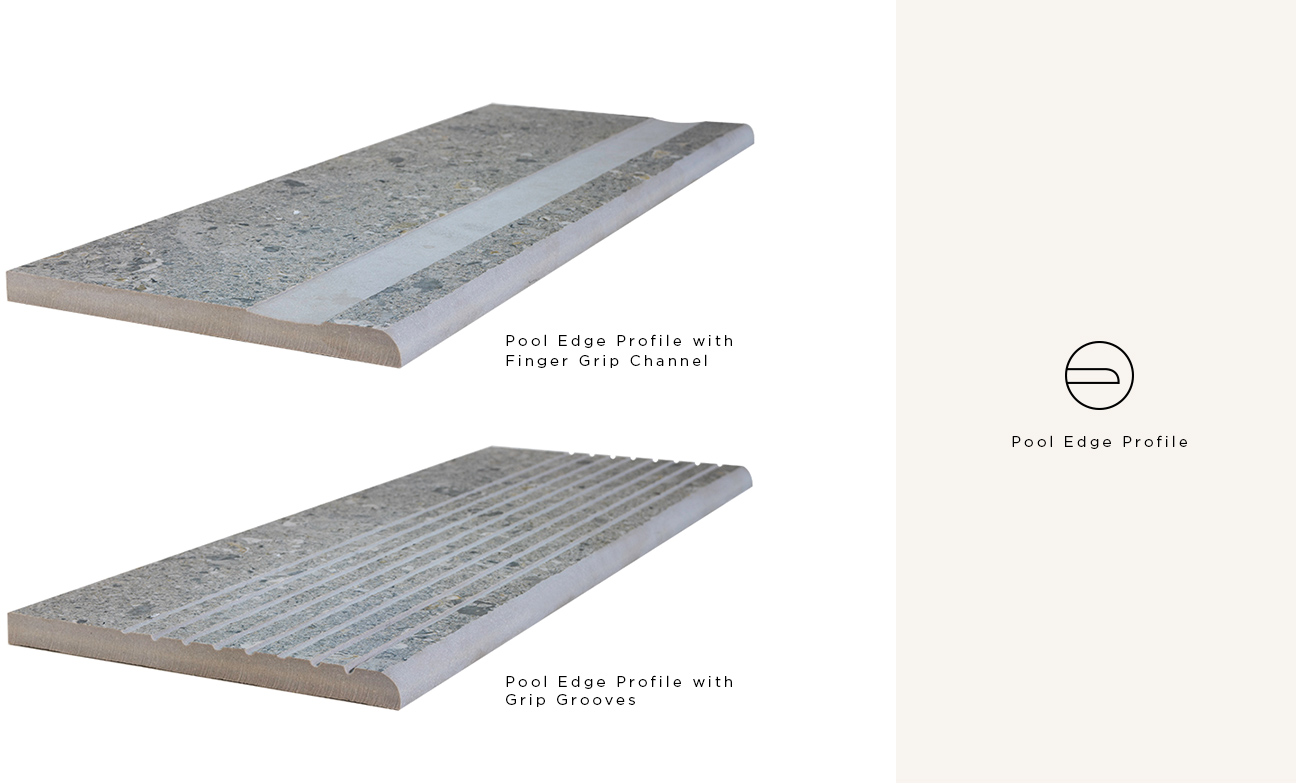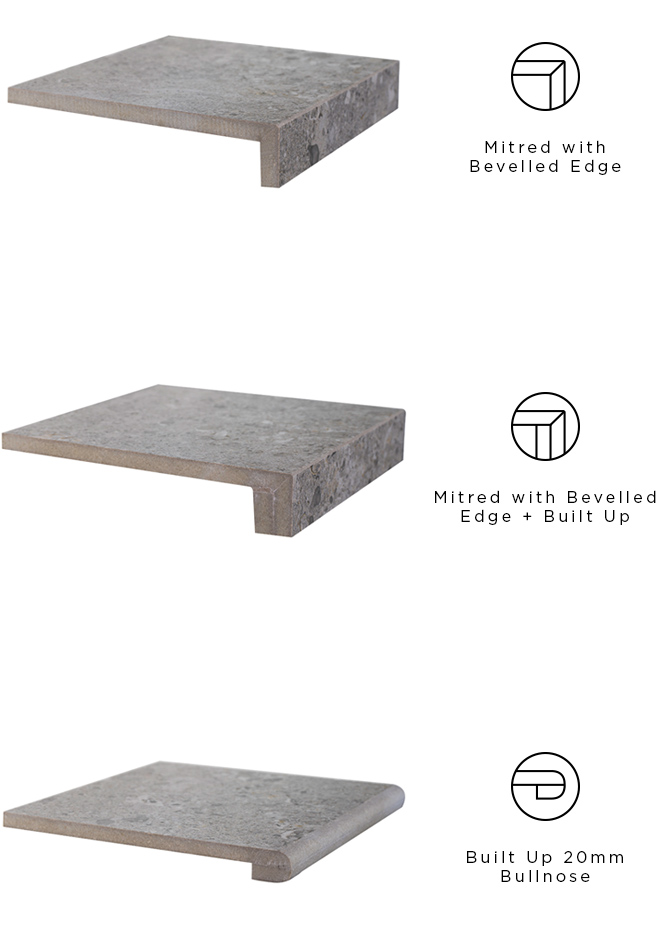 Nosing & Pool Edges
Swimming pool edging is an important choice and can determine the ambience of the pool environment, helping to create a refined aesthetic and seamless transition between the surrounding deck area and the pool itself….
To enhance the overall aesthetic and create a harmonious swimming pool design, Domus can assist with the profiling and fabrication of tiles through water-jet cutting. Tiles which need to be profiled can be taken from the same batch as the remaining order to ensure there is no difference in colour or calibration, incorporating details such as smooth round edges or anti-slip grooves.
To create a smooth step edge into a pool or rounded bullnose edge around a pool, tiles can be fabricated from the same tiles, ensuring a sleek, modern finish. Similarly, the edge of the tiles can be fabricated into a curved shape, to incorporate details such as rounded step or rounded pool edge. This helps create a softer look and feel to tiles which would usually have a straight edge. A 'finger grip' can also be water-jet cut into tiles to aid swimmers leaving the pool.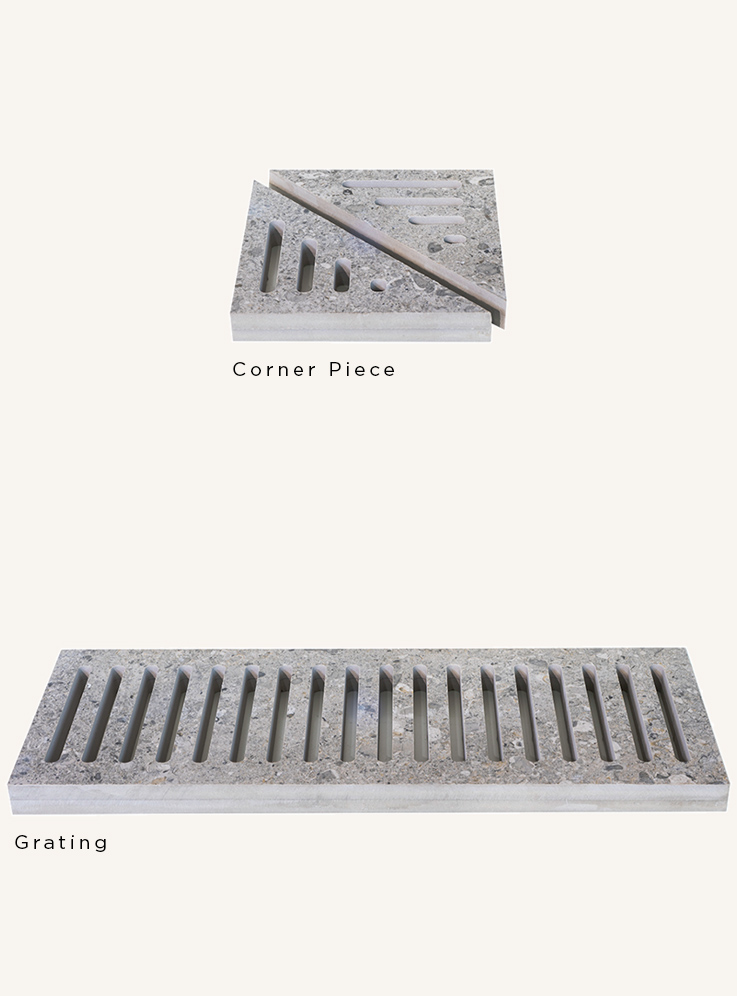 Water-jet Cut Gratings
It is crucial that channel drains are installed alongside a pool edge to prevent the build-up of standing water and to carry water away from the pool edge. Poolside grating can be fabricated from the same porcelain tiles using on the swimming pool deck to ensure a seamless transition and harmonious design between the pool edge and deck.
Gratings which are water-jet cut from porcelain are incredibly durable, creating entirely flush floors with the same anti-slip properties as the coordinating tiles.
Private Health & Leisure Projects
The Royal Yacht, Jersey
The Harbour Club, London
City Point, London

Rathbone Place | Apex Hotel, Bath | Battersea Spa
Kentish Town Sports Centre, London
Tollcross Aquatic Centre, Glasgow
Wales National Pool, Swansea
For expert advice on your swimming pool project
For further information or technical advice please contact us