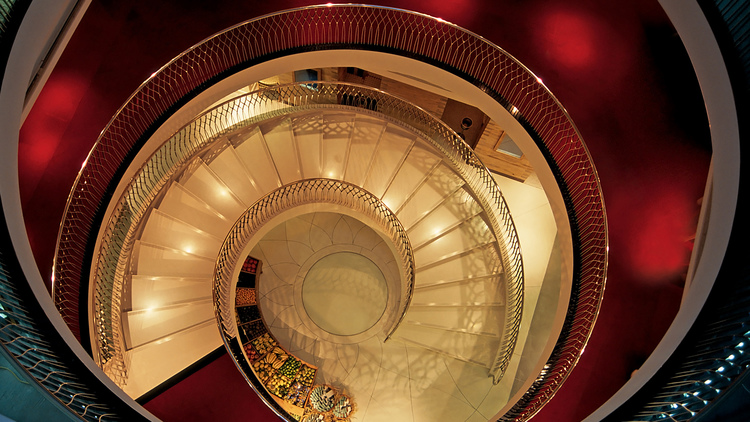 Discover
Staircases & Step Treads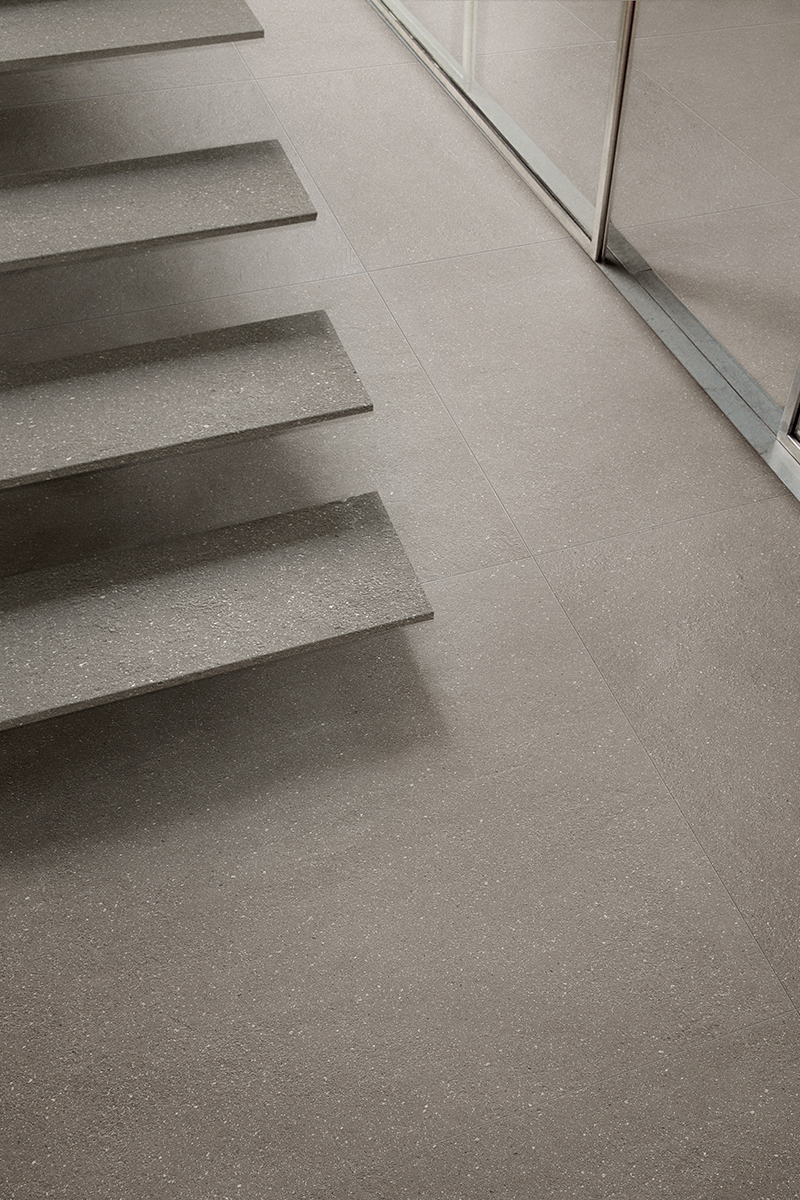 Crafted into superior, high-quality, designed solutions
Tiled staircases and stairwells help create a seamless transition between different levels using tiles on the floor and walls. High-quality porcelain tiles from Domus can be used to match selected floor and wall concepts, achieving a harmonious design throughout projects.
Floor & Stairs: Earthtech DFEGR 03 Ground Comfort PTV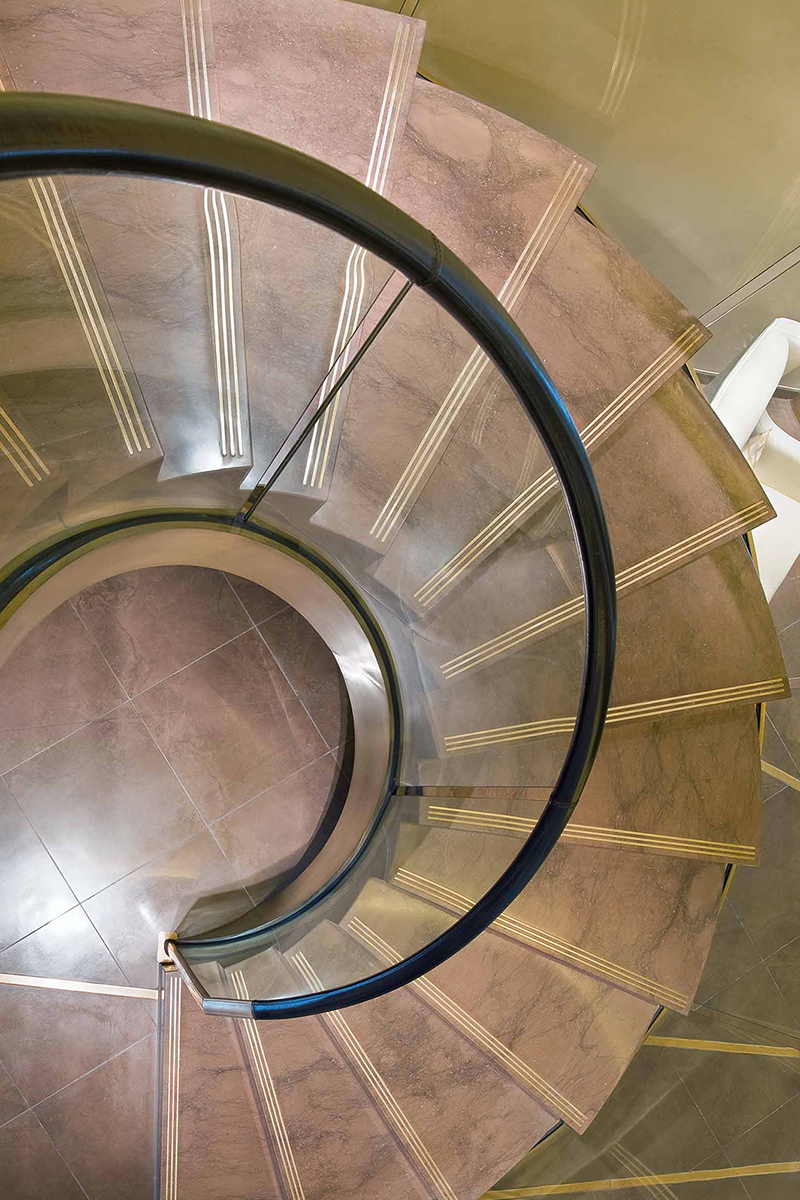 Circular staircase design
To achieve a circular staircase design, tiles can be fabricated in advance to the required step and riser shape and size, including corner detail shapes or curved shapes. We can create seamless designs with only one joint between steps and risers using large-format or plank-shaped tiles on steps. However, a holistic concept can also be achieved using small format tiles and décor designs to create an exciting design feature on stairs.
Image: Hotel Verta, Battersea by RDD Design Architects
Step Treads with K-Grip
The two main options to ensure anti-slip features on stair treads are K-Grip and metal inserts.
K-Grip was initially developed as a safety feature to provide anti-slip strips on stone and marble. Still, we can use it successfully on most exterior and interior floors, including porcelain, wood, laminate and vinyl. K-Grip can highlight step edges, most commonly in retail and commercial environments. It offers excellent grip qualities, particularly externally in wet conditions. K-Grip is applied directly to the flooring as a liquid 'paste' and smoothed to a flat finish between two parallel lengths of 1mm-thick K-Tape. Using a heat gun accelerates the curing process; the result is a versatile, durable and flexible non-slip strip. This process can be done in advance or once the tiles are fixed. K-Grip is available in a range of standard, metallic and luminous colours to help ensure DDA (Disability Discrimination Act 1994) compliance, with unique custom colours to order.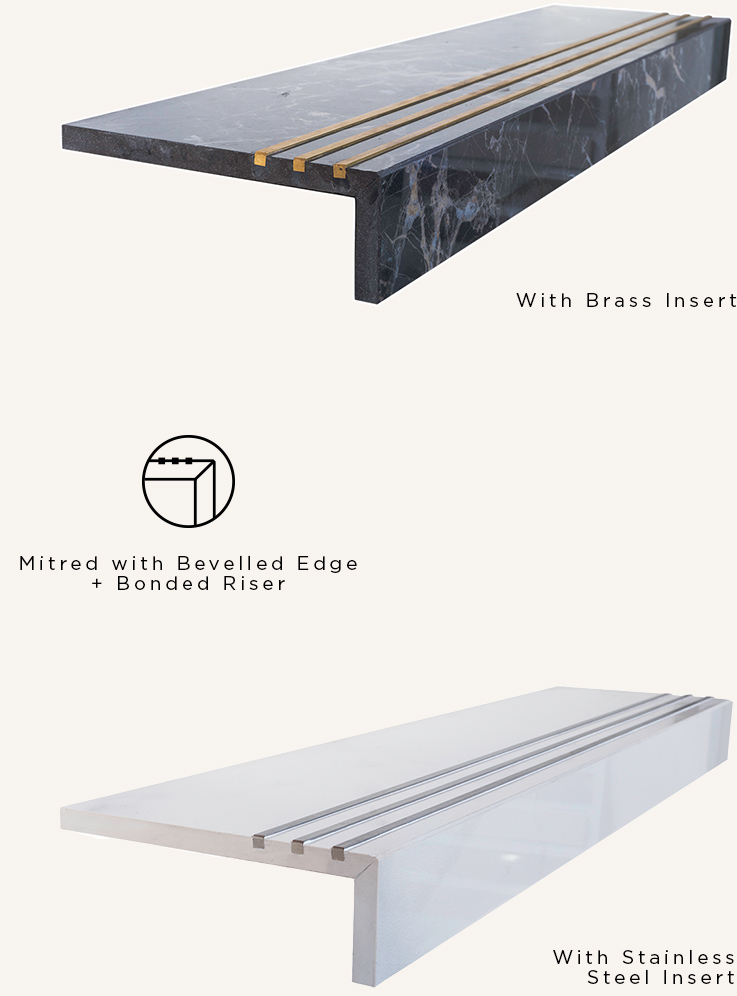 Step Treads with metal inserts
For a luxury look, step treads can be finished with metal inserts made from several metals, including brass, aluminium, and stainless steel, amongst others. The intelligent, metal detail on steps offers a sophisticated look to enhance contemporary interiors. These metal inserts provide anti-slip qualities to ensure DDA compliance and are incredibly durable, even in heavy traffic areas.
For further information or technical advice please contact us