Engineered Wood
Pergo Wood
The Pergo Specification Studio is located at the Domus showroom in Clerkenwell where architects and designers can explore all the Pergo products including engineered oak and ash.

Visitors can choose from a wide variety of colours, wood grades, finishes and formats, all pre-finished at the factory and ready for installation.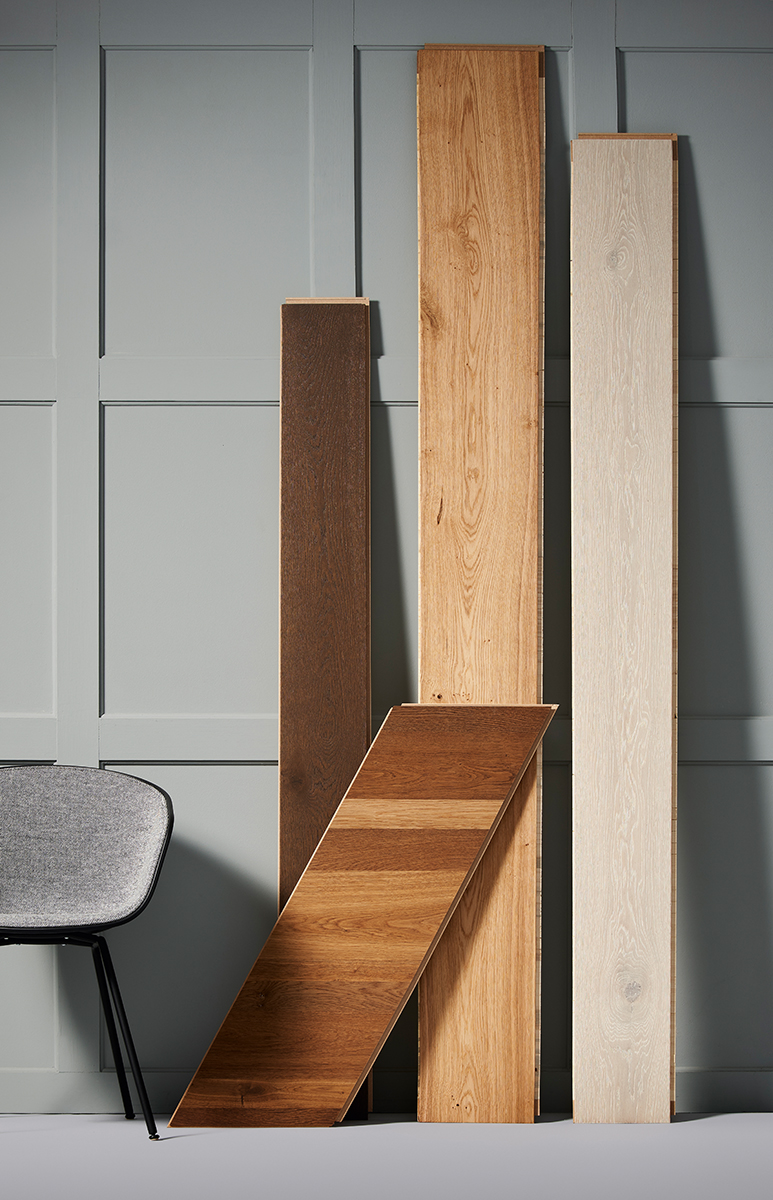 Whether oiled or lacquered, all planks have a 7-layer protective surface treatment that safeguards the wood from damage whilst accentuating its natural appearance.
With the new extra matt lacquer, the look of a beautiful oiled floor is created whilst benefiting from a highly durable, easy to maintain lacquered floor.
Pergo Wood offers planks up to 2400mm long and 260mm wide. This larges size format looks impressive and makes the room appear spacious and roomy, offering a stylish, contemporary feel.

The innovative PerfectFold™ 3.0 click system offers three different installation methods. Minimises installation costs due to the simplicity and speed of installation. Enables easy uplift of planks, if necessary. PerfectFold™ 3.0 click system is applicable for Pergo 190, Pergo 220 and Pergo 260.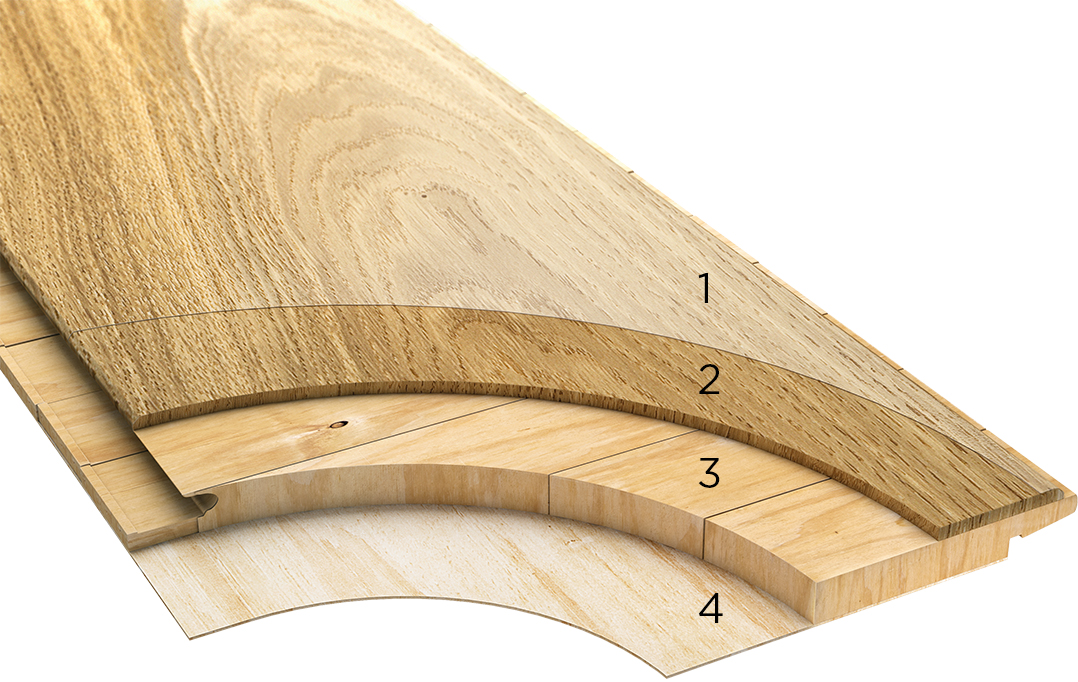 The Engineered Wood Pergo Collection comes with a Lifetime (limited to 33 years) warranty for residential areas, with commercial warranties available on request. Pergo Wood floors consist of 3 layers of wood, plus a protective finish layer. To maximise the dimensional stability of the floor, the 3 layers of wood are constructed with the grain running in different directions to reduce the natural swelling and shrinking caused by fluctuations in temperature and humidity. An advanced core of spruce/pine (Pergo 220 & Pergo 260) or HDF (Pergo 190 & Pergo Chevron) minimises expansion/contraction of the planks with changing environmental conditions.
1. Protective finish: 5–7 layers of high-quality lacquer or 2 layers of oil, provide maximum protection, ensuring ease of maintenance.
2. Face layer/lamella: A carefully selected wood layer, that can be sanded and re-finished 2–3 times.
3. Advanced core: The core absorbs the stresses and strains that are put on the floor,
improving dimensional stability with changing environmental conditions.
4. Balanced backing: The backing veneer is made from ecologically certified softwood and helps to perfectly balance the boards.
Image depicts the construction of Pergo 220 and Pergo 260 planks.
Pergo Wood offers a wide variety of natural looks. There is an extensive range of natural and contemporary colours to choose from. Each colour is created from a specific combination of wood colouring, grading, treatment, structure and finish.

Pergo Wood ranges are available in a variety of finishes such as Extra Matt Lacquer, Matt Lacquer, Black Oil, White Oil, Natural Oil, Natural Extra Matt Oil and Black Extra Matt Oil. The finish subtly alters the appearance and provides an important layer of protection.

The above images broadly reflect the naturally occurring characteristics present within each grade. Detailed Grading Criteria documents available upon request.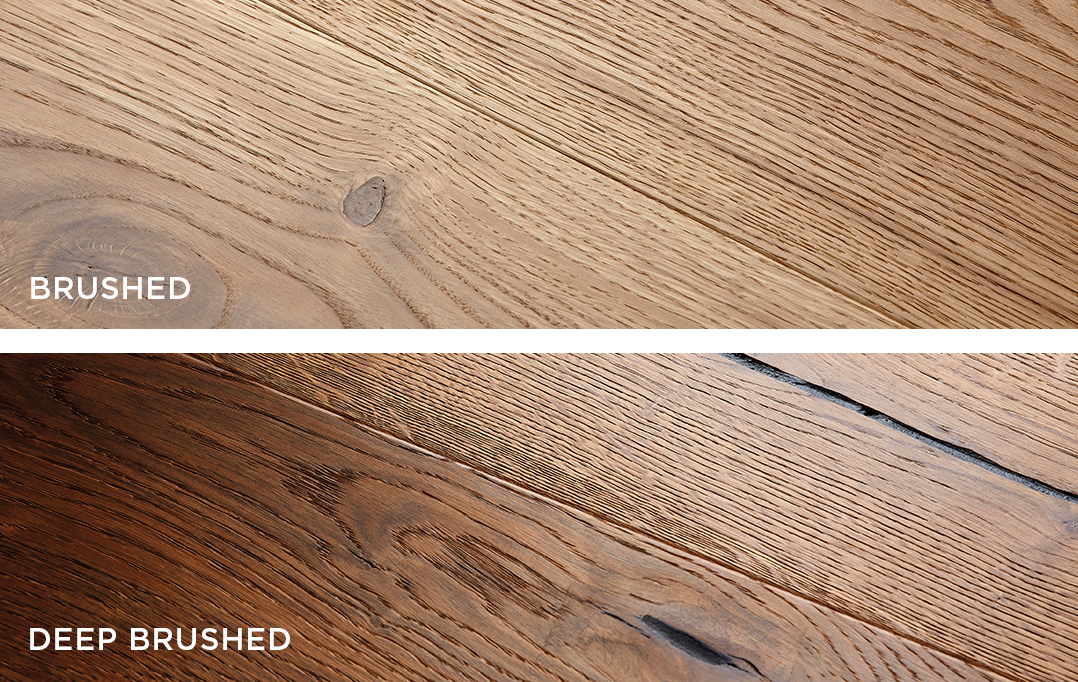 Brushing the surface of a wood plank accentuates the natural grain structure, and enhances the authentic look and feel of the wood.
Sustainability
Pergo Wood ranges are produced using a minimum of resources. Over 80% of the content of the products consists of wood surplus from the wood industry. Primarily, only renewable woods such as pine and spruce are used, never exotic woods or wood from rainforests that are threatened with extinction.
Pergo Wood ranges are is PEFC™ certified (PEFC/16-37-2066) using only woods from sustainably managed forests. Domus confirms our commitment to implement and maintain the chain of custody requirements set out by PEFC™.
The "Programme for the Endorsement of Forest Certification Schemes" (PEFC™) is the biggest independent organisation worldwide for the verification of sustainable forest management. PEFC™ Chain of Custody (CoC) certification is a verified mechanism for tracking certified materials from the forest to the final product. Domus recognises that it has a responsibility for current & future generations & will strive to promote sustainable forest management and discourage unsustainable management practices. We consider it important that the origin of our wood-based products can be demonstrated through credible, independent Chain of Custody certification, based on international standards & norms.
In addition, all lacquers and oils used in Pergo Wood meet strict international emission norms.