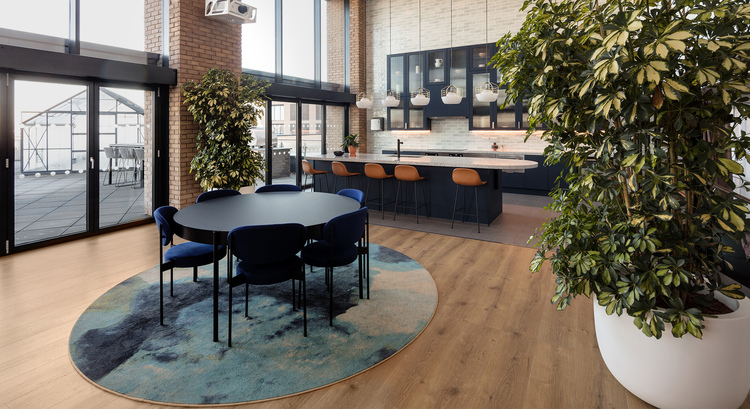 Case studies
The Wullcomb
BtR Residential Apartment Complex
Project: The Wullcomb

Design: Franklin Ellis Architects & Callison RTKL

Location: Leicester
A sense of community
Having opened its doors in summer 2019, The Wullcomb is a Build-to-rent apartment complex located opposite the Highcross Shopping Centre on Vaughan Way, Leicester. The 297 apartment development was winner of the Large Residential Project of the Year award at the fbe East Midlands Awards 2019 and finalist in the ProCon Leicestershire Awards in the Large Residential Category. Designed specifically with young working professionals in mind, the development includes over 3600 SQM of materials from Domus, including over 3200 SQM of tiles across communal areas and in apartments, and over 300 SQM of Pergo Laminate in communal areas. The complex is comprised of 98 two-beds, 179 one-beds and 20 studio apartments, plus a number of luxurious communal areas and co-working spaces to encourage a sense of community for those living there.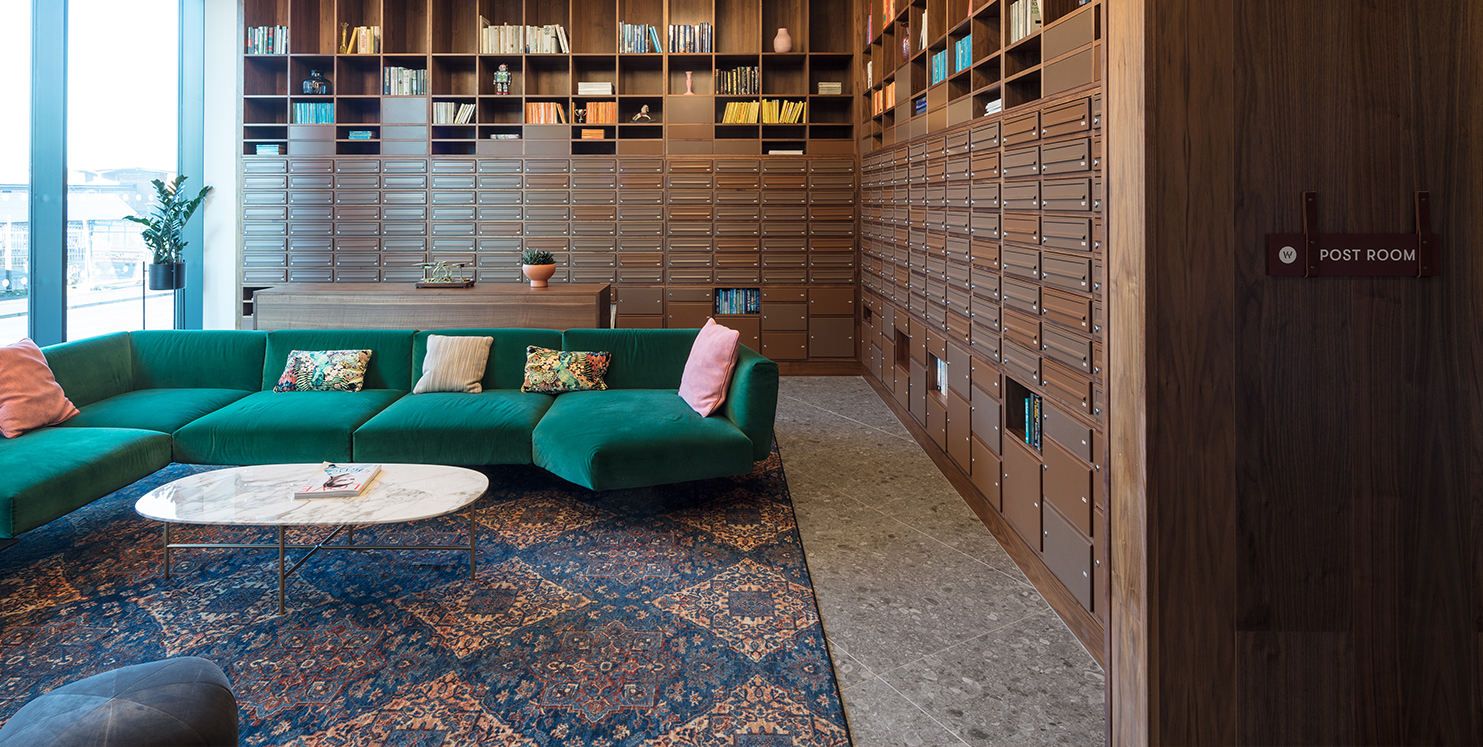 Thoughtfully designed interiors
Featuring thoughtfully designed interiors created by global practice Callison RTKL, The Wullcomb presents an exciting and unique opportunity for renters to socialise with their neighbours. While all apartments benefit from luxurious private living and dining areas within individual apartments, The Wullcomb has been designed as a place to collectively relax as well as work. The stunning communal areas include a residents' kitchen and dining area, a work-from-home space, a large reception area and post room, a cinema and games room and a spacious roof-top terrace which adjoins the five, seven, ten and twelve-storey blocks.
Surfaces and flooring
Reception & post room /// Using over 300 SQM of Domus' Narvik tiles in a large 90x90cm format on the floor, the welcoming reception area and adjoining post room integrate relaxed lounge areas with co-working areas. The grey Narvik porcelain stone tiles display full-character 'rock fragment' surface design details, laid at an angle to provide further interest in terms of the flooring design. Providing a strong natural aesthetic the tiles work perfectly with the colourful modern eclectic style lounge seating, sofas and accessories. These hard-wearing and easy-to-maintain and clean porcelain tiles not only look stylish, but are a practical solution for high traffic areas.
5th Floor Amenity Area /// Located on the 5th floor within the main amenity area, the stunning communal kitchen is a striking showcase for Domus' Vitral glazed ceramic wall tiles in a 300x75mm brick shape. In a homely soft-mint shade, these are used not only as the kitchen splashback but laid both above and around the stylish dark blue kitchen cabinetry – rising right from the floor to the 20 foot high ceiling. The tiles help create a beautiful feature wall within the expansive room, which are complemented by Domus' Drammen tiles (600x298mm) in dark grey on the kitchen floor. This elegant fine-grained porcelain stone works well as part of the material palette while offering a practical, high-performance product ideal for a high traffic area.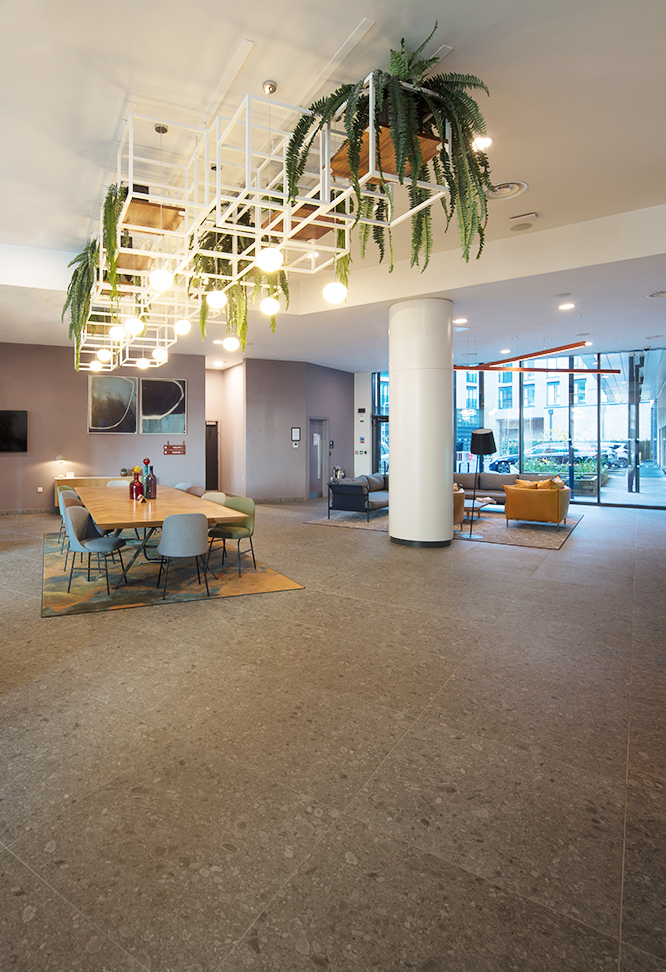 Open-plan living /// Opposite the kitchen in the same zone, the large open-plan dining and living area uses Domus' Pergo Laminate wood-effect flooring in a classic oak tone. This practical flooring material offers low price points along with exceptional design and long-lasting durability, making it ideal for this heavy traffic amenity area. The deep surface embossing replicates the authentic look and feel of wood, while the laminate is easy to clean and utilises the innovative AquaSafe technology, which creates a closed surface and tight click joint that protects the floor against water and other spillages. Stepping down to a cosy 'snug' area with sofas and lounge seating, the same wood-effect flooring offers a seamless look throughout all communal areas.
Cinema & Games Room /// Leading off the open plan kitchen / dining area is a cosy, relaxing cinema and games room which uses further Pergo Laminate wood-effect flooring for a seamless look. This classic style looks beautifully stylish against dark blue painted panelled walls. A small kitchen unit within this room uses Domus' Farrow white glazed ceramic wall tiles in a 250x50mm brick shape, offering a fresh and bright kitchen for residents to use without having to leave the cosy space.
Other areas /// Elsewhere at The Wullcomb, each of the 25 lift lobbies use Camargue 3D décor glazed ceramic wall tiles with Stavanger porcelain tiles (600x600mm) on the floor, both in grey. Camargue has a smooth satin-finish and lightly textured surface that provides a contemporary take on a traditional design while the soft 3D effect provides additional interest in this every-day, practical area of the building. All WCs off communal areas showcase Domus' Interni satin finish tiles in white in a 200x100mm brick shape – used in herringbone format to offer a striking, modern look. The tiles are laid on walls underneath statement-patterned wallpaper, ensuring a contemporary, trend-led aesthetic.

Bathrooms /// The bathrooms in all 297 apartments use Dogana porcelain concrete design in grey on the floor and Toulouse Wall in warm white on the walls, offering a fresh, contemporary feel. Both Dogana and Toulouse Wall are part of Domus' Essentials 2.0 collection, which offers a cost-effective collection of ceramic and porcelain tiles and slabs in a wide selection of colours, sizes, finishes and formats, all selected to create a design statement in any budget-conscious interior or exterior space.
More than just a place to live
The beautifully designed shared facilities are a key part of Way of Life's commitment to providing more than just a place for people to live. The Wullcomb presents an environment where renters can step out of their flats to socialise, engage and enjoy getting to know their neighbours. Way of Life Managing Director Sowgol Zarinchang explains how the idea is for The Wullcomb to become fully integrated into the community –
"We are dedicated to providing a sense of community that renters will experience throughout their stay with us. We noticed that there was nothing else quite like the Wullcomb available for renters in Leicester, and we are excited to not only be providing somewhere to live, but a whole new lifestyle for residents."
Floors: approx. 300m2 (Narvik - DAFN 03 - Natural Grip - 900 x 900 x 11mm)
Walls: approx. 10m2 (Farrow - DECF 02 – Gloss - 50 x 250 x 8.3mm)
Walls: approx.40m2 (Vitral - DEVI 03 – Gloss - 75 x 300 x 9mm)
Floor: approx. 40m2 (Drammen - DADR 04 - Natural Grip - 600 x 298 x 10mm)
Walls: approx. 110m2 (Camargue - DACM 07 Décor - 500 x 200 x 10mm)
Floors: Stavanger porcelain tiles (600x600mm)
Walls: approx. 60m2 (Interni - DVI 01 - Satin - 200 x 100mm)

Floors: PERGO ELPE 904 240 x 2050 x 9.5mm – 260m2
Floors: PERGO ELPE 411 205 x 2050 x 9.5mm – 35m2

Apartment Bathrooms:
Toulouse Wall DAOTW 01 500 x 250mm Matt
Floors Dogana DADG 03 Natural Grip 600 x 600mm.
For further information or technical advice please contact us