Project: Twin House

Design: Dallas-Pierce-Quintero & Dobuild

Location: Battersea, London
Glazed tiles bring a fresh and vibrant feel to a residential refurbishment in Battersea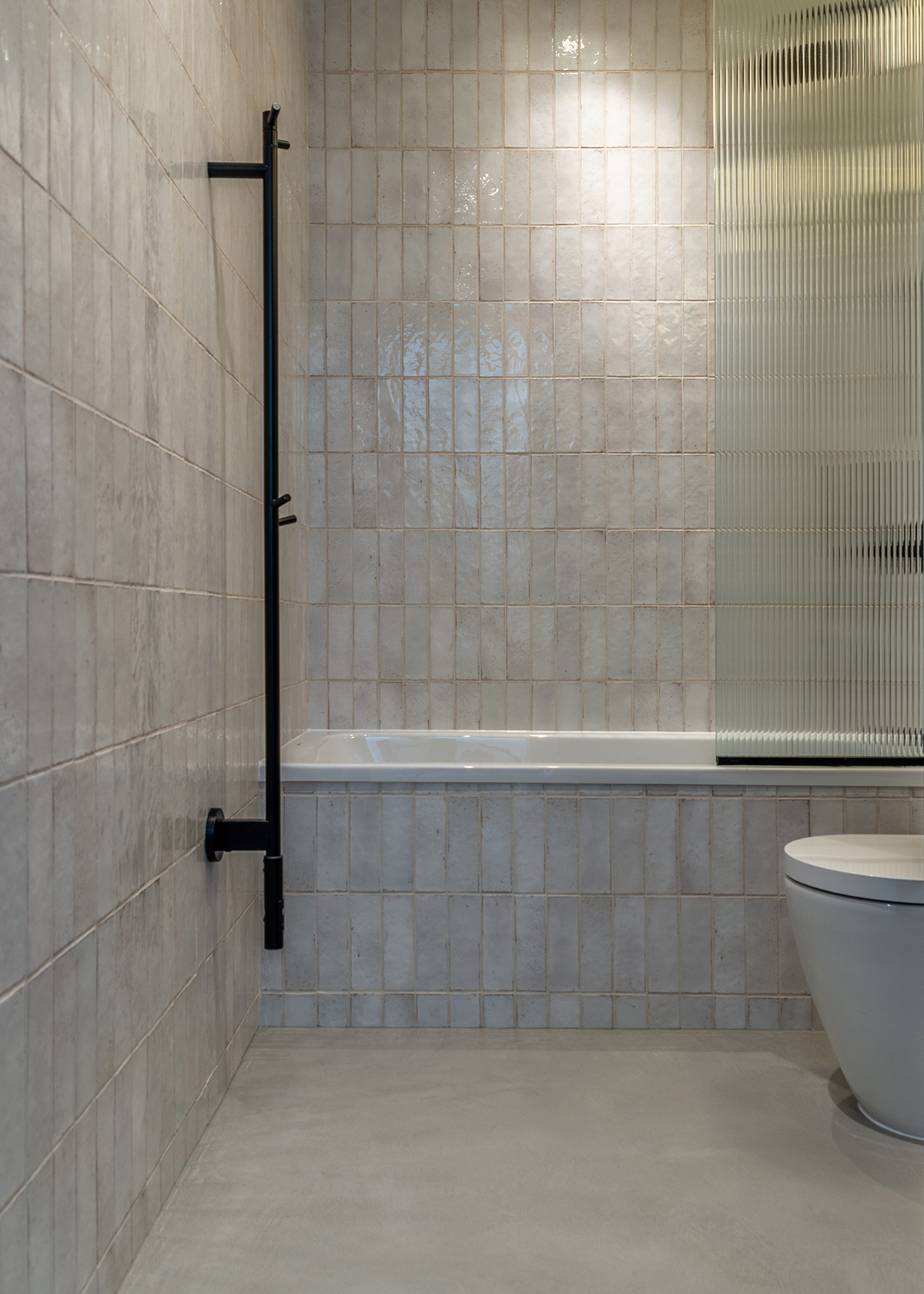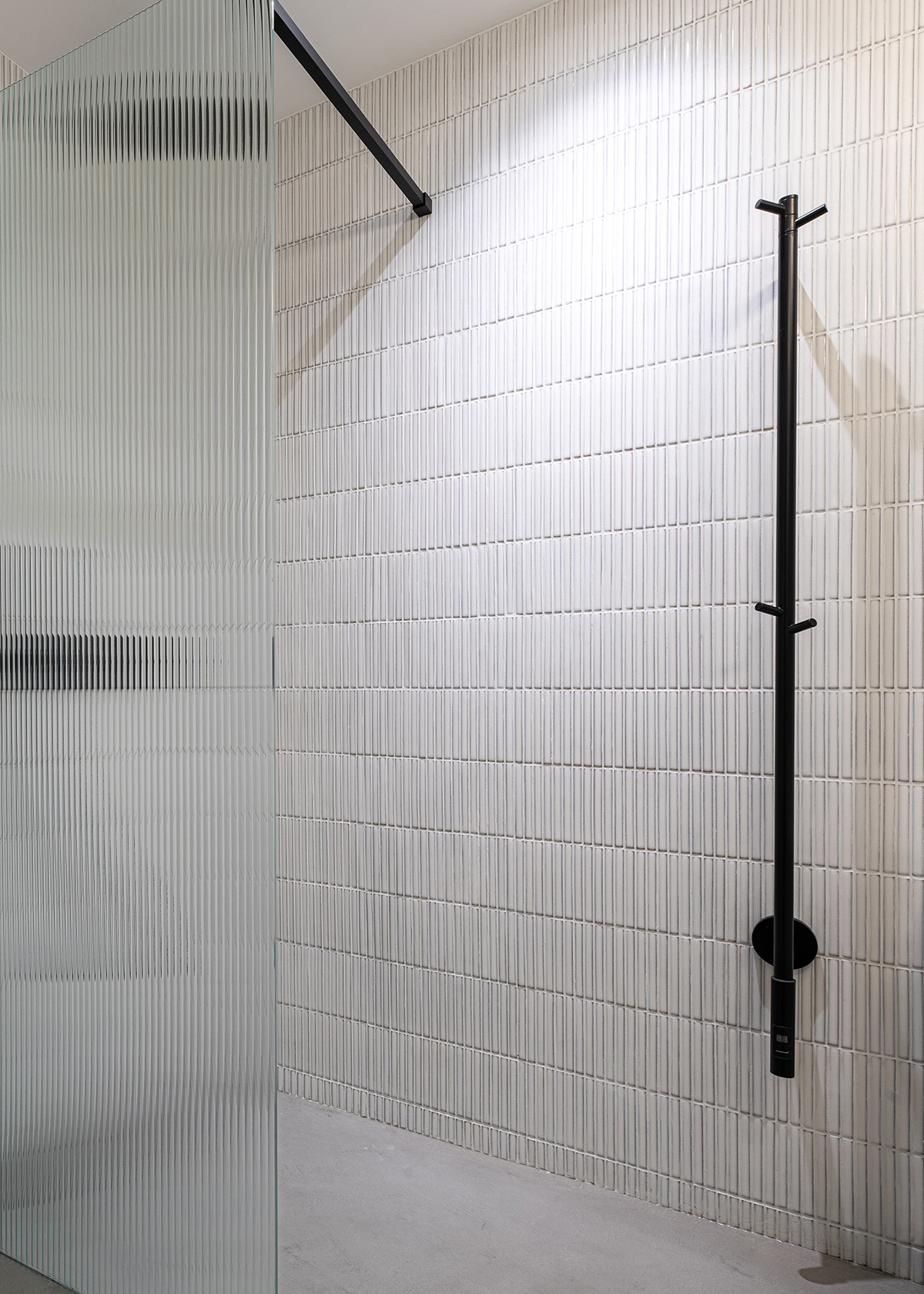 Featuring several glazed surface finishes from Domus, Twin House is a full house refurbishment and extension project to a Victorian residential terraced property located in Battersea, London – including a basement extension and loft conversion.
Designed by award-winning architects Dallas-Pierce-Quintero and built by Dobuild, a chartered building company specialising in high-end residential refurbishments and extensions in London.
Contemporary, eclectic aesthetic
Lustrous green glazed tiles from Domus bring a fresh and vibrant feel to the master en-suite bathroom, paired with microcement flooring, which instils a clean and contemporary eclectic aesthetic.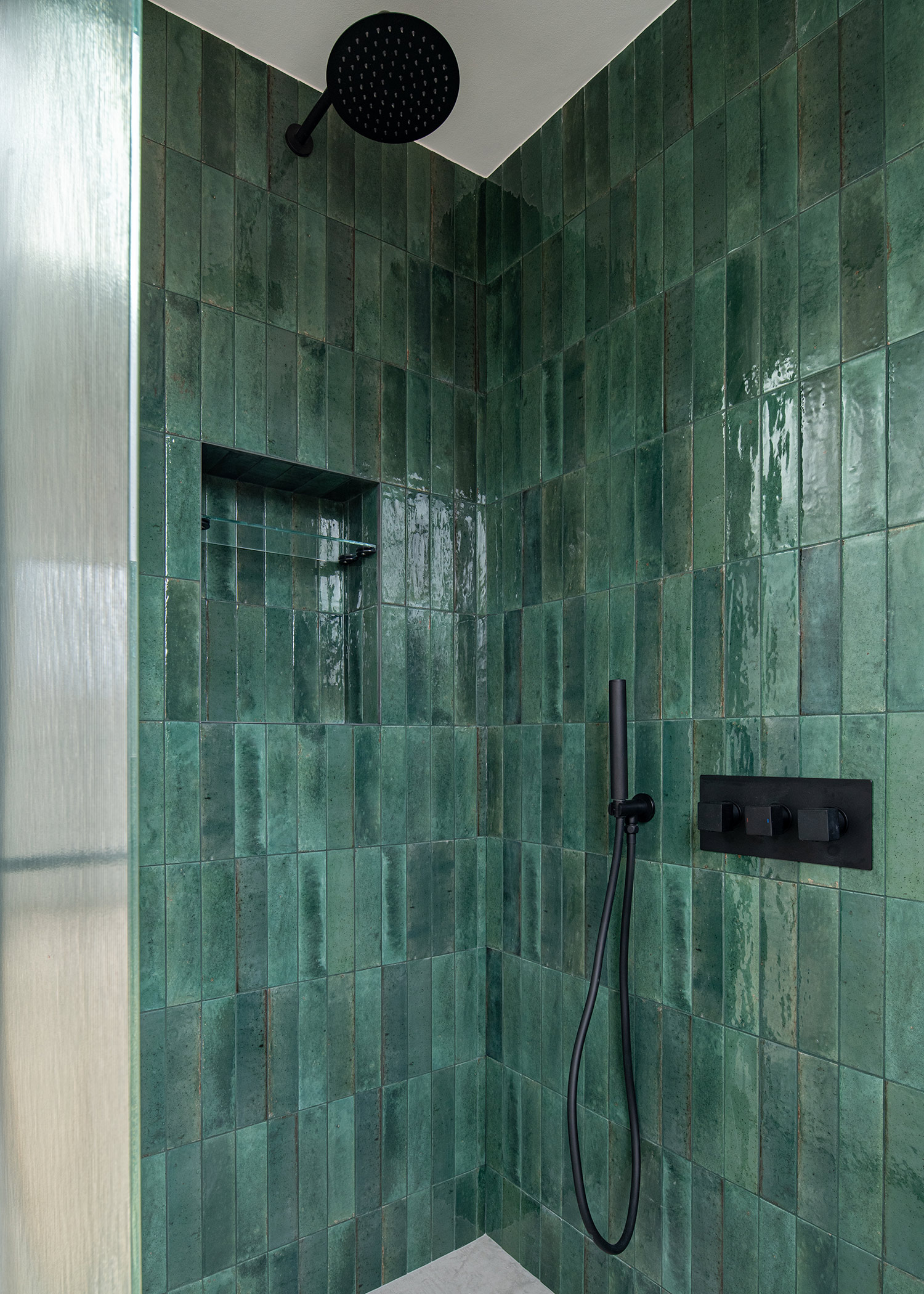 Characterful, handcrafted look
Situated in the loft conversion on the 2nd floor with abundant natural light, Domus' Meld slim brick-shaped glazed porcelain tiles deliver a luxurious infusion of multi-tonal colour within the room, inducing a characterful handcrafted look that conveys a relaxed, elegant aesthetic.

Laid vertically from floor to ceiling, the tiling scheme creates a dramatic immersive design element within the space, presenting an arresting mix of deep green tones in a rich gloss finish which brings the bathroom to life.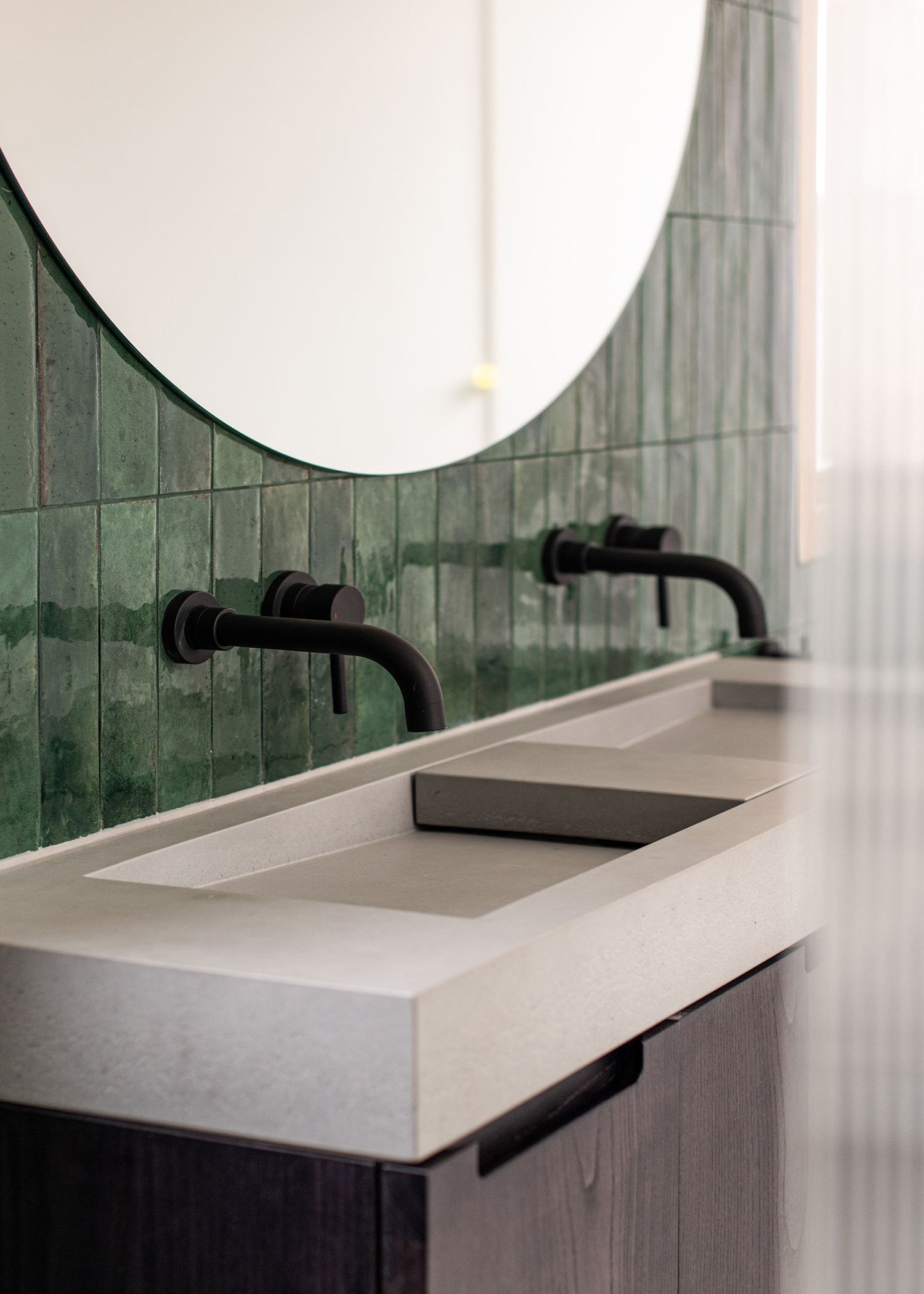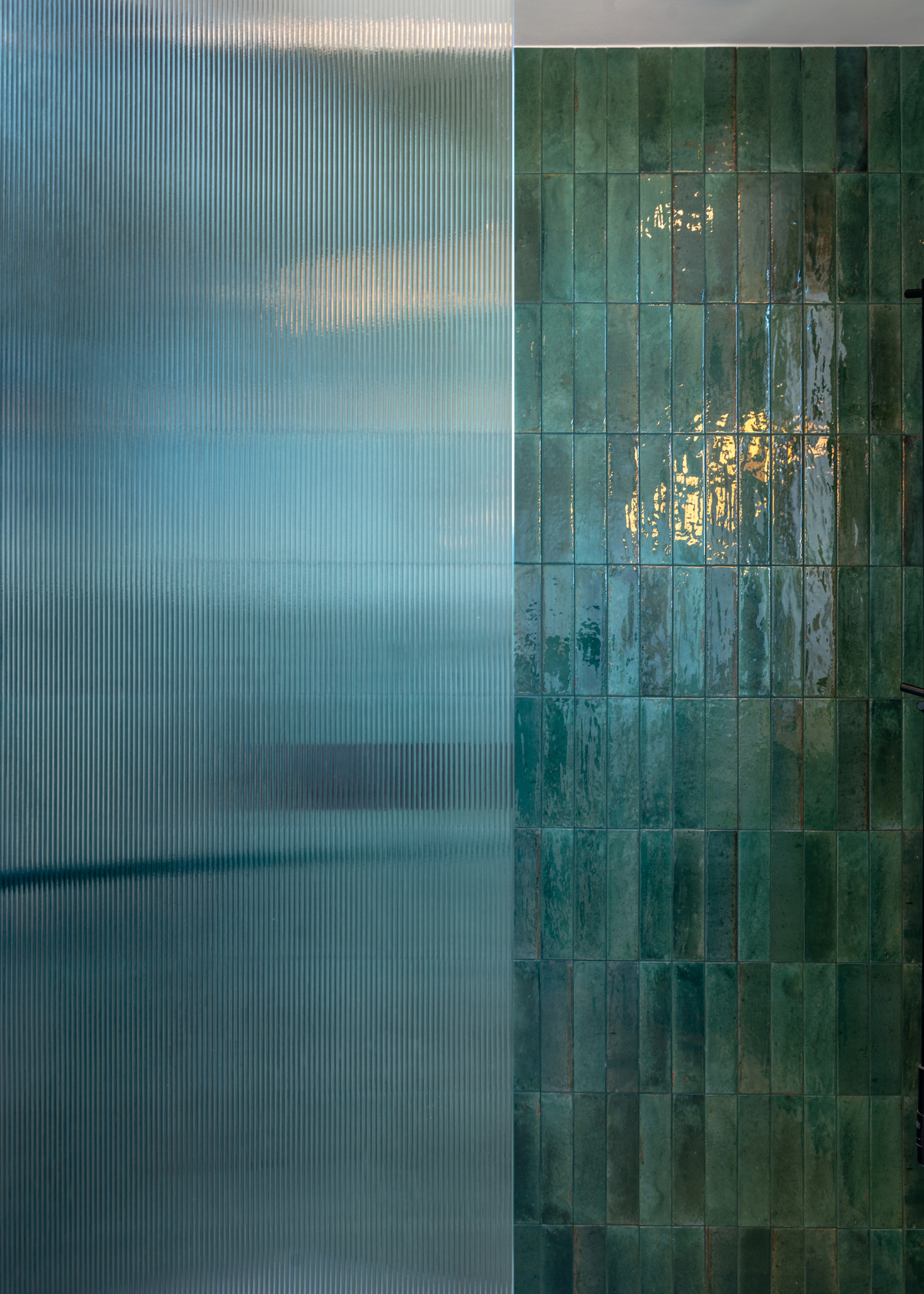 Imbued with the nourishing powers of nature, the striking colour and undulating surface finish allude to the aquatic tones and fluidity of water, bringing an energising and uplifting quality to the newly constructed space.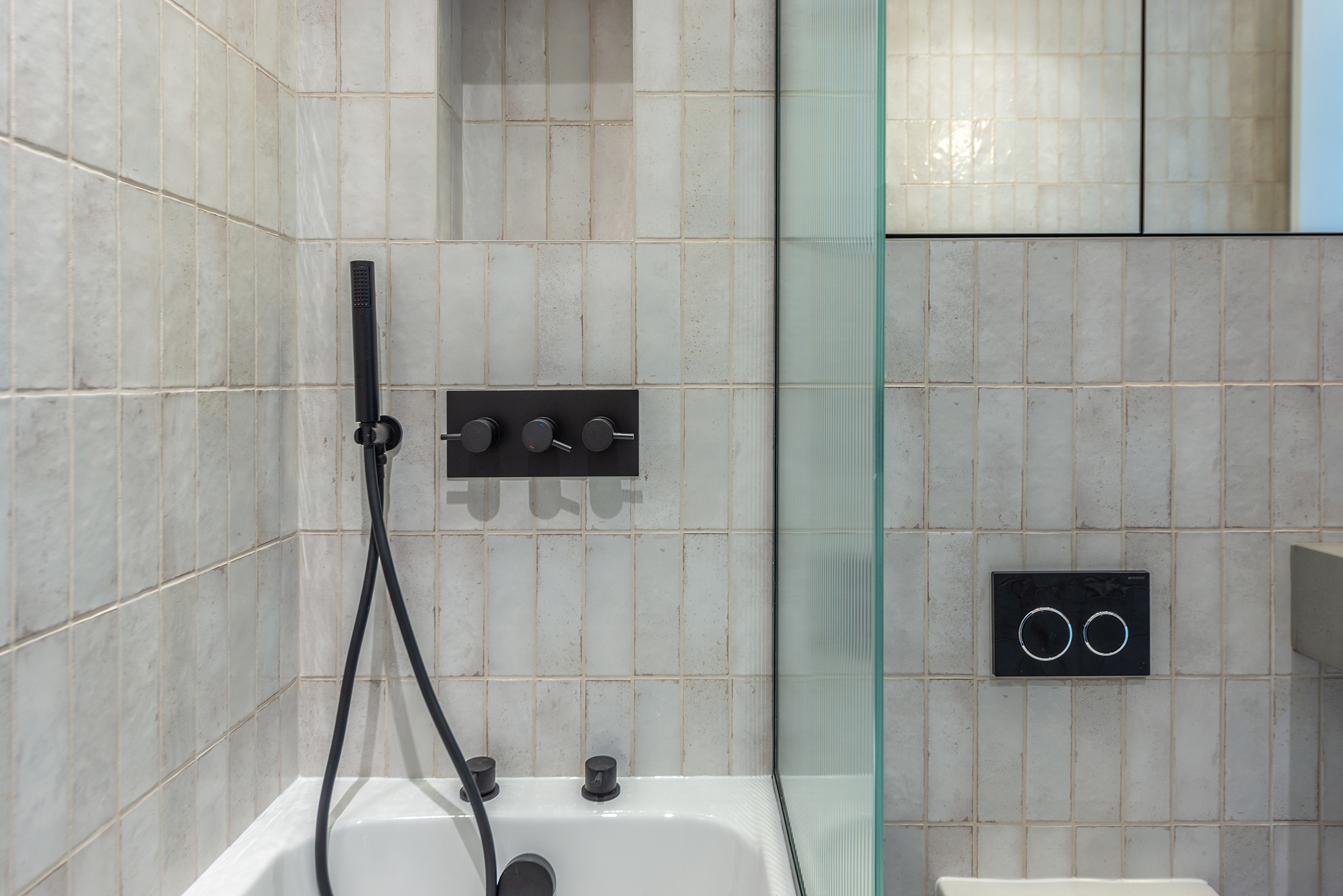 The main bathroom on the 1st floor is tiled using Domus' Amazonia glazed ceramic tiles. Shaded tonal variation and speckled detailing create an eye-pleasing visual dynamic in a gentle off-white colour.
Incorporating a matching tiled bath panel for an all-over coordinated look, the tiles evoke a vintage-inspired handmade quality via notable 'worn-look' characteristics, including an undulating surface finish and irregular edges.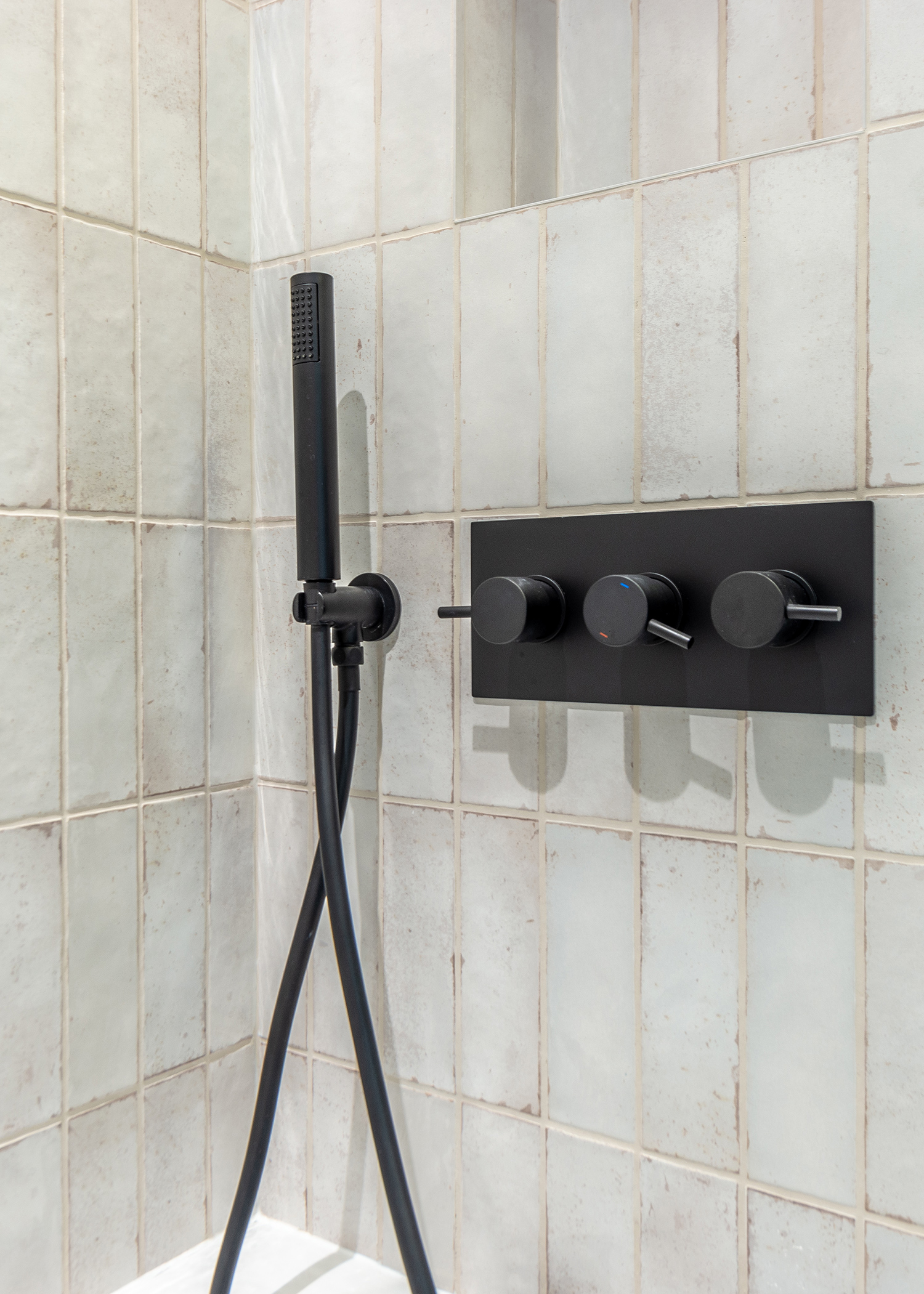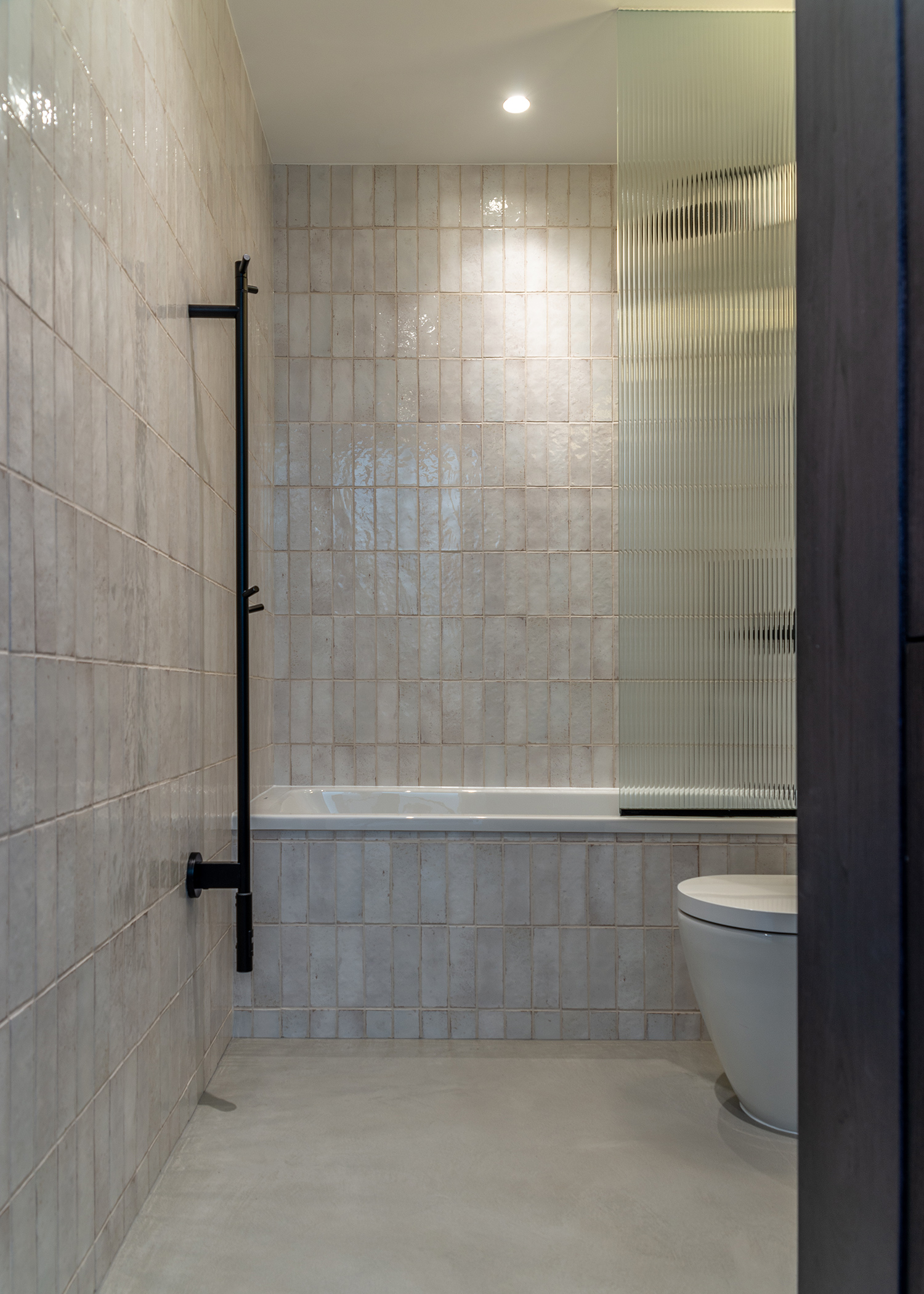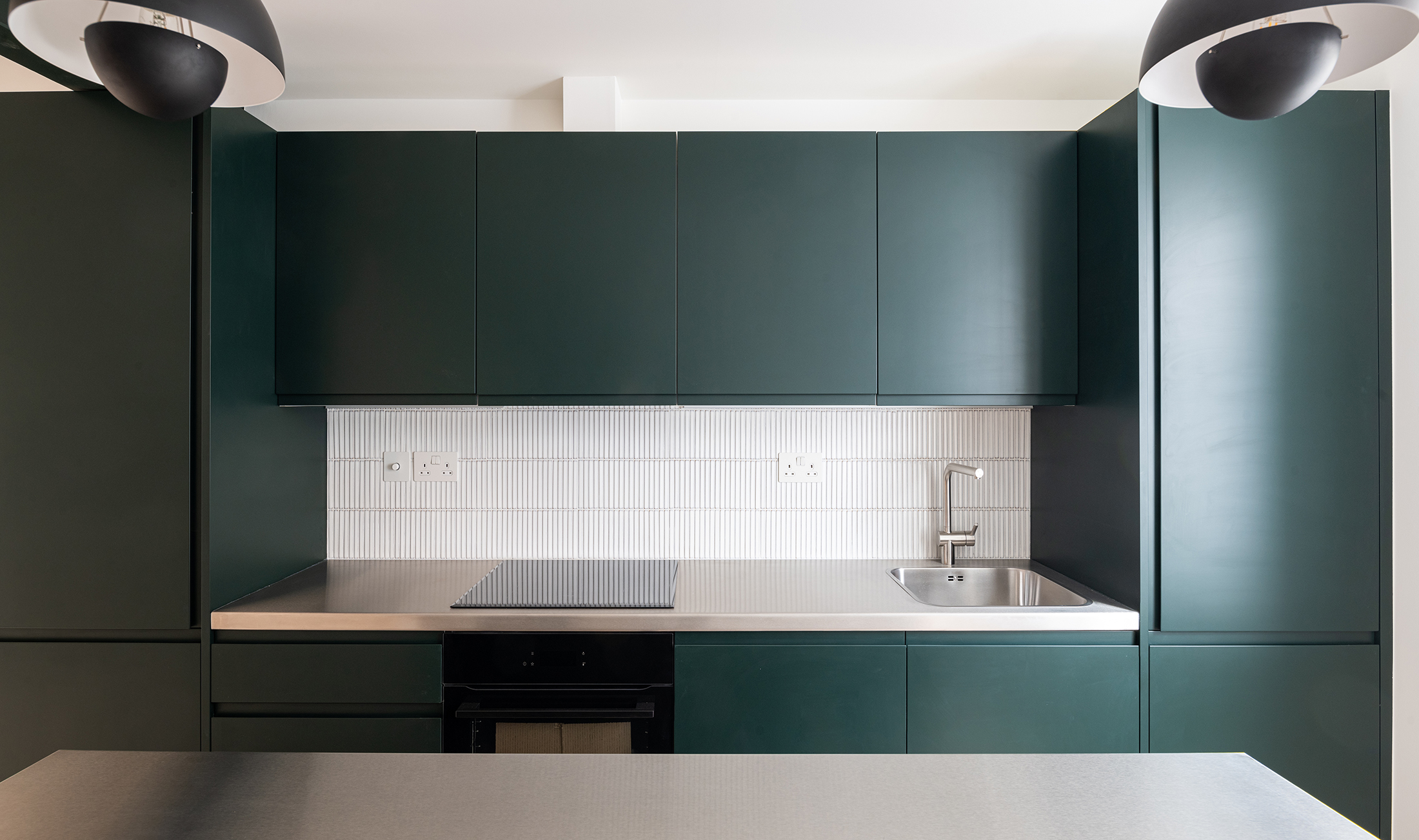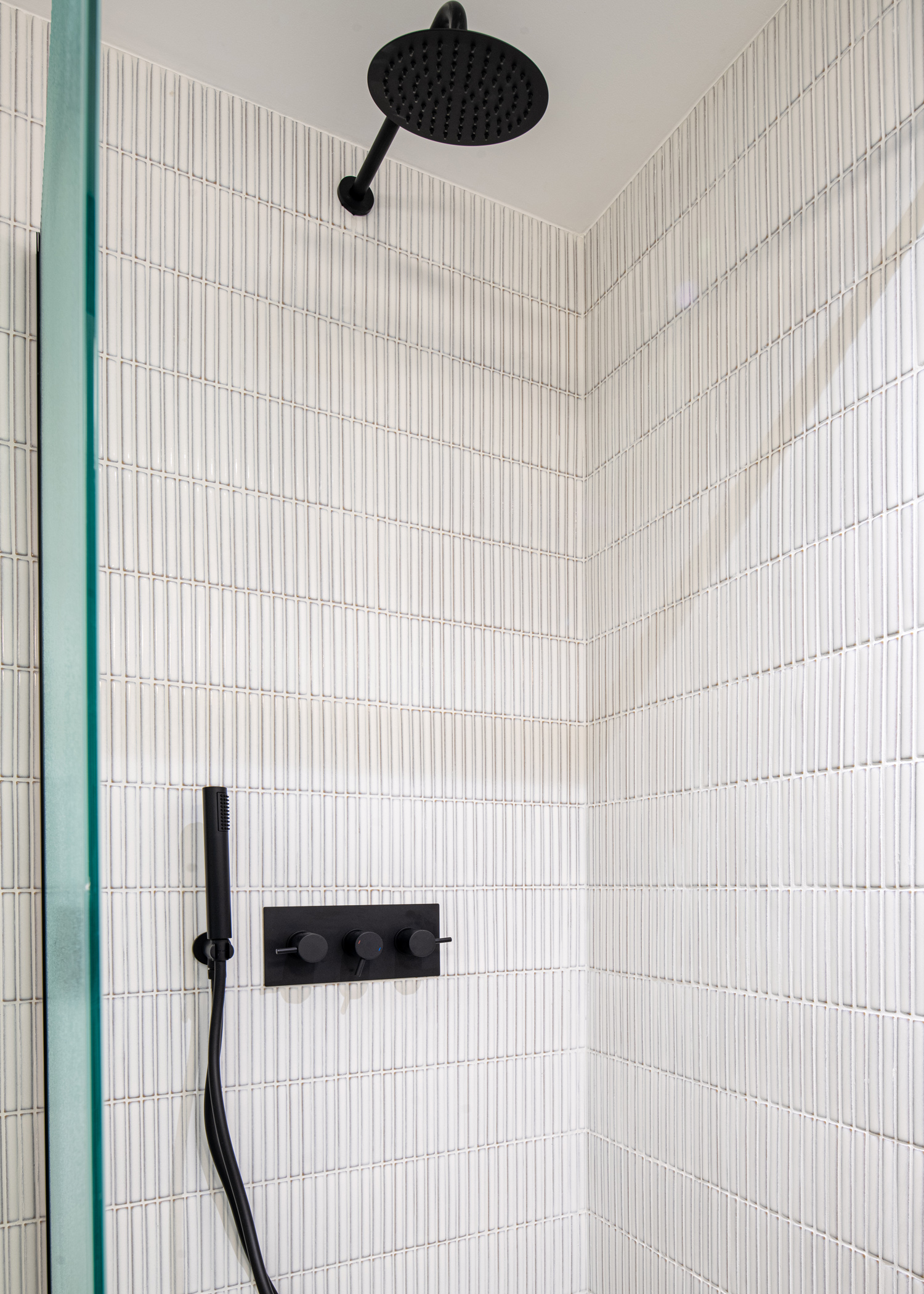 Elegant simplicity
The property has been reconfigured on the lower ground floor to incorporate a bright, one-bed flat to suit the homeowners' requirements and connect the interior with the outside space. Here, Domus' Yubi glazed porcelain stick mosaic tiles are used in white in both the kitchen and bathroom. Installed vertically, the clean linear grid format brings elegant simplicity to the newly built interior.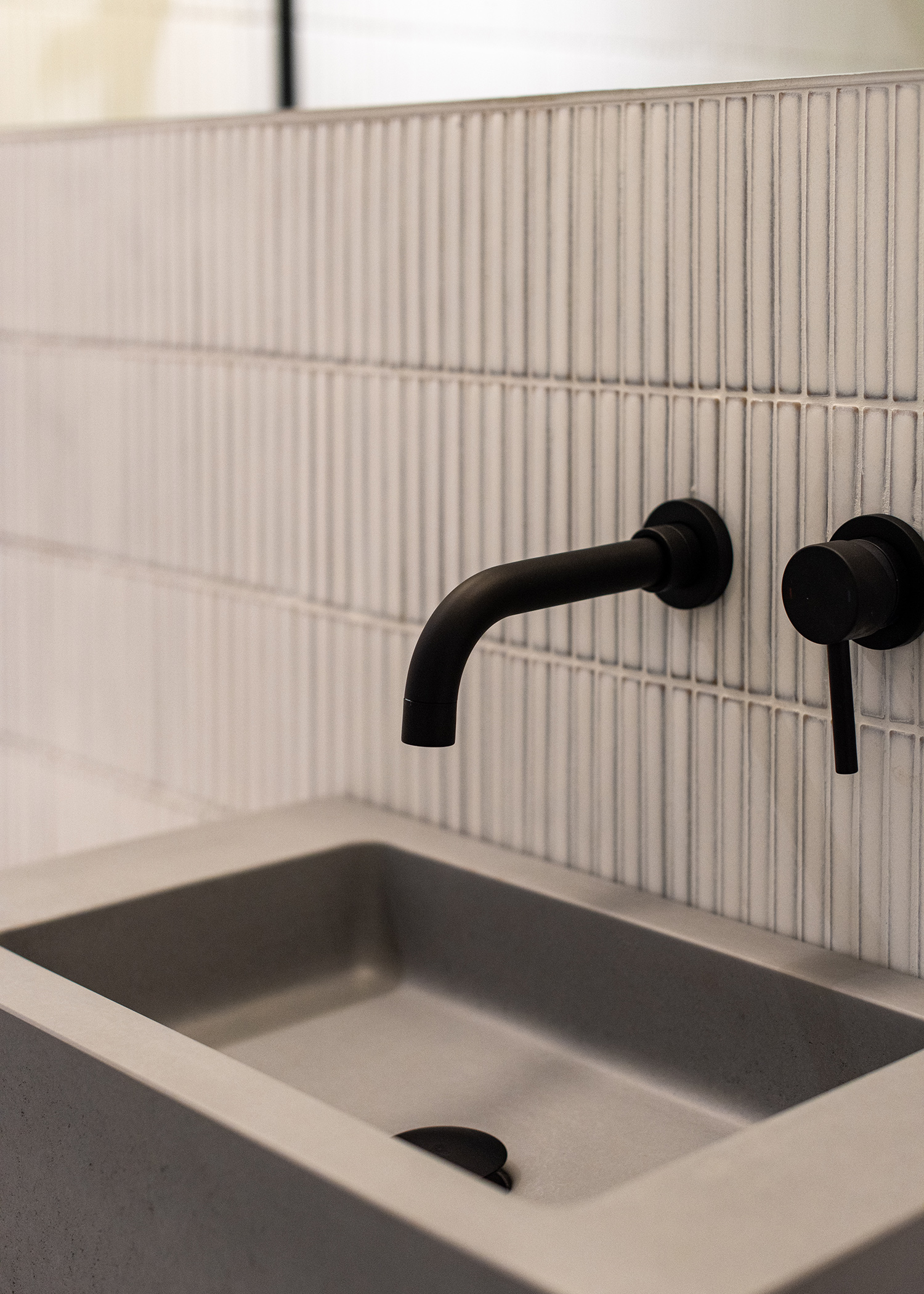 Fresh, modern feel
With a distinctive slim profile, the Japanese-inspired white glazed tiles introduce a fresh and modern feel to both spaces, with a delicate soft grey edge detail adding subtle visual interest to the tiling scheme.
For further information or technical advice please contact us