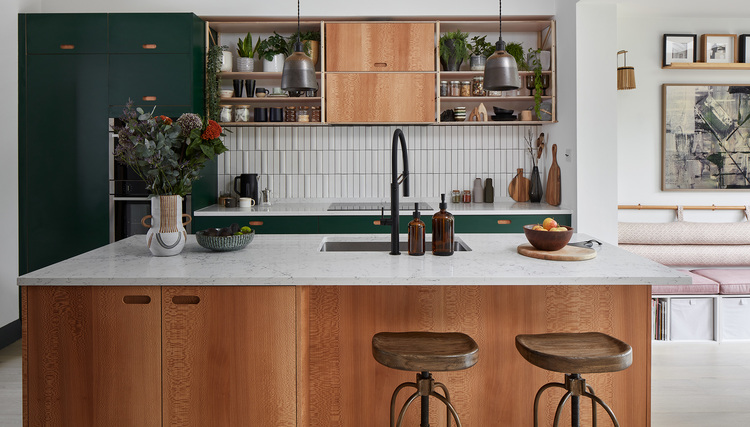 Case studies
Da Silva House
Project: Da Silva House

Design: Da Silva Design / Kitchen: Pluck London

Location: Crystal Palace, London
Warm, natural tones are paired with bold, bright details and an abundance of texture and pattern at Da Silva House in South East London – designed by homeowner Celine Da Silva of Da Silva Design.

Drawing inspiration from modern global heritage design, Da Silva has fully renovated the Art Deco property using new materials and design features within an updated layout.
Utilising biophilic design principles via clever use of colour, pattern and texture, Domus' engineered wood flooring is used throughout the entire ground floor, with white textured-surface ceramic wall tiles in the kitchen – both central elements of Da Silva's fresh and energising natural palette.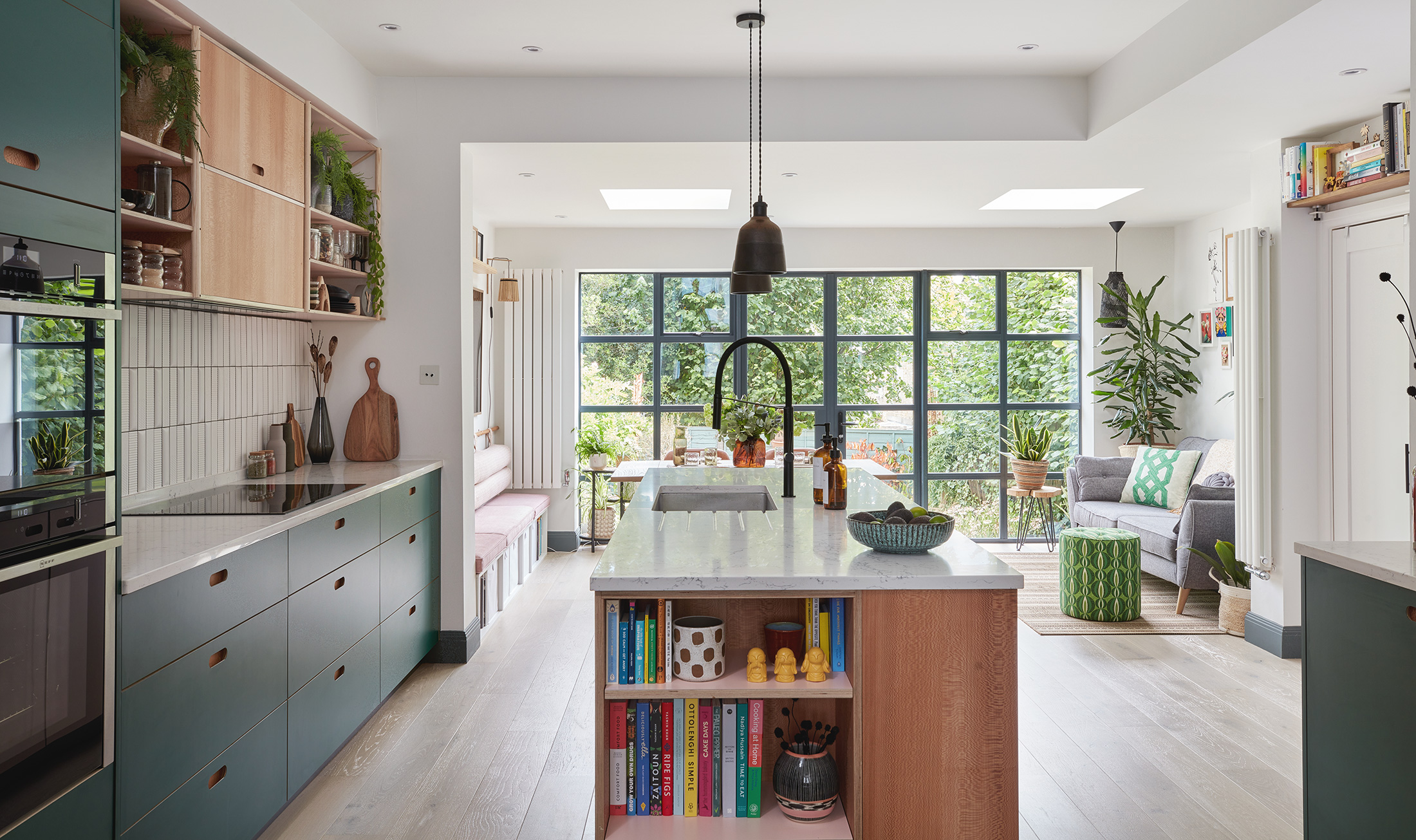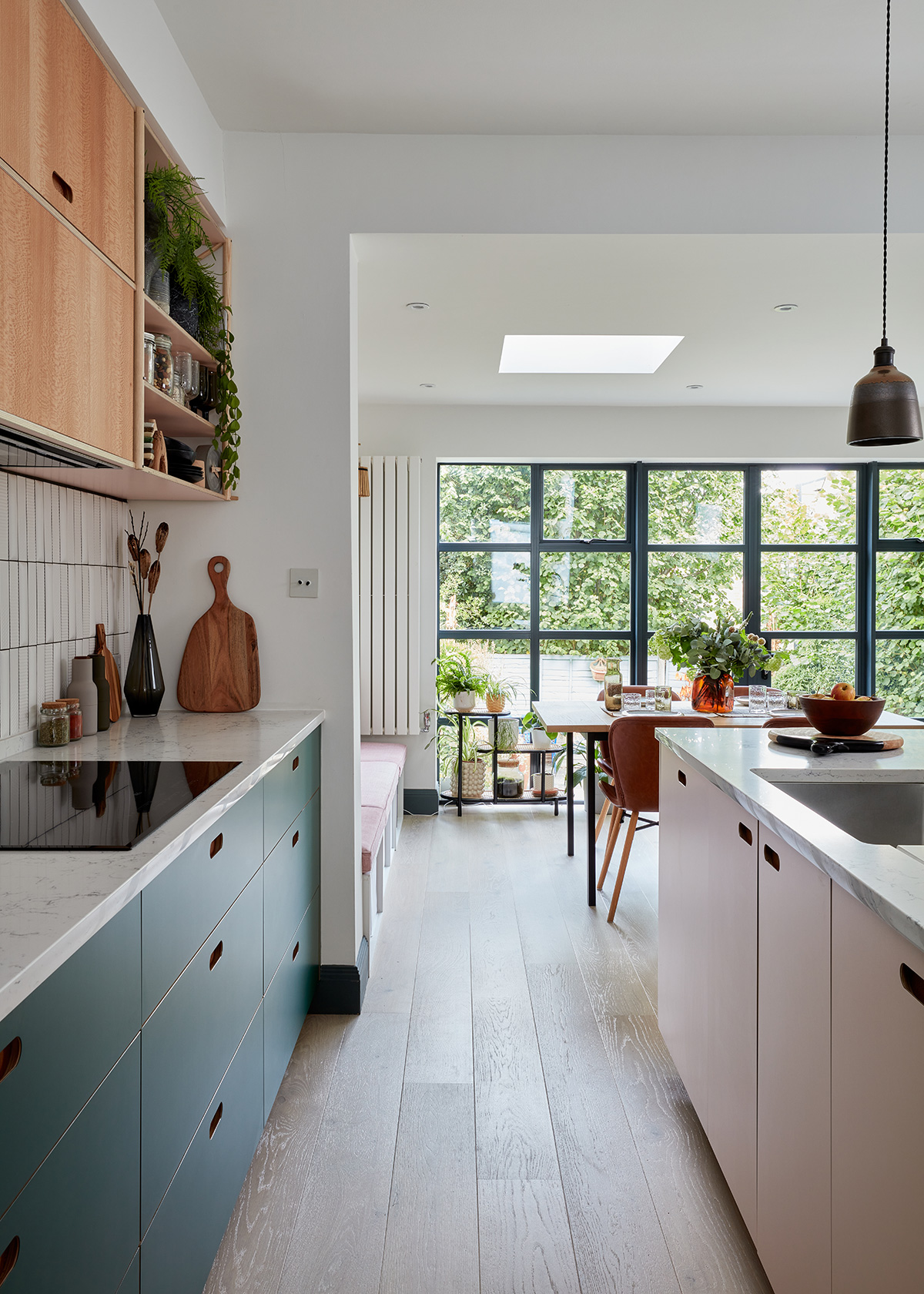 Domus' Engineered Wood flooring helps establish a warm and cosy ambience throughout the ground floor living, kitchen and dining areas, which Da Silva designed to feel 'relaxed yet atmospheric', reflecting a love of travel and nature. Using Domus' Pergo 190 in a soft, pale oak tone, the natural material adds an inviting warmth to the space while ensuring design continuity between the three new rooms.

The natural wood planks are finished with matt UV lacquer, ensuring a rough durable surface resistant to stains and scratches with a low sheen 'natural look' more akin to wax or oil, making them ideal for well-used interiors.
"Because the ground floor is suspended, we were advised cracking could be a potential issue with tiles, so we decided to play it safe with natural wood throughout, including in the kitchen, dining, and two living areas. There's no underfloor heating, but the wood feels warm underfoot, adding a tangible cosiness to the space." – Da Silva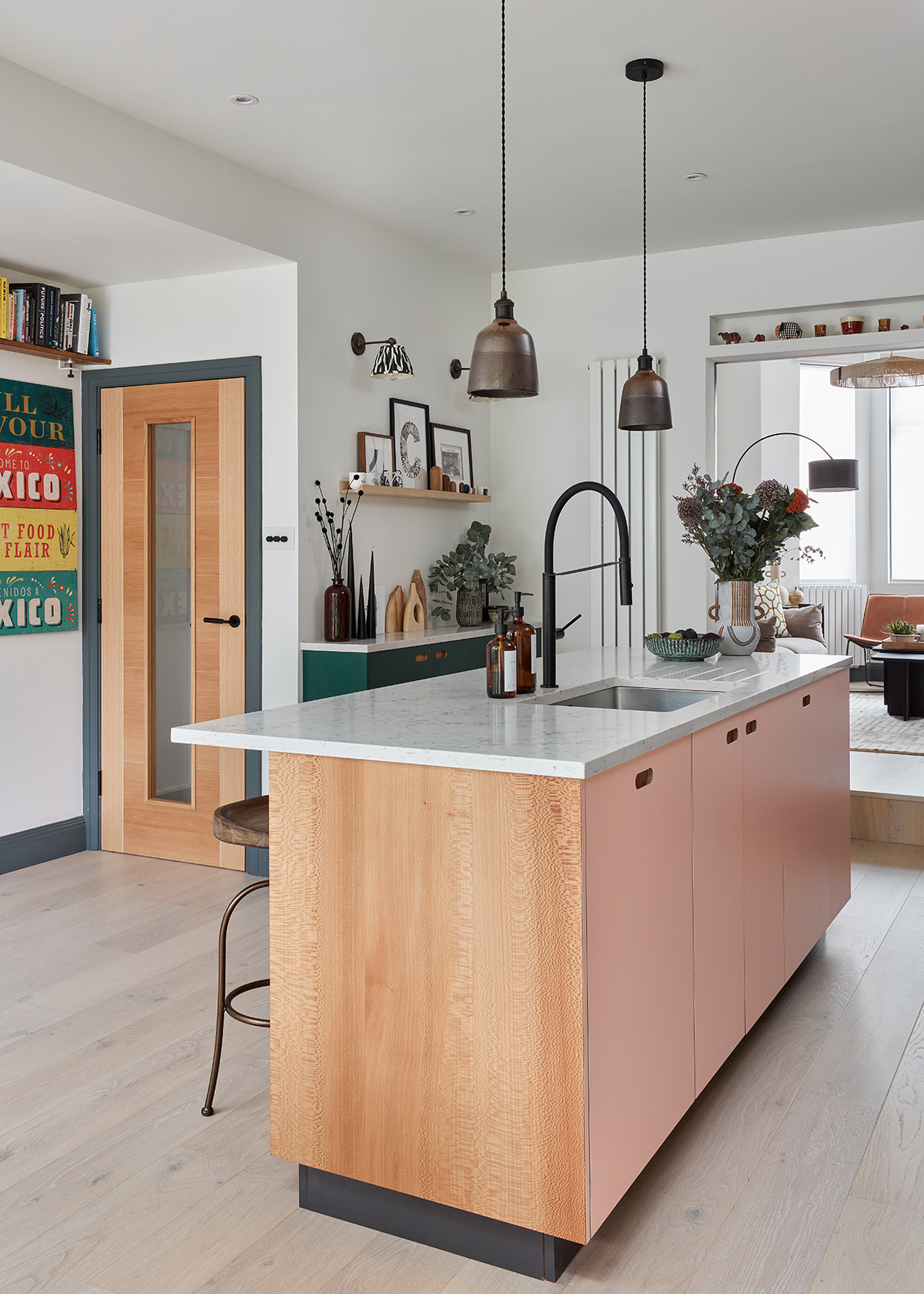 Beyond the kitchen at the back of the house, the dining and living areas have a cosy, inviting feel, aided by the soft oak colour and grain texture of the natural wood flooring.

"I wanted to recreate the look and feel of restaurants in South East Asia, so a mix of natural materials was a must. The natural wood flooring provides the ideal base for other furniture and accessories we chose."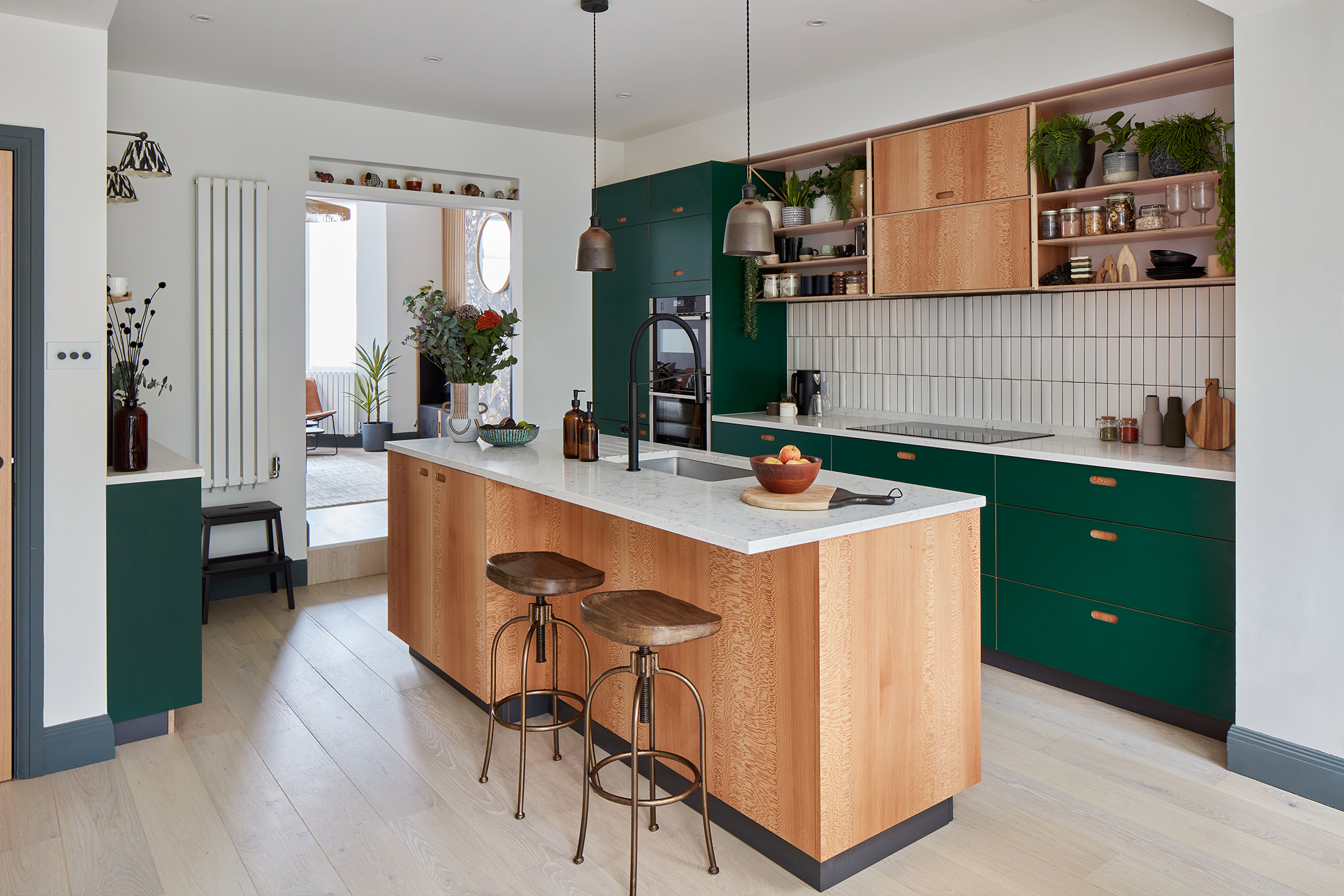 Da Silva's home doubles as a photoshoot location house, so ensuring flexibility in layout was most important during the design process. The broken-plan ground-floor layout, comprised of an open-plan kitchen and dining area plus two separate living areas, is subtly zoned, enabling the space to work for various purposes, both as a whole and as individual rooms. Structural considerations also affected the design throughout this space:
"Due to Crystal Palace being on a steep hill, there are many levels in the house. Therefore, we created an opening between the front living space and the kitchen/diner to allow more light to flow between the spaces. In addition, we used wood flooring from Domus throughout to provide design continuity and to link all rooms stylistically. To overcome the differences in levels, we incorporated a step constructed from Domus' Pergo Wood flooring in the new opening between the front living room and kitchen, which doubles up as a seat when lots of people are in the space."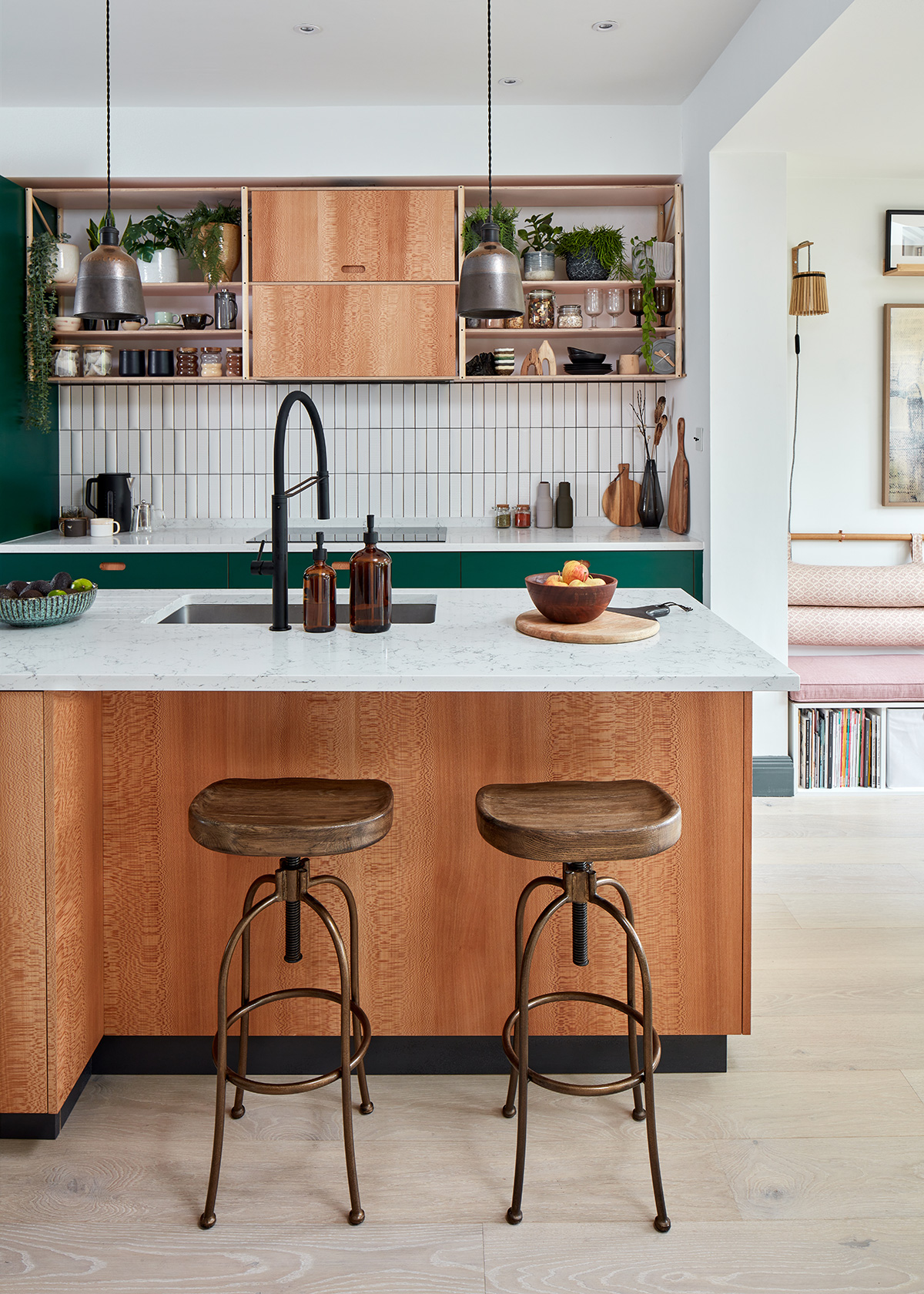 Da Silva's home beautifully demonstrates fundamental biophilic design principles, helping to create a rejuvenating yet relaxing home, especially in the kitchen. Providing a vivid contrast to the soft, pale tone of the wood flooring, Da Silva's bespoke design kitchen is made from sustainably sourced plywood cabinetry in an energising mix of bold 'Bonington Green' laminate and plane tree wood veneers – handmade by Pluck London in nearby Brixton.

Da Silva's purposeful use of natural materials and textures, nature-inspired colours and plentiful natural light ensure a strong sense of nature at every turn.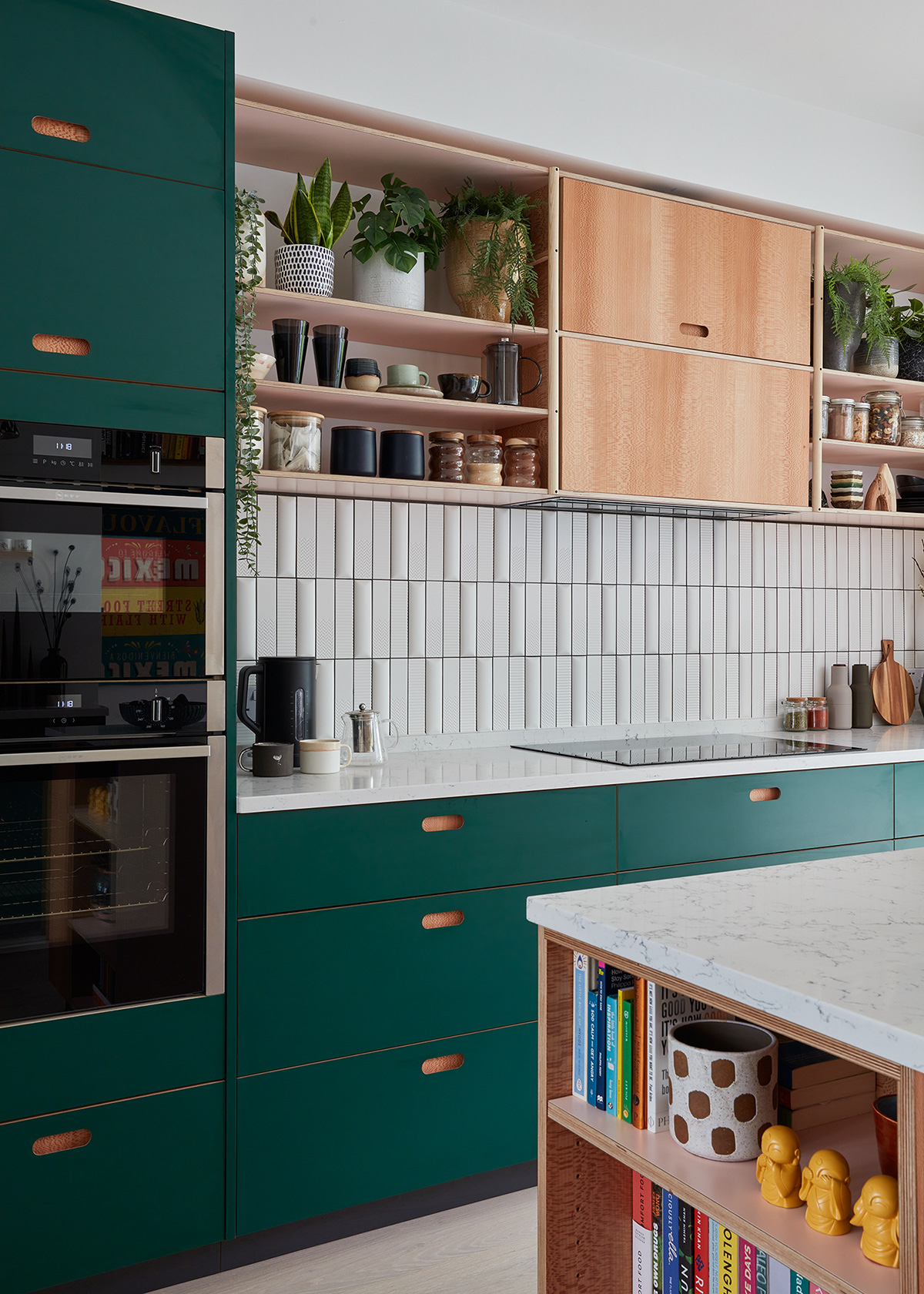 "Ultimately, I wanted the tiles to be simple, to contrast with the cabinetry, and to have subtle hints of texture and pattern," Da Silva explains.
The kitchen splashback design features Domus' Biscuit tiles in white, used in a mix of four different texture options: Plain, Dune, Strip & Waves, adding subtle visual interest and a sense of playfulness to the kitchen design without dominating.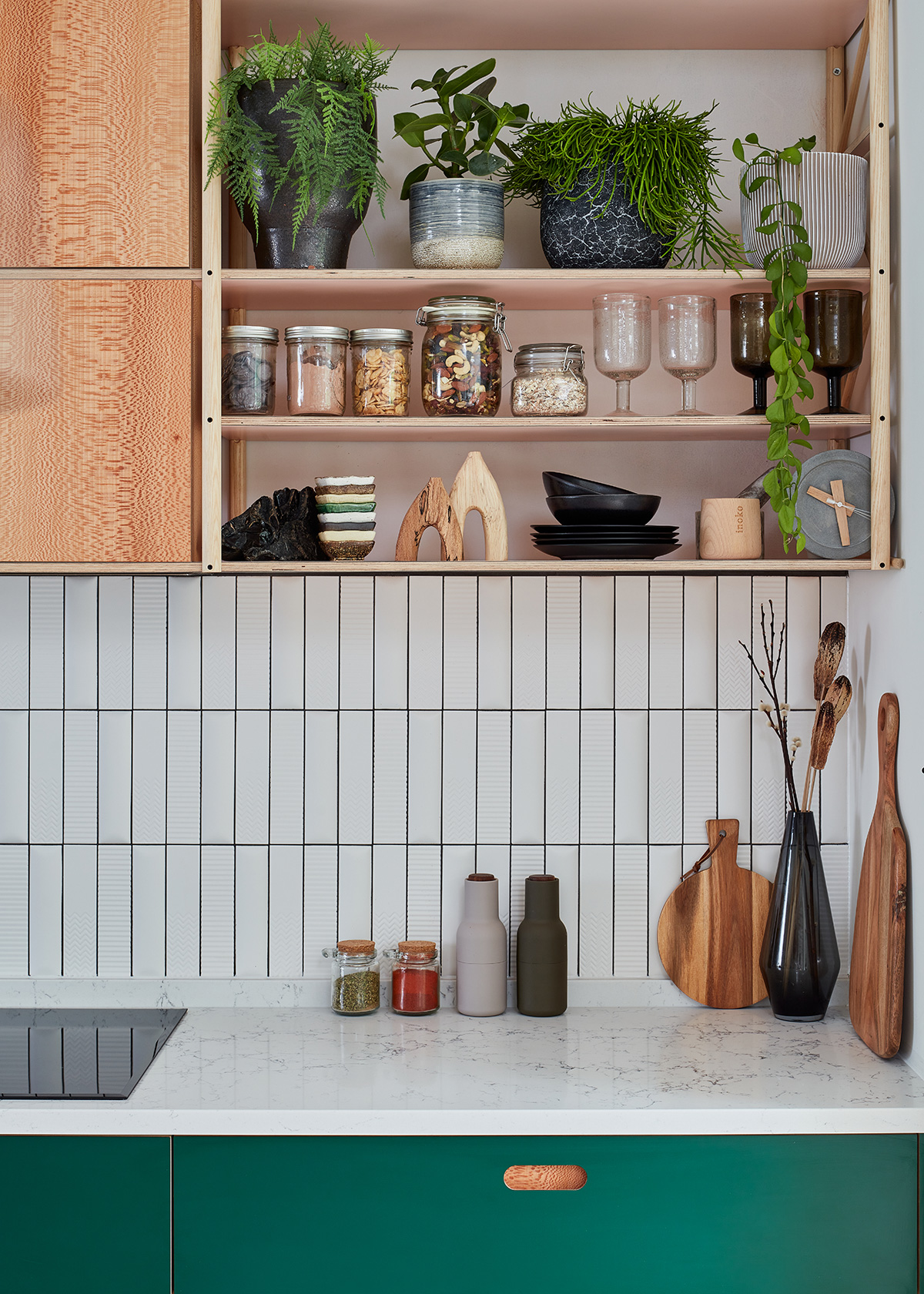 "I looked at various iterations, all laid out on the floor, and moved them around to decide which pattern worked best overall", she says. Working in tandem with the forest green and natural wood cabinetry, the fresh white ceramic tiles bring a fun and playful feel to the kitchen, which is brimming with personality."
Photography by Chris Snook

For further information or technical advice please contact us