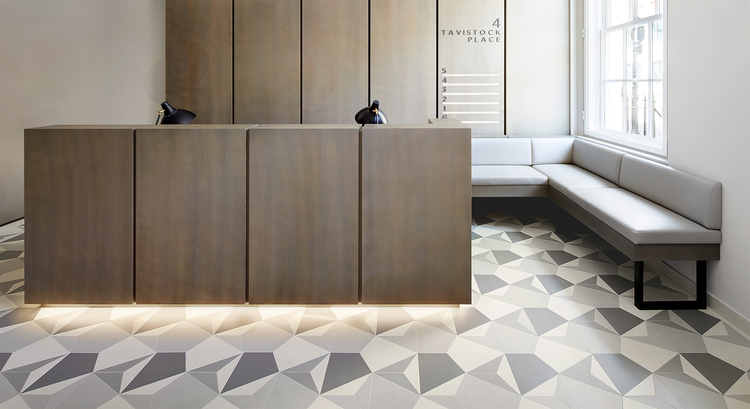 Case studies
Tavistock Place
Customised patterned flooring design adds point of interest to office reception
Project: Tavistock Place

Design: Marek Wojciechowski Architects

Location: Bloomsbury, London
A modern upgrade for this Grade II Listed building
Marek Wojciechowski Architects recently completed a full refurbishment and extension at 4 Tavistock Place, a historic Grade II Listed Georgian townhouse in central London. Forming part of a terrace in the heart of the Bloomsbury Conservation area, the building was previously remodelled from a residential dwelling to office space in 1975 and in considerable need of a refit. Using customised-design waterjet cut porcelain tiles on the floor in the main reception area, the new refurbishment provides contemporary workspace suitable for modern use.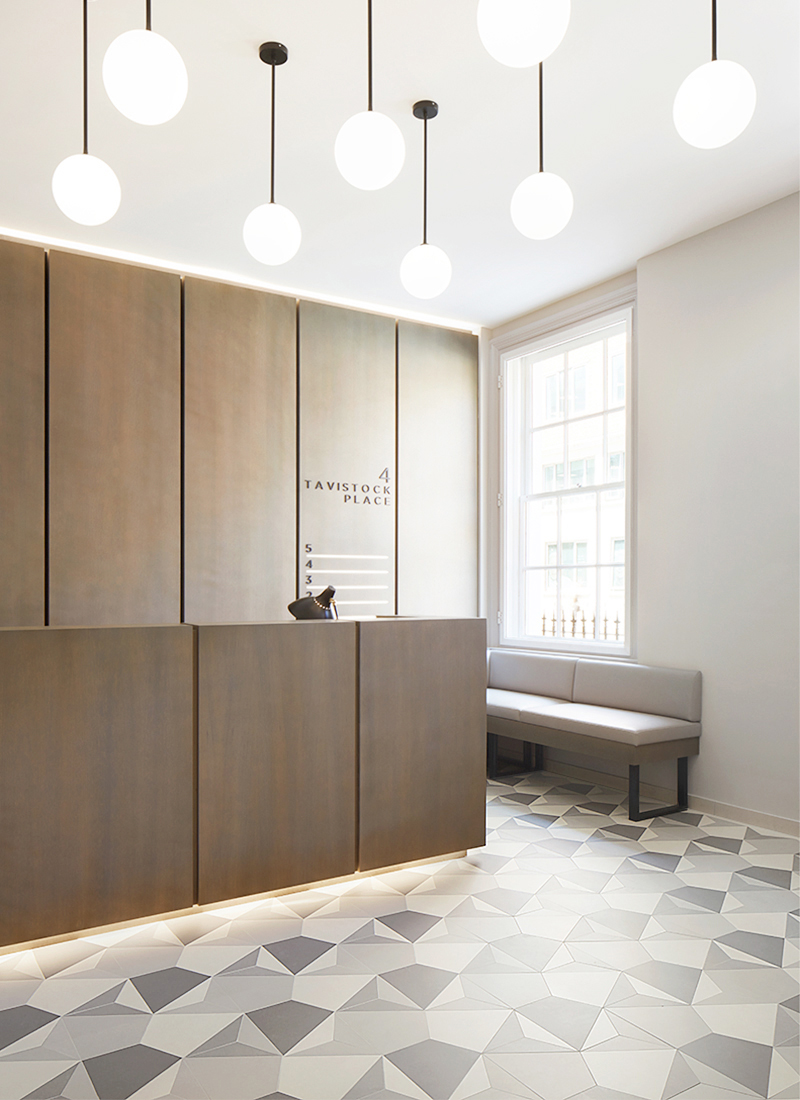 Behind its repointed period façade, the building now offers contemporary open-plan office space across seven floors, with a central reception area that is entered into directly from the street. The customised patterned flooring design is a central feature in this calm, inviting area, adding a point of interest to the reception space that is used by all staff and guests who enter the building.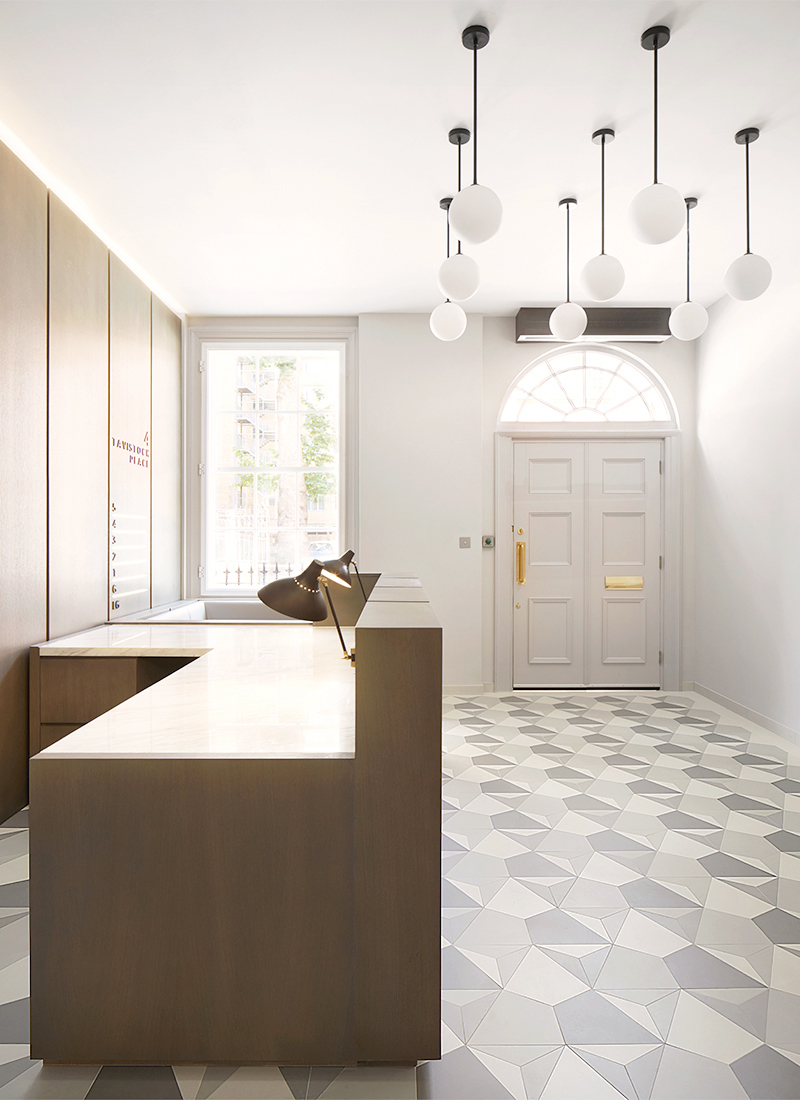 The interior design scheme here utilises a material palette of soft neutral tones, in which MWA have specified Domus' Terranova porcelain tiles in a natural finish in four different colours. Regular full-size Terranova tiles have been waterjet cut into two smaller shapes to form a geometric tessellating pattern across the reception floor. This unique approach to tile design is offered as part of Domus' customisable Modello collection, which allows designers to select any porcelain tile material in conjunction with several pre-designed shapes and patterns to create feature floor and wall designs unique to their projects.
Bespoke Tile Layout – Modello Pattern 4
Terranova
Explore the sophisticated porcelain range with 12 organic, pastel and grey shades, timeless style, and modular sizes, including large-format options and decor mosaics.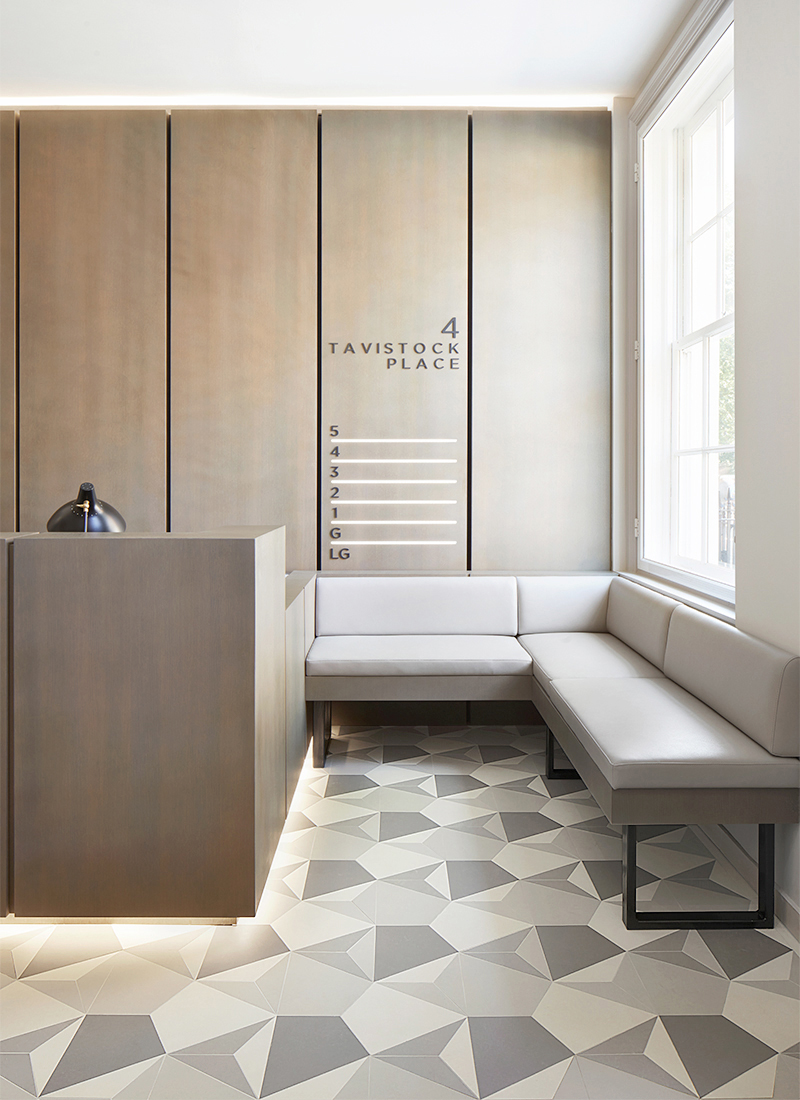 For further information or technical advice please contact us