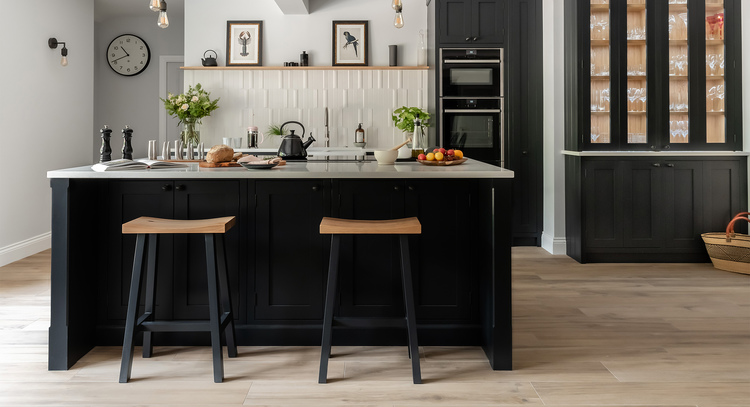 Case studies
The Dene Kitchen
Channelling a luxury, modern rustic style in the Surrey Hills
Project: The Dene Kitchen

Design: Surrey Hills Architecture / Shere Kitchens

Location: Surrey Hills, England
Carefully crafted to promote perfect cooking & relaxation
Channelling a luxury, modern rustic style, 'The Dene' kitchen makes a carefully crafted design statement within a classic 1930s 'Chown House', designed by architect Frank Chown and located in the heart of the Surrey Hills. The previous kitchen layout was redesigned by local architects Surrey Hills Architecture to create an entirely new space designed for cooking and relaxing, incorporating masses of customised storage alongside a walk-in pantry and utility room.
Floor and wall tiles from Domus perfectly complement the bespoke-design dark painted cabinetry, handmade by local cabinet makers Shere Kitchens, as part of a colour palette centred around a contrasting mix of dark and light tones.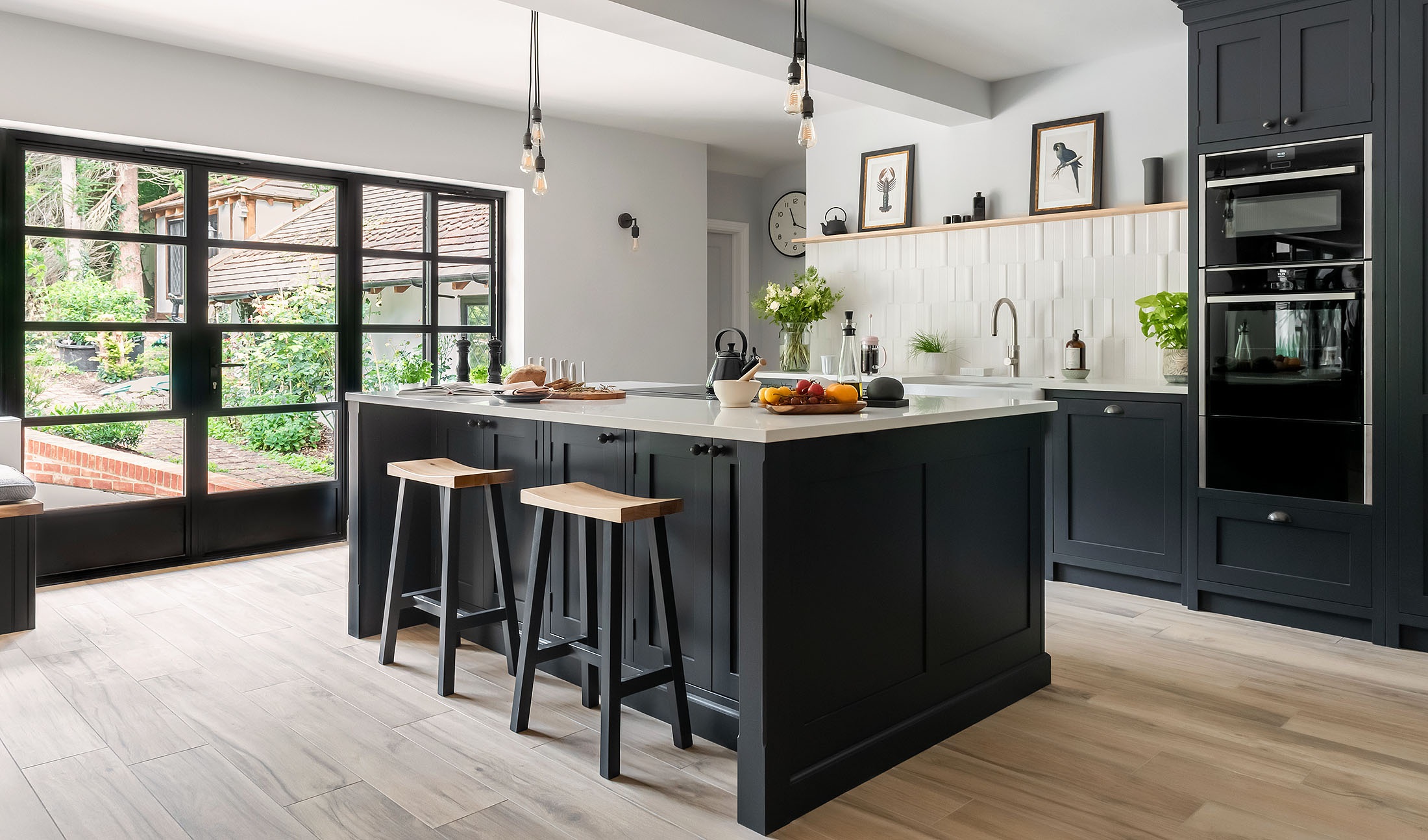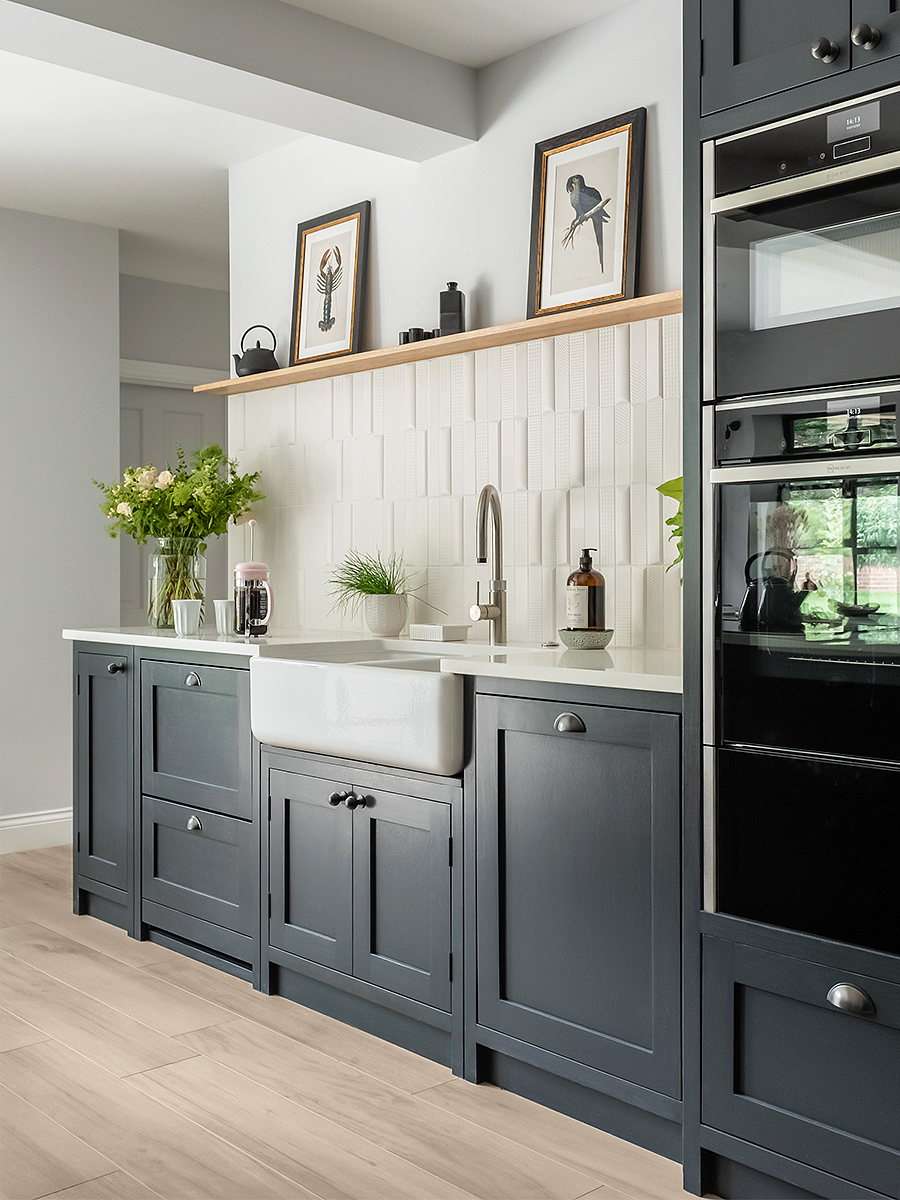 Dark & light tones for elegant & sophisticated style
The material palette presents a contemporary rustic aesthetic. Ultra-dark painted wooden cabinetry takes centre stage in the kitchen, paired with soft oak-toned porcelain wood flooring, white glazed porcelain wall tiles and white quartz worktops and natural wood shelving. These accompanying materials work together with the dark cabinets to offer a striking combination of dark and light tones, resulting in an elegant, sophisticated interior style.
The dark, inky coloured cabinets are hand-painted in Farrow & Ball 'Off-Black' – a colour which acts as a central focus offset against white walls in the light-flooded, open-plan space. Featuring a mix of base cabinets, a kitchen island/breakfast bar and floor-to-ceiling cabinets, the dark-painted wood cabinetry offers a structured simplicity and is a perfect contrast to the lighter shades used elsewhere. Combined with the warmth and texture of the porcelain wood flooring and subtly textured surface of the wall tiles, the material palette exudes an inviting, homely charm, ideally suited to the country-style property.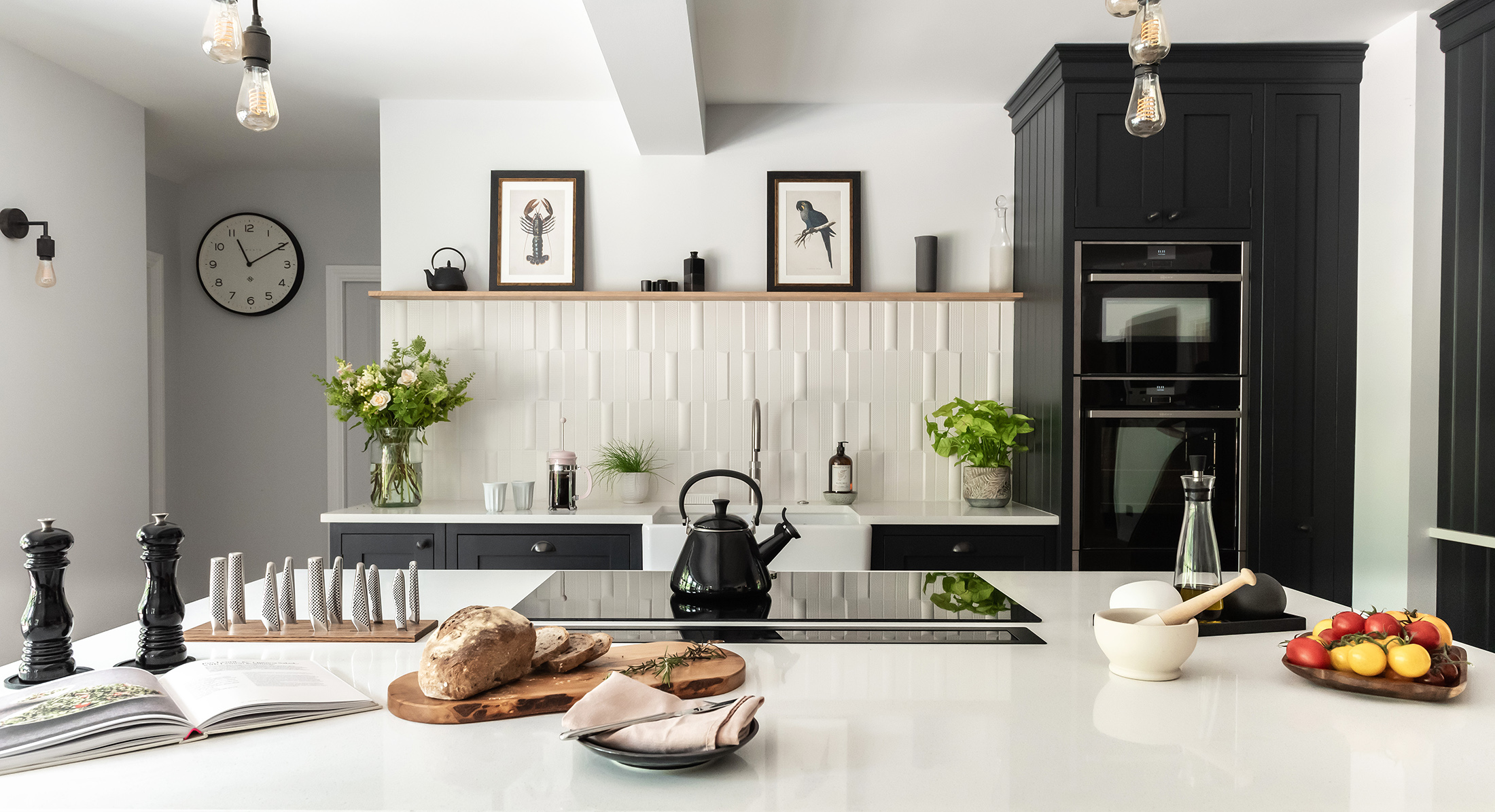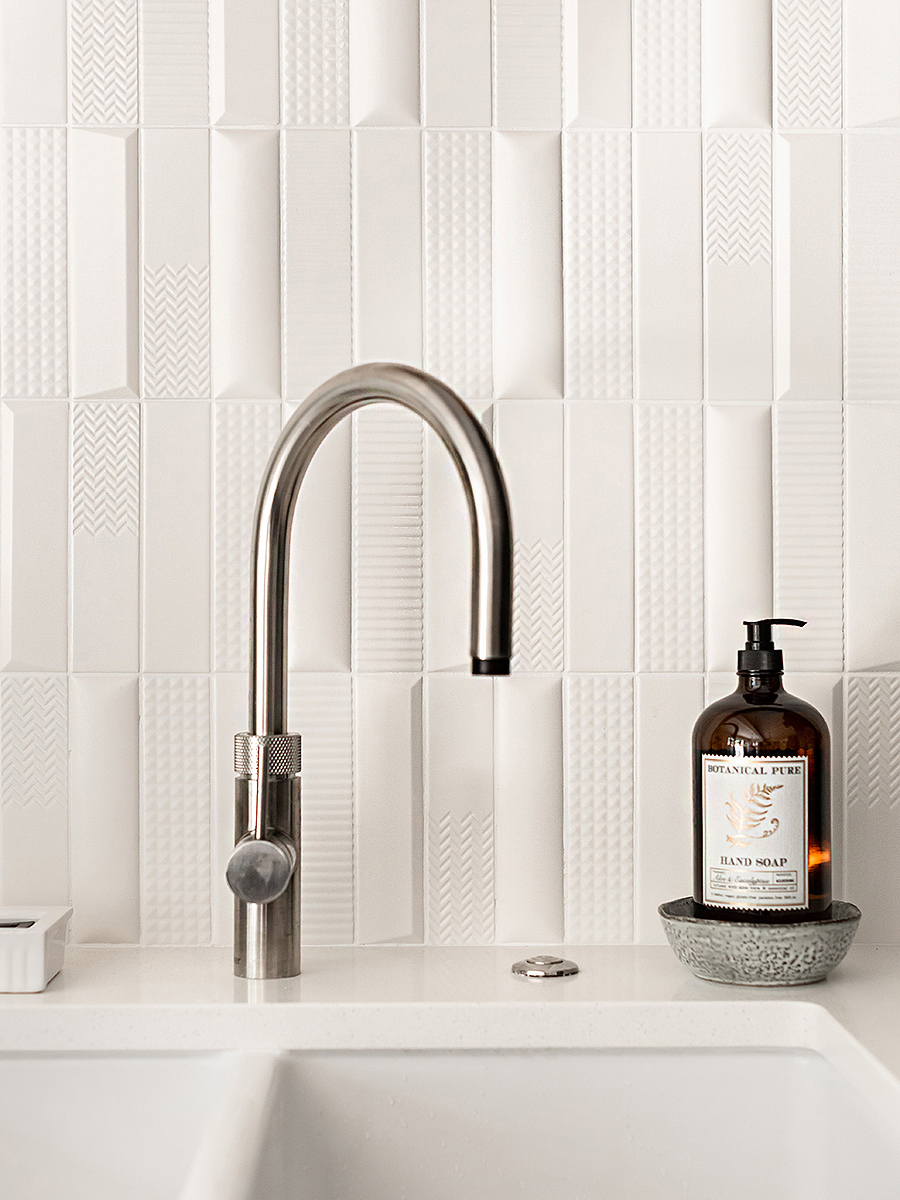 A playful touch
The splashback area behind the double Belfast sink features Domus' Biscuit tiles in white laid in a vertical grid format. In a soft matt finish, the long slim brick-shaped ceramic wall tile has been used in a mix of all six pattern options, including the plain style alongside a variety of textured patterns and 3D shaped surfaces, bringing a contemporary playfulness to the kitchen.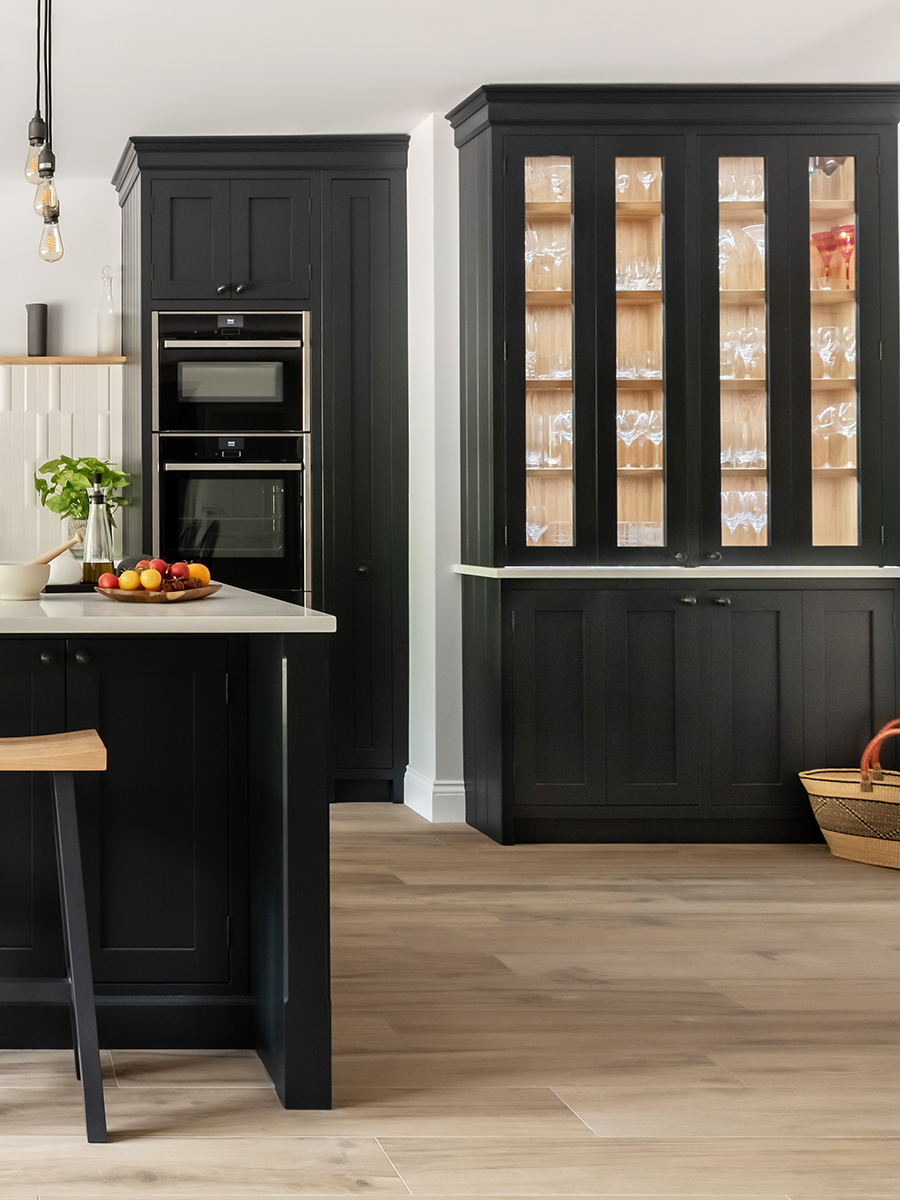 The beauty & warmth of wood with the practicality of porcelain
Expressing the beauty of natural wood in a hard-wearing porcelain material, Domus' soft oak-coloured Provoak floor tiles introduce an inviting warmth and texture to the kitchen and adjoining areas. Running through the open-plan kitchen and dining area and into the walk-in pantry, the porcelain wood flooring conveys the character and appearance of natural wood, featuring shade and pattern variation across each of the long plank-shaped tiles. Used in an anti-slip finish for extra slip-resistance underfoot, the porcelain tiles offer a zero-maintenance, practical flooring material that is easy to clean and almost impossible to damage, making it the perfect choice for such a well-used central space.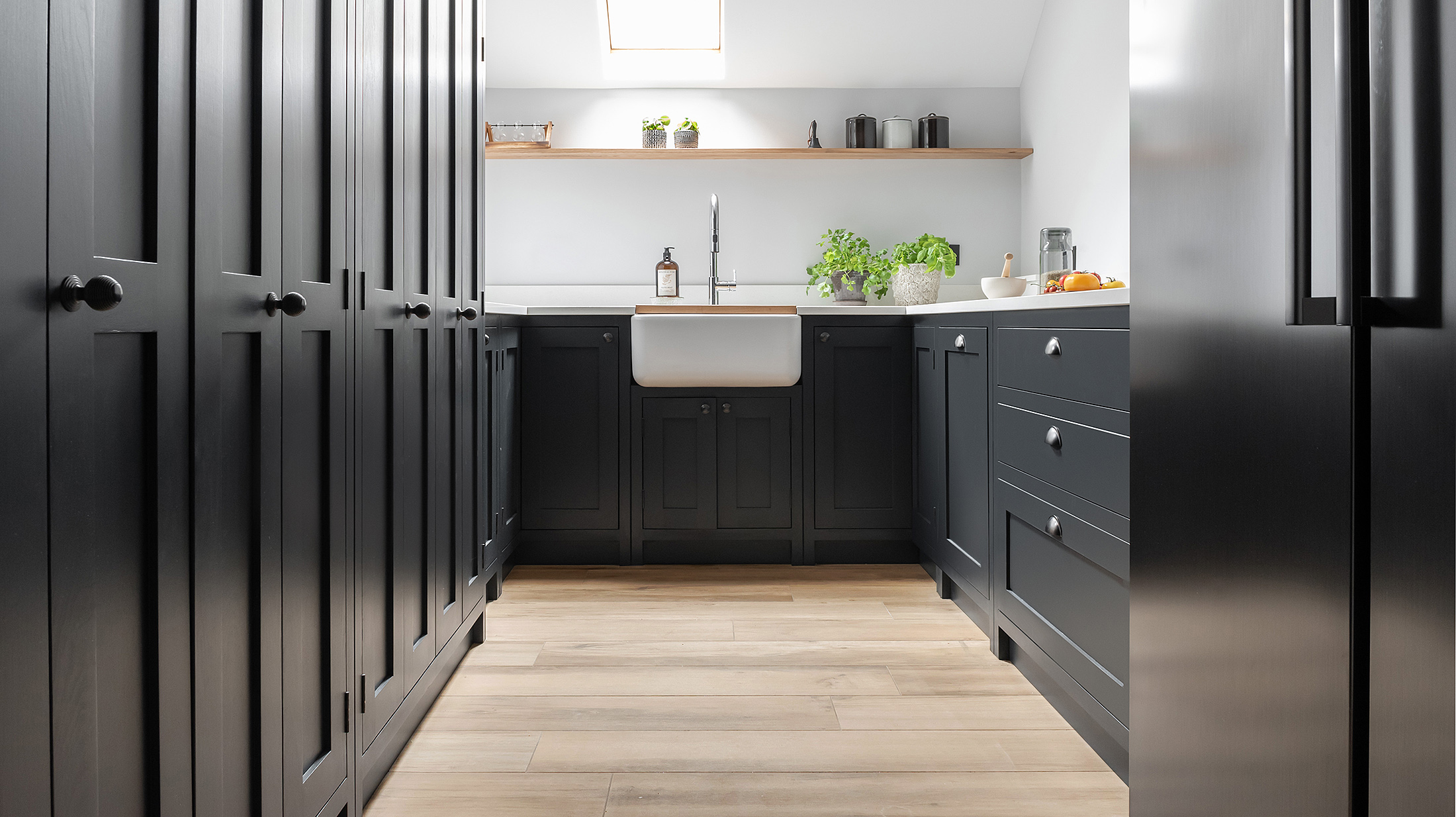 For further information or technical advice please contact us