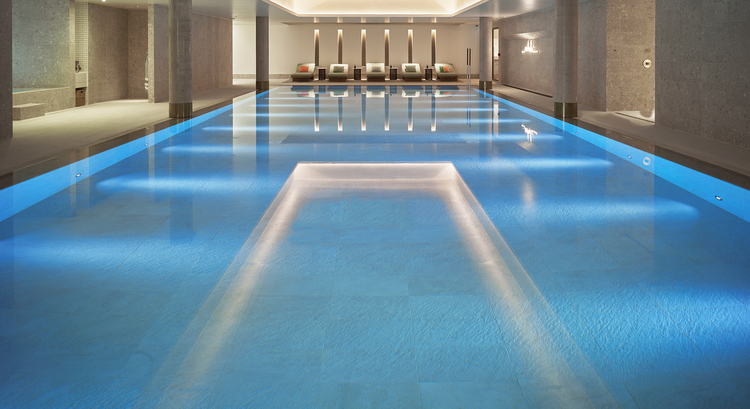 Case studies
Spa & Wellness Centre
at Battersea Power Station
Project: Spa & Wellness Centre

Design: Sheppard Robson and ID:SR

Location: London

Materials used in all areas
Sheppard Robson and ID:SR successfully completed in 2018 this luxury gym and spa located on the Battersea Power Station development using over 1200 SQM of wall and floor tiles from Domus throughout. The 1000 m2 space sits below the first phase of the wider development, Circus West Village, and includes a swimming pool, gym, treatment rooms, wellness suites and a relaxation area.
"Located at the heart of a bustling and thriving development, the spaces create a tranquil environment that promotes reflection, relaxation and fitness"

Sophie Campbell, Associate Partner at Sheppard Robson
A Welcoming Neutral Palette
On entering the space, a welcoming neutral palette of porcelain stone and timber creates a feeling of tranquillity, with three treatment rooms positioned close by the entrance. The same calming palette flows through to the poolside area which guests enter through a rain room.

The concept for the design focuses upon the large 20 metre long, three lane swimming pool as the sparkling 'jewel' at the heart of the project, with a range of intriguing spaces nestled around this. For the main swimming pool tank, a special Domus Quarziti porcelain stone was specified in a natural finish. Elsewhere around the swimming pool deck, Domus Material Stones, a porcelain tile range with a grip finish, was used providing a high technical performance, low maintenance product and high levels of slip resistance.
Special consideration had to be provided for all wet areas and the ramped areas to ensure the necessary slip resistance levels were specified. HSL recommend that if a floor is going to be foreseeably wet then a wet PTV rating of >36 (BS7976-2 Pendulum Test) should be specified.
A calm and versatile space flooded with natural light
Domus provided bespoke technical solutions for the pool edging including gratings with slotted drainage channels specially fabricated from matching tiles used for the pool deck. Complementing external corner gratings were also specified to properly complete this design. Coordinating tiles have been used for the walls around the pool deck, while a number of niche alcoves with built-in seating are tiled in Domus Norr porcelain tiles which have a distinct agglomerate style, inspired by engineered stone and the Nordic landscape.
On the other side of the pool is the relaxation area, a calm and versatile space flooded with natural light, which sits next to the steam room, sauna and jacuzzi. This can be used by guests for anything from a quiet space for reading to hosting events. Here, Domus Selection Oak porcelain timber tiles have been used in a soft pale tone to help create a timeless, atmospheric ambience. The low maintenance plank format tiles beautifully encapsulate the natural look of oak while offering advanced technical performance along with high slip resistance in a grip finish.
"The quality of the tiles from Domus really makes the space, they look fantastic and they used some excellent tilers who finished the job wonderfully"

Sophie Campbell, Associate Partner at Sheppard Robson
Domus Selection Oak porcelain timber tiles have also been used on the floor in the changing room vanity areas in a mid-natural tone, set out in a herringbone layout for a contemporary feel. These are used next to Domus Material Stones on both the floor and walls in the locker areas in two coordinating tones. In the neighbouring changing rooms and shower cubicles, the walls are tiled with Domus Trasparenze glazed ceramic tiles in gloss white for a clean, modern look. These are also used elsewhere in the treatment rooms and waiting area niches.
For further information or technical advice please contact us