Project: Quarry Wood

Design: Rosanna Parker

Location: East Sussex
Interior designer Rosanna Parker worked on the design of a traditional Georgian-style new build detached farmhouse close to the border of Kent in rural East Sussex, complete with an adjoining 'lodge house'.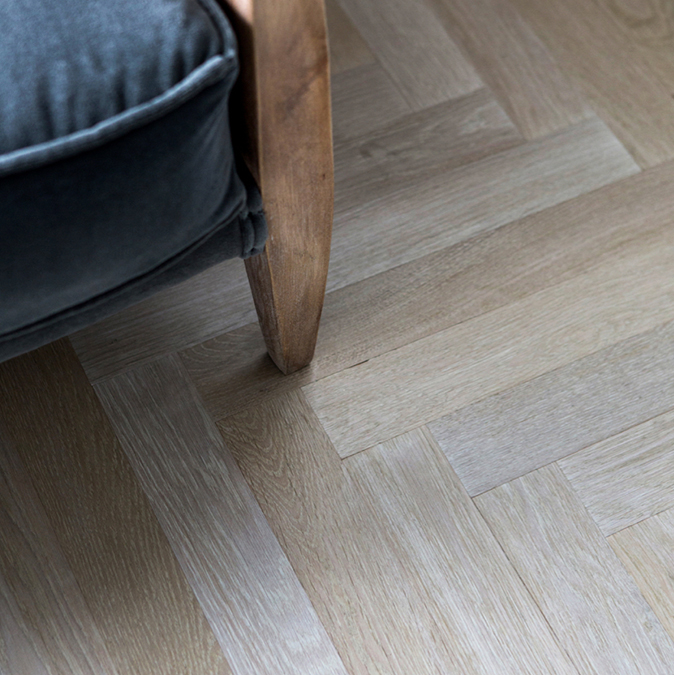 The architecture and design fits in perfectly with the surrounding landscape and period properties which are typical of the local area, as well as being an architectural style the clients have always loved. The total size of the property is over 3,600 SQM and uses over 150 SQM of Domus' wood flooring and over 225 SQM of tiles throughout.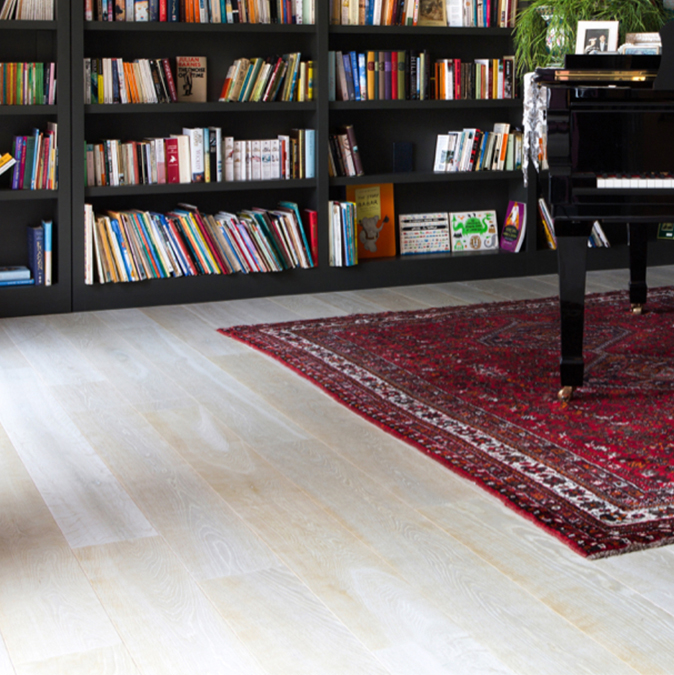 Downstairs in the main living and dining rooms, and upstairs in the bedrooms and bathrooms, Rosanna Parker specified Domus Wood flooring in parquet herringbone format in Feather Shave, a light oak tone. In the library / music room and gym / yoga studio, Parker specified the same pale wood colour in plank format, which displays a more structured layout. The natural oil finish of the wood has a subtle sheen and the pale colour brings a soft, understated warmth to the rooms whilst simultaneously offering a fresh, contemporary feel. Colour-wise the wood flooring blends seamlessly with Domus' porcelain Limestone tiles which Parker specified for the entrance hall, kitchen and outdoor areas.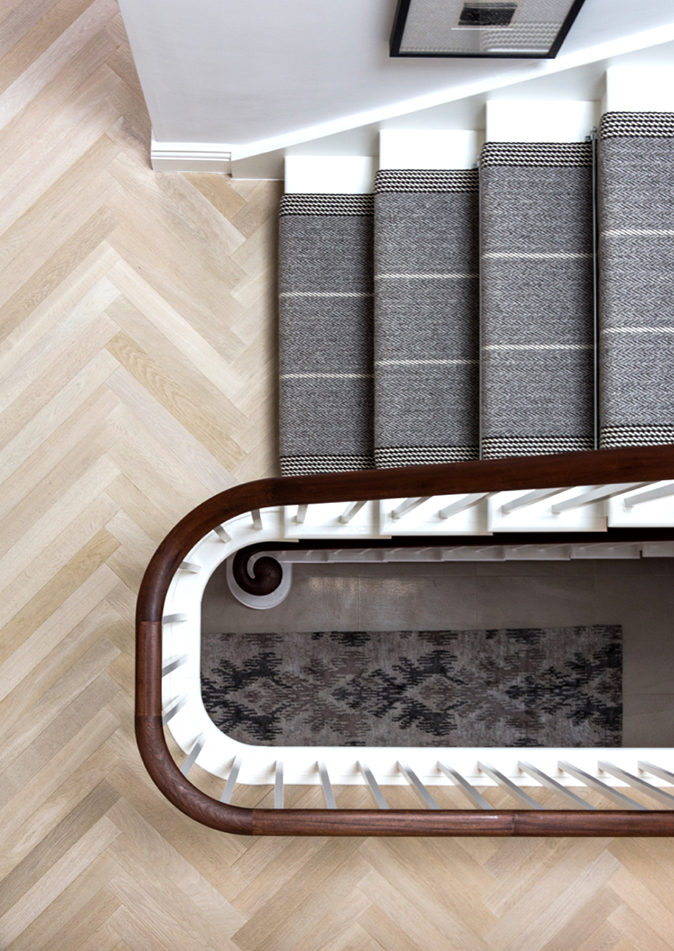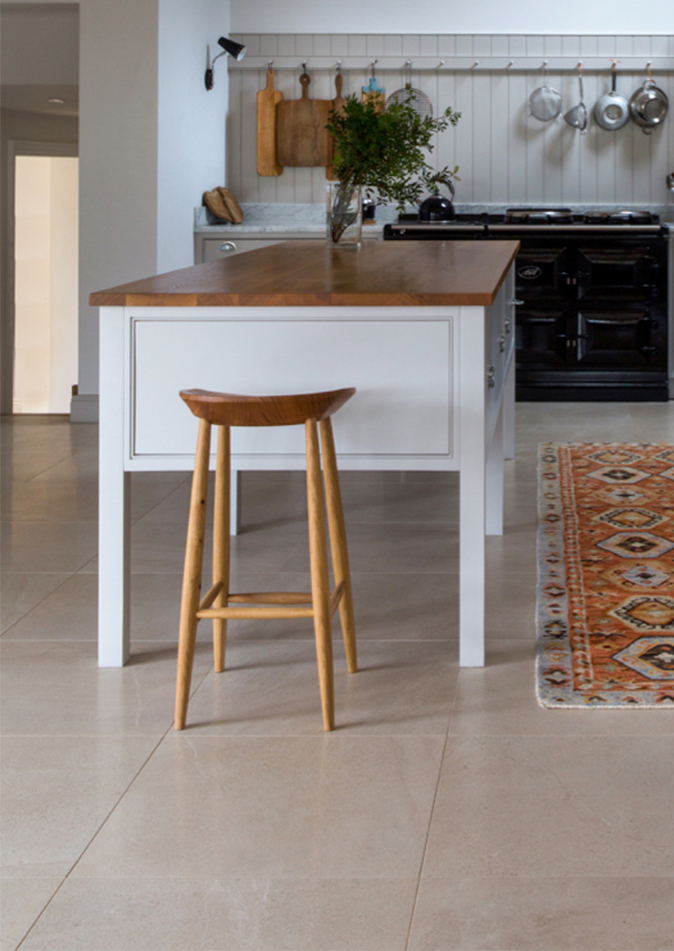 For the interior areas, Domus' Limestone tiles are used in a 60x60cm square format in both a satin and natural finish, whilst outside in the courtyard and swimming pool surround and tank the same tiles are used in a bush hammered finish which offer a high slip resistance suitable for wet areas. The pool edge pieces were fabricated from the same range with mitred edge details. Offering the classic, everlasting style of natural limestone in a hardwearing porcelain material, Domus' Limestone tiles are incredibly versatile, delivering both a traditional stone look in the formal areas of the main house and a more contemporary look in the informal areas of the house. They work especially well in conjunction with the exposed wooden beams and Shaker style cabinetry in the large open plan kitchen to offer a traditional farmhouse aesthetic, with modern kitchen detailing such as a marble worktop and brushed steel cupboard handles.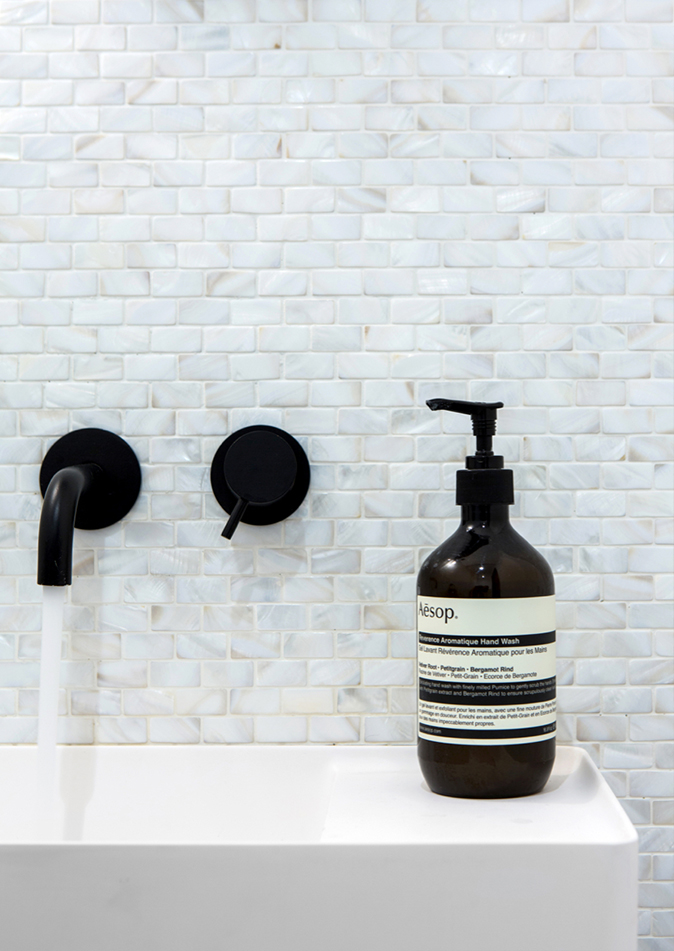 In the en-suite bathrooms and shower walls, Parker specified Domus' Mother of Pearl mosaics in micro-brick format which add a glamorous finishing touch. The smooth, shiny, iridescent surface, sourced from different freshwater mollusk shells and pearl oysters, boasts a natural lustre, adding sophisticated opulence in a shimmering, pale white finish. Domus' Mother of Pearl mosaic tiles are sourced from eco-friendly, sustainable sources, and are exceptionally strong.
For further information or technical advice please contact us