Project: Buns & Buns

Design: Michaelis Boyd

Location: London
Architecture and interior design studio Michaelis Boyd has just completed the design of Buns & Buns, a new restaurant located in Covent Garden's North Hall. Buns & Buns is uniquely free-standing within Covent Garden's Piazza building, set slightly apart from the historic buildings, and has been designed with a vibrant colour palette of warm earthy tones with copper and green accents. With a playful yet architecturally driven design concept, Buns & Buns features Domus' Tierras 'Triomix' tiles as a feature across the entire restaurant floor.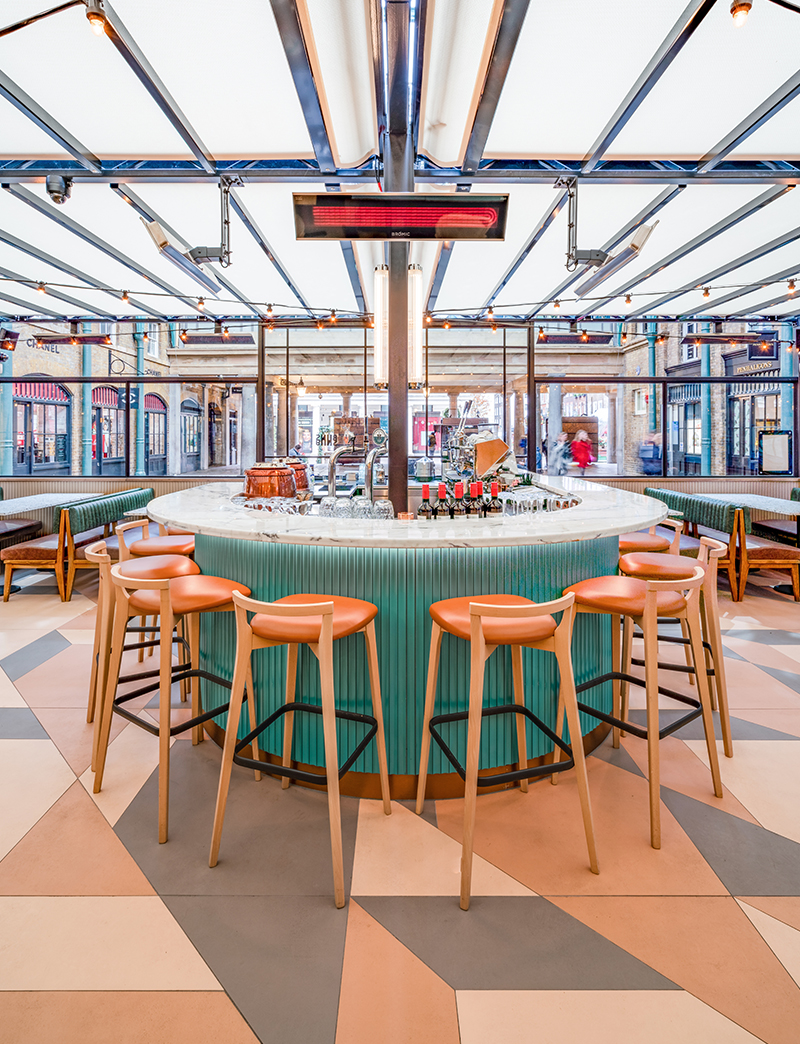 Located under the North Hall's iron and glass roof, Buns & Buns features an open-plan kitchen with low marble counter dining where visitors can interact with the chefs. The open theatre kitchen in the centre of the space is flanked by a low-level bar clad in marble and provides additional space for dining. The kitchen echoes the restaurant's position within the former flower market and the wider context of the theatricality of Covent Garden, acting as a focal point for diners and passers-by who can watch the busy chefs preparing a variety of dishes.
The exuberant colour palette used by Michaelis Boyd sets the space apart from the monotone stone buildings of the surrounding market. The rich and earthy colours are used alongside bold stained-glass panelling, copper accents, green leather booth seating and contemporary light fittings, including warm filament bulbs which are strung above the restaurant.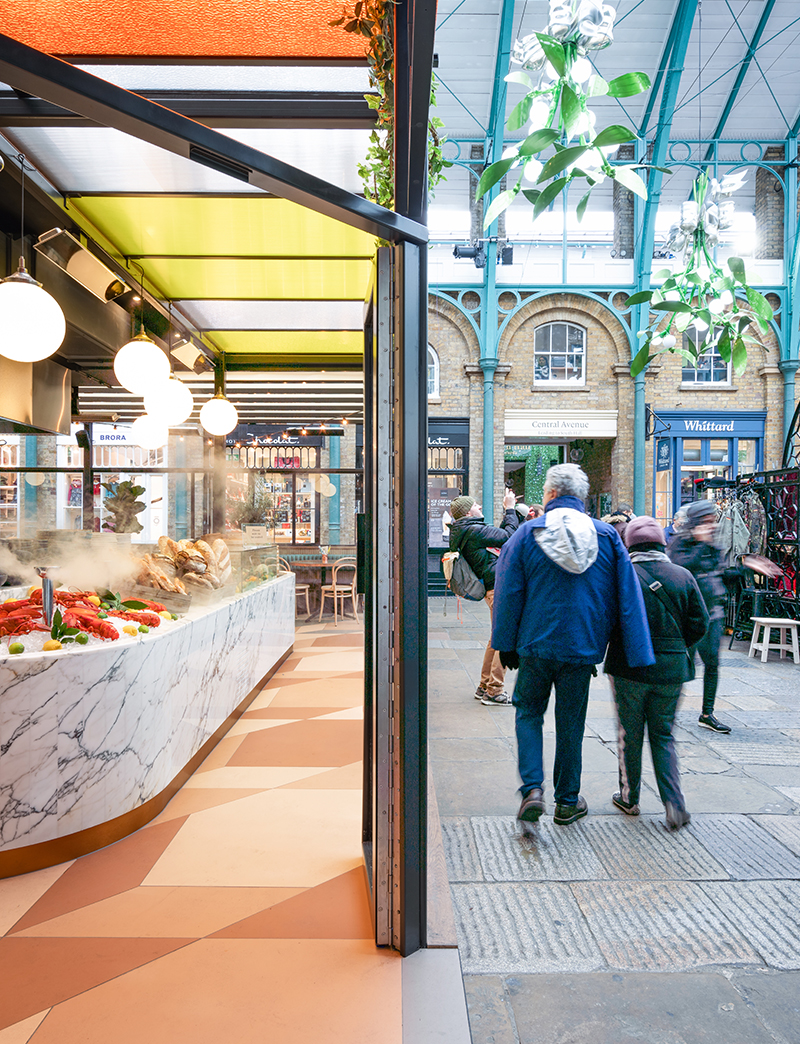 The space features bold geometric flooring in warm earthy tones from Domus' Tierras collection. Designed by Patricia Urquiola for Mutina, Tierras offers traditional aesthetics in porcelain stoneware; produced using the latest technology based on the dry processing of the ceramic powders, in an incredibly hard-wearing porcelain material. The Tierras collection is available in an earthy terracotta colour palette based on the concept of sedimentation and Mediterranean craft traditions. Michaelis Boyd have used the Tierras 'Triomix' design at Buns & Buns, featuring a geometric pattern in three colours cut from large format tiles. Used here in a warm palette of blush, sand and ash, the different shapes and sizes of the pieces create a stunning feature pattern. Each Triomix option is comprised of three colours in a mix of three patterns.
Food wise, Buns & Buns serves a curated selection of innovative and traditional dishes paired with breads and buns from around the world. The interior design is a reflection of the eclectic menu as well as the rich history of its London setting. The space is surrounded by metal framed glazing giving the restaurant an industrial aesthetic and connecting diners to the buzzy atmosphere of the market outside.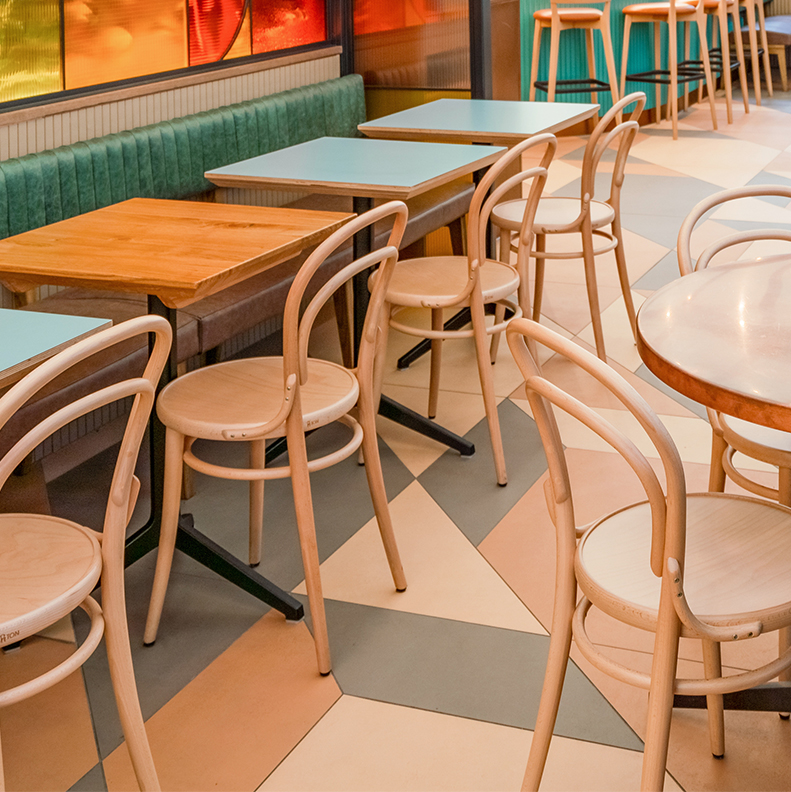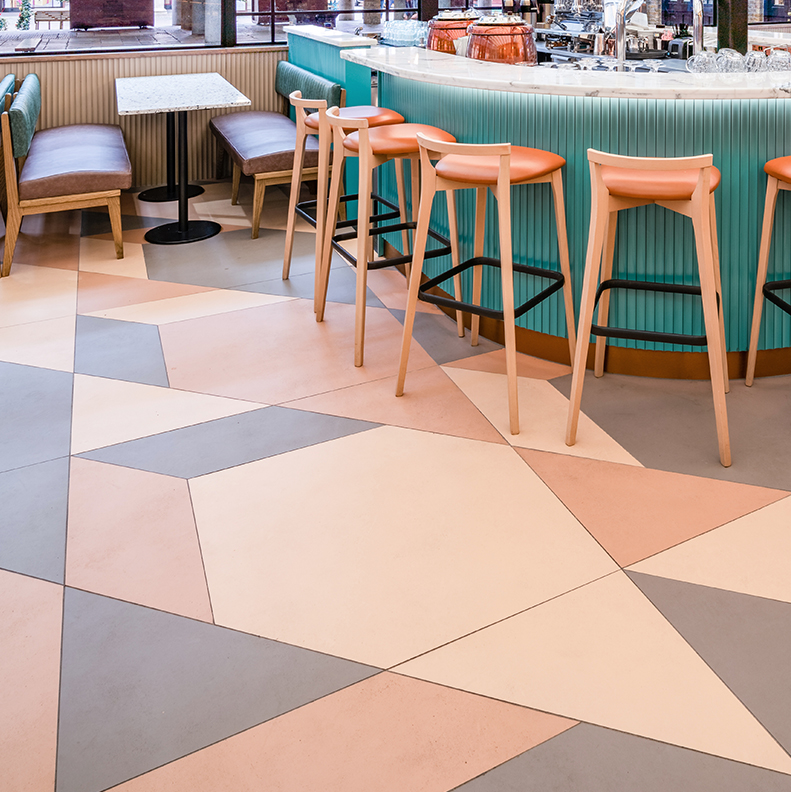 Michaelis Boyd's intention was to create another world within the restaurant in which the diner feels as if they are stepping from the market into something unique. The colours used in the design are also a nod to the restaurant's own heritage, drawing on the art-deco influences of Miami, where Buns & Buns' first restaurant was opened.
For further information or technical advice please contact us