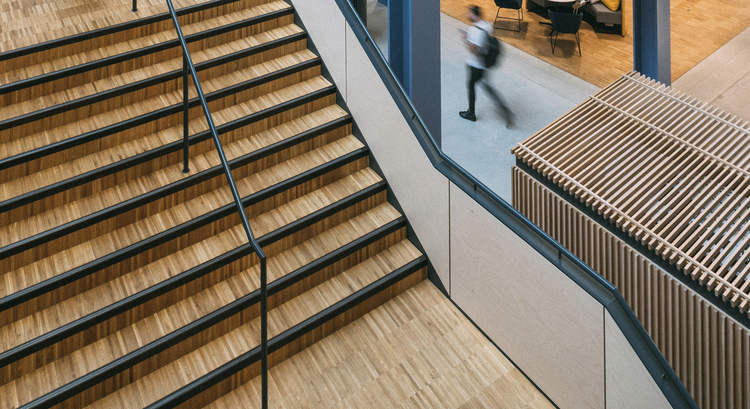 Case studies
London School of Economics
Featuring over 1000sqm of Solid Wood flooring
Project: London School of Economics

Design: Rogers Stirk Harbour + Partners

Location: Bloomsbury, London
London School of Economics & Political Science Campus
London practice Rogers Stirk Harbour + Partners recently completed the design of Centre Building, the tallest and largest department at the London School of Economics and Political Science, using over 1,000sqm of Domus' solid oak flooring in the atrium, study areas, central Teaching stair and Academic staircase. As its name suggests, the 13-storey structure is positioned at the centre of the London School of Economics and Political Science's (LSE) campus in Bloomsbury, London.
Achieving visual contrast
Over 500sqm of Hørning Solid Line Oak 245 x 490 x10mm panels are used throughout the new ground floor open study areas. Additionally, the feature Teaching stair and Academic stair were fitted with 640 bespoke units of solid oak step treads, many of which incorporated a contrasting smoked oak nosing with stainless steel anti-slip inserts. To acknowledge recommendations from the Disability Discrimination Act (DDA) for the partially sighted, the dark smoked oak nosing for the Teaching stair was selected to provide a significant visual contrast between the nosing and the tread and riser.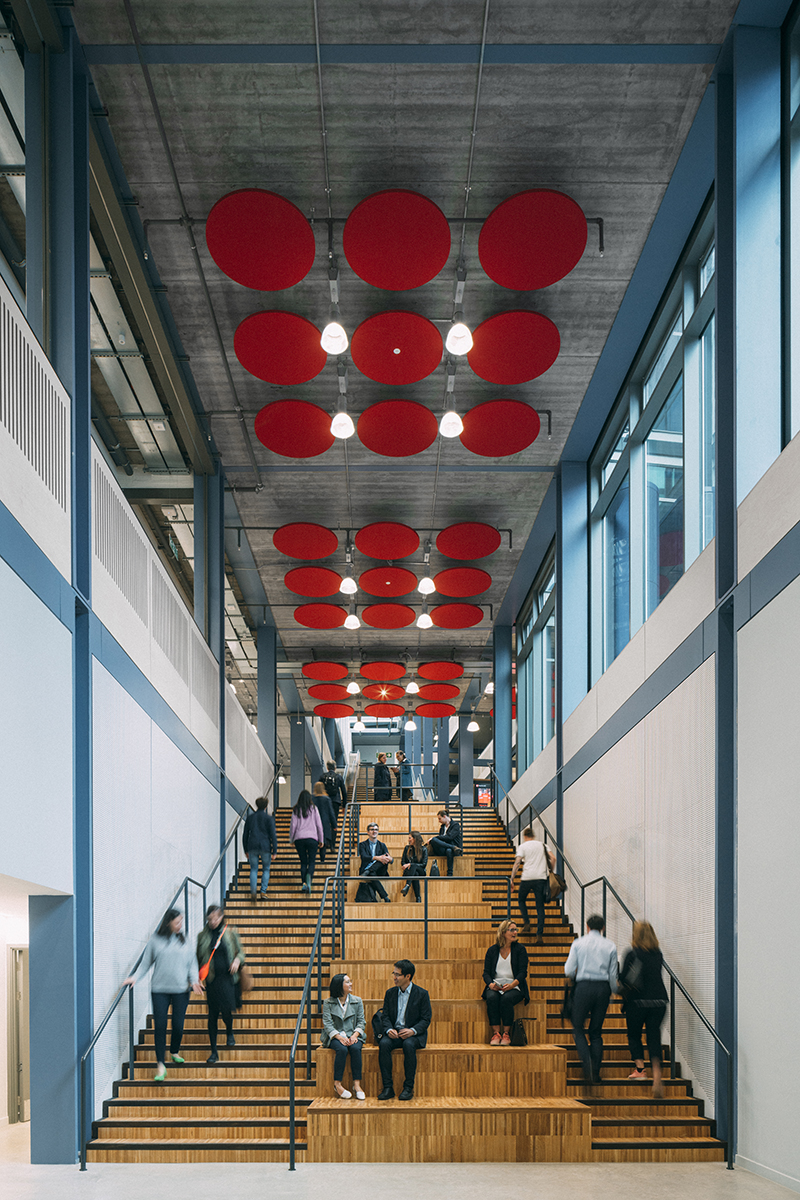 Vertically zoned design
The design is vertically zoned to facilitate natural interaction between staff and students. The central Teaching stair is a key feature within the building. It creates a playful circulation route and dialogue between the upper and lower levels, both visually and physically. This broad dynamic staircase moves in a series of double-height spaces from Lower Ground to Second Floor, across the façade, creating connectivity between departmental floors. The public and student facilities are all connected by this central atrium, which, in addition to providing a circulation route between the floors, includes informal seating spaces, to encourage students to come together to explore, debate and collaborate.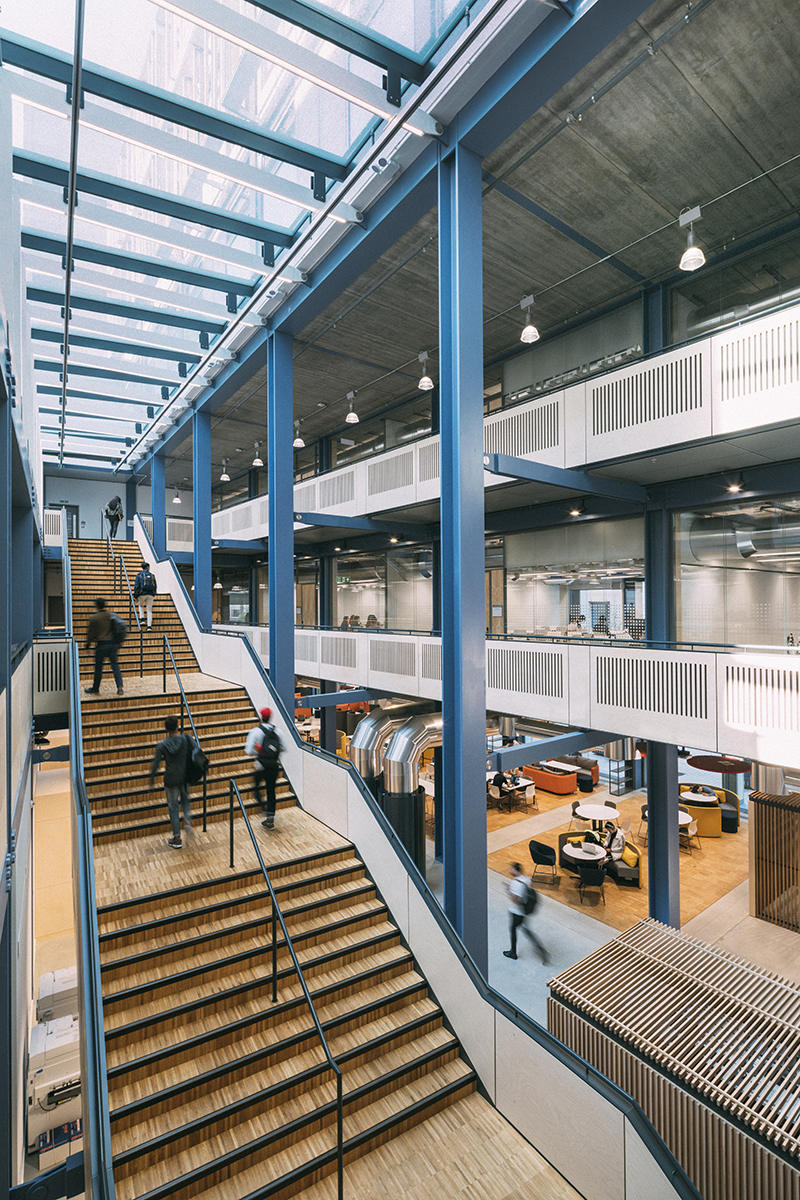 Traditional parquet design — expressive & robust
Hørning's Solid Line Oak specified by RSH+P is a modern take on a traditional parquet design. For consistency of finish and speed of installation, the Solid Line Oak is produced as a pre-finished panel with 4-sided tongue and groove joints. Expressive and robust, Solid Line is a 10mm-thick solid timber product which is incredibly durable and suitable for heavy foot-traffic areas. It is pre-finished with Rubio Pure Oil at the factory, significantly increasing installation productivity against traditional site-finished timber materials. The vibrant interplay of colours and grain pattern of the natural wood results in characterful flooring design with distinctive colour variations. The vibrant, light movement of the Solid Line Oak panels complement the open areas and feature staircases.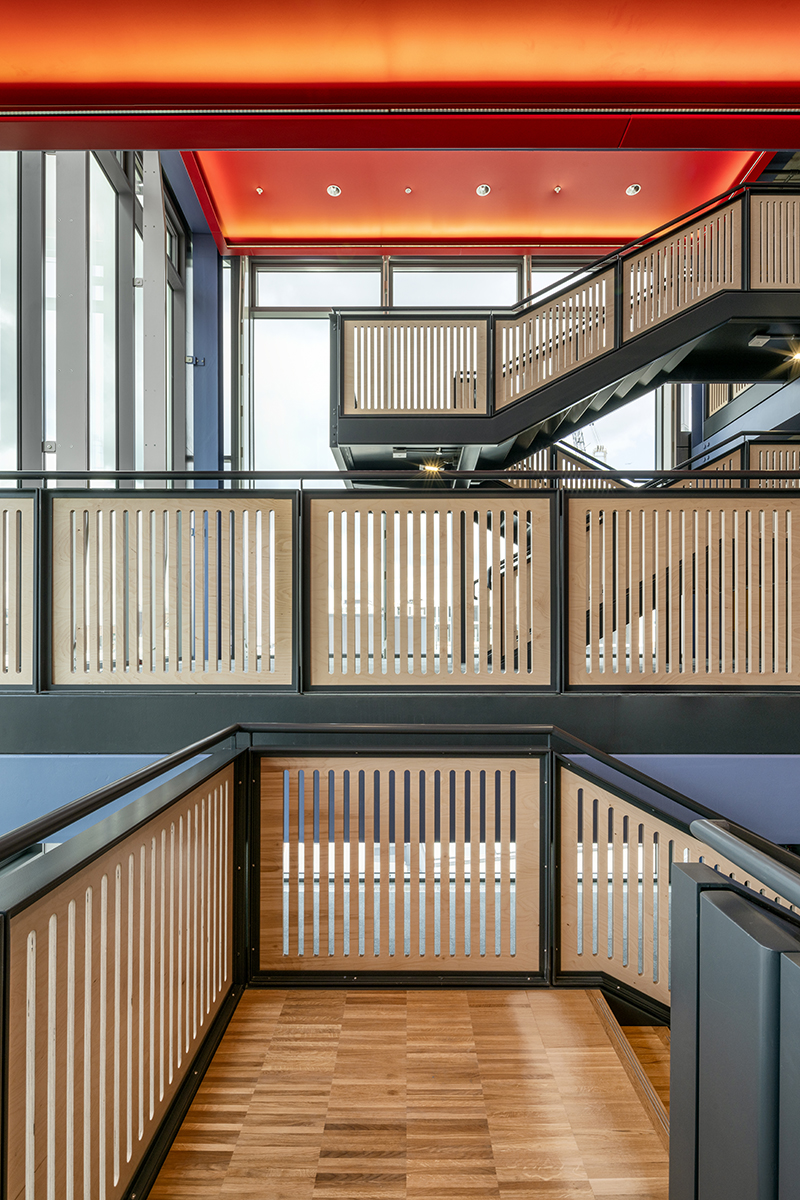 Natural interaction with the public realm
RS H+P's design is inspired by LSE's core values of Collaboration, Excellence and Innovation. The bright, shared space using Hørning Solid Line Oak on the Ground floor has been designed to encourage students and staff alike out of their traditional working environments. As well as the demolition and redevelopment of a number of existing buildings on the Aldwych campus, the initial brief called for world-class architecture to match LSE's international academic reputation. The RSH+P design goes further by placing a public square at the heart of the campus, creating a new focal point and improving connectivity and wayfinding throughout the site. The lower levels of Centre Building are occupied by public and highly serviced facilities — designed to form a continuation of the public square and facilitate "natural interaction with the public realm".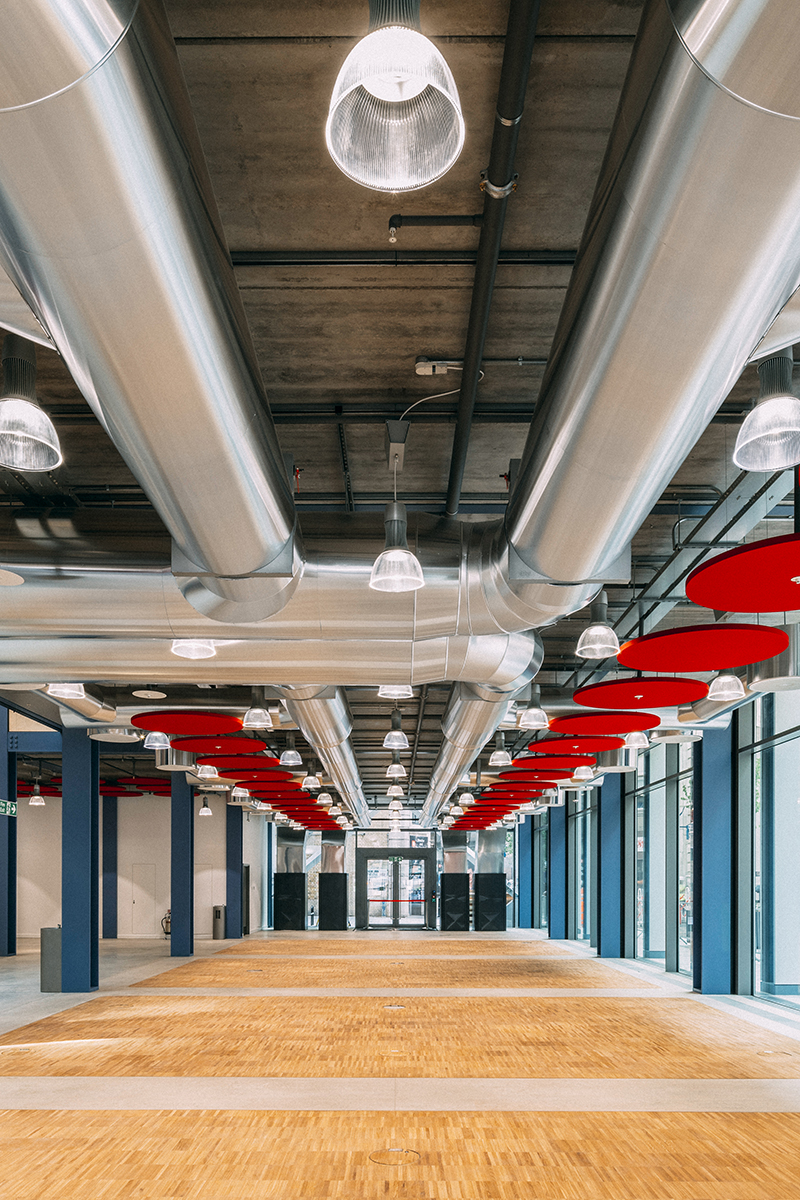 Sustainable design
Sustainable design is fundamental to the Centre Building. The project attains BREEAM Outstanding through a simple and robust design that combines the best elements of passive design with innovative MEP systems and controls, enabling users to adapt their individual environment on the academic floors. The stepping atrium on the upper levels not only connects all social and circulation spaces within the building but also provides a large air volume which assists in the ventilation of internal deep plan areas. Centre Building is complete with several openable vents across the building to facilitate cross-ventilation, rainwater collection facilities, a biomass boiler and PV panels to create renewable energy. The facade is also adorned with brise soleil, which have been developed to maximise daylight into the building and also gives the building two different appearances when viewed from the north side and south.
Responsible forest management
In keeping with the sustainable design focus, Hørning's Solid Line Oak is created from production offcuts FSC® C124301 certified. FSC® runs a global forest certification system with a focus on two key components: Forest Management and Chain of Custody. In terms of responsible forest management, FSC® comply with all applicable laws, regulations and nationally-ratified international treaties, conventions and agreements. FSC® helps maintain, conserve and restore ecosystem services and environmental values of the management unit, and avoid, repair or mitigate negative environmental impacts. Chain of Custody certification from forest to end-user ensures that FSC® materials and products are checked at every stage of processing so that customers purchasing FSC® labelled products can be confident that they are genuinely FSC® certified.
View our FSC® Chain of Custody certification here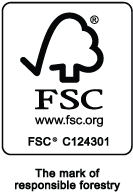 For further information or technical advice please contact us