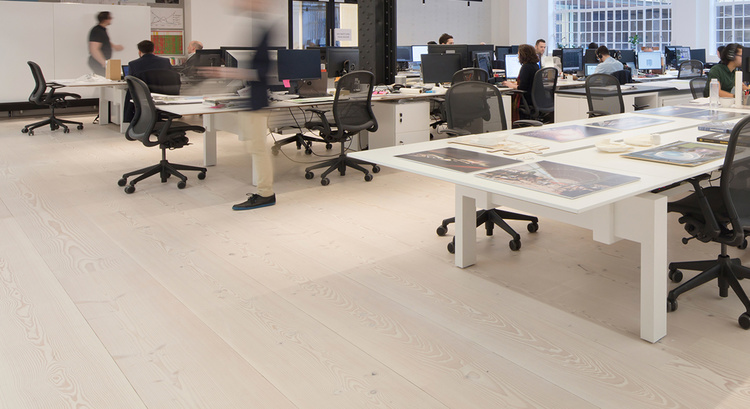 Case studies
HKS Architects Studio
Project: HKS Architects Studio

Design: HKS Architects

Location: London
A regional office and a springboard for future growth.
HKS Architects moved to a new office site in early 2018 to accommodate its five sector-based teams that were previously spread across three sites, and to mark its coming of age as a significant player in the UK, Europe and MENA markets. The practice location is in Fitzrovia, just north of Oxford Street, in an imposing Art Deco building with a prominent street presence and fully glazed central stair.
Elsley House and its neighbour Elsley Court were designed by Waite & Waite architects in 1936–7 for the site of Elsley's original ironmongers, and the spaces within were let to small garment businesses. Most of the surviving buildings in the area were also connected with the clothing trade and date from between 1912 and 1937.
The aim with the new office design was to create a modern studio culture, enable cross-fertilisation of ideas, and encourage celebration of design excellence in all its forms. As an architects going through the process of designing and delivering its own work site, HKS consulted with all its staff, senior management from their US headquarters, suppliers and clients, and carried out research to create a design that was exactly right for its culture, its personality, and its ambitions. As expected from a practice with a focus on wellbeing and sustainability, the new office performs to meet exacting WELL and BREEAM standards, embracing spaces and configurations that inspire creativity and collaboration, and allow for flexibility within teams and the wider practice.
On entering the main reception, visitors step into a creatively enriching space which is not simply an office and workplace, but a flexible environment which incorporates an events / gallery venue with a programme of exhibitions, workshops, and talks. Intimate and generous spaces coexist, and cater for the need for both privacy and community.
The Design Solution
The design and operations teams are spread over two floors and the design included opening up a structural bay in the centre of the plan, and revising the staircase design to a single flight. The new double-height volume creates a feeling of connection between the floors and the people within it. It also allows those on both levels to watch films and presentations via a double projector installation inspired by an element of an exhibition at Tate Modern.

The designers laid out the space to accommodate chance conversations, connectivity between floors, breakout areas for informal and studio-based meetings. Subtly inserted fully glazed meeting rooms, affectionately known as the 'Black Boxes', create calm, confidential, soundproofed spaces. A large conference/board room hosts larger meetings, and at the other end of the scale are small pods to take conference calls in private, and without disturbing colleagues.
Flooring & Materials_
The main studio spaces and presentation gallery area / events space features 680 SQM Domus' Horning Douglas Fir solid timber flooring from a sustainably sourced through a Danish producer. As a fast-growing pine tree and softwood, Douglas Fir wooden flooring is extremely environmentally friendly, non-toxic, and long-lasting. The use of timber gives a natural, biophilic aspect with a pared back Scandinavian aesthetic.

Care was taken to apply subtle, white surface treatment allowing the natural features of the timber to show through, achieving a studio feel. The Douglas Fir flooring provides a stunning, calming, contemporary feel to the space. Douglas Fir yields extremely wide and luxuriously long engineered pine floor boards due to the size of the trees; the HKS office design uses single-strip, extra wide-plank floorboards in widths of 350mm mm and in long mixed lengths between 1000m – 8000mm. Once laid, the wood has been treated with a light whitewash from Rubio in 'Nordic White' (diluted 50%) followed by Rubio Monocoat Oil in 'Super White' and Universal Maintenance Oil in 'White'.

"The flooring provides a link to the history of the place. Having been originally created as a garment design workshop and showroom, the original floors were timber parquet and since we wanted a flooring material for a studio and not an office, timber was the natural choice." -Dan Flower, HKS Architects London, Design Director
Other floor areas are finished in polished concrete. As the building was stripped back to reveal its original character, a simple palette of black, white and natural brick evolved. The space was to be a blank canvas for the working process. Strip-out work uncovered some interesting original fabric, so the design was adapted to make a feature of the heritage brickwork. Riveted steel columns were uncovered and restored, paying homage to the building's heritage, with all metal finished in matt black. The original Crittall glazed windows in the main studio were restored while exposed galvanised steel ducting lends an industrial aesthetic.

Photography © Kristen McCluskie www.kristenmccluskie.com
For further information or technical advice please contact us