Case studies
Apex City Quay & Spa
Featuring a mix of porcelain and ceramic tiles along with engineered wood-effect laminate flooring, with splashes of colour on a neutral base
Project: Apex City Quay & Spa

Design: Ian Springford Architects

Location: Dundee, Scotland
A modern, retro feel with bright & airy spaces
The recent refurbishment of the Apex City Quay & Spa in Dundee is the 10th Apex Hotel that Domus had supplied materials for, and was the first Apex Hotel Hotel that Domus worked with Ian Springford Architects on when it originally opened in 2003. Led by Head of Interiors Emma Franks, the team at ISA have developed a fresh interior design scheme for the new reception, restaurant and bar areas, using Domus materials throughout. With a modern, retro feel, the bright and airy space features a mix of porcelain and ceramic tiles along with engineered wood-effect laminate flooring, with splashes of colour on a neutral base.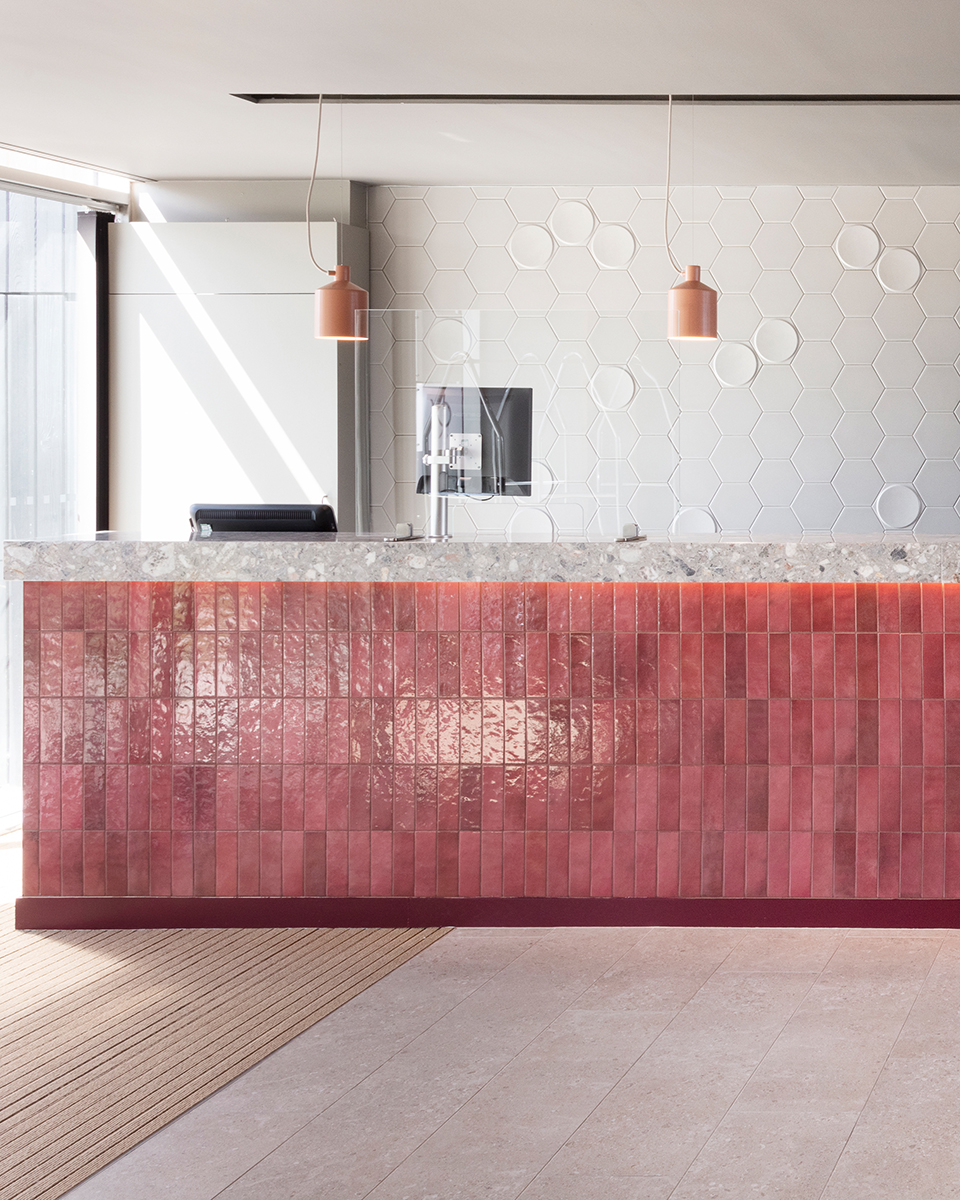 Warm, neutral porcelain floors and luscious dark pink berry tones
In a warm neutral tone, Domus' Petrology Stone 3 porcelain tiles are used on the floor throughout the reception and adjacent workspace/café style area. The hardwearing, easy-to-clean porcelain material is ideal for high foot-traffic areas. At the same time, the soft neutral colour provides the perfect base for the various pops of colour introduced to the space through furniture along with the reception design itself. In a mix of luscious dark pink berry tones, glazed ceramic brick-shaped tiles laid in a vertical grid format create in an eye-catching, welcoming feature for guests when they arrive. With a beautiful, undulating surface and blended shade variation, the 'Artisan' glazed ceramic tiles display an artisanal, handcrafted look, which instantly adds warmth and character to the space.
Wall: Details coming soon
Counter: Artisan DEAT 07 Gloss
Floor: Petrology Stone 3 DYGF 03 Natural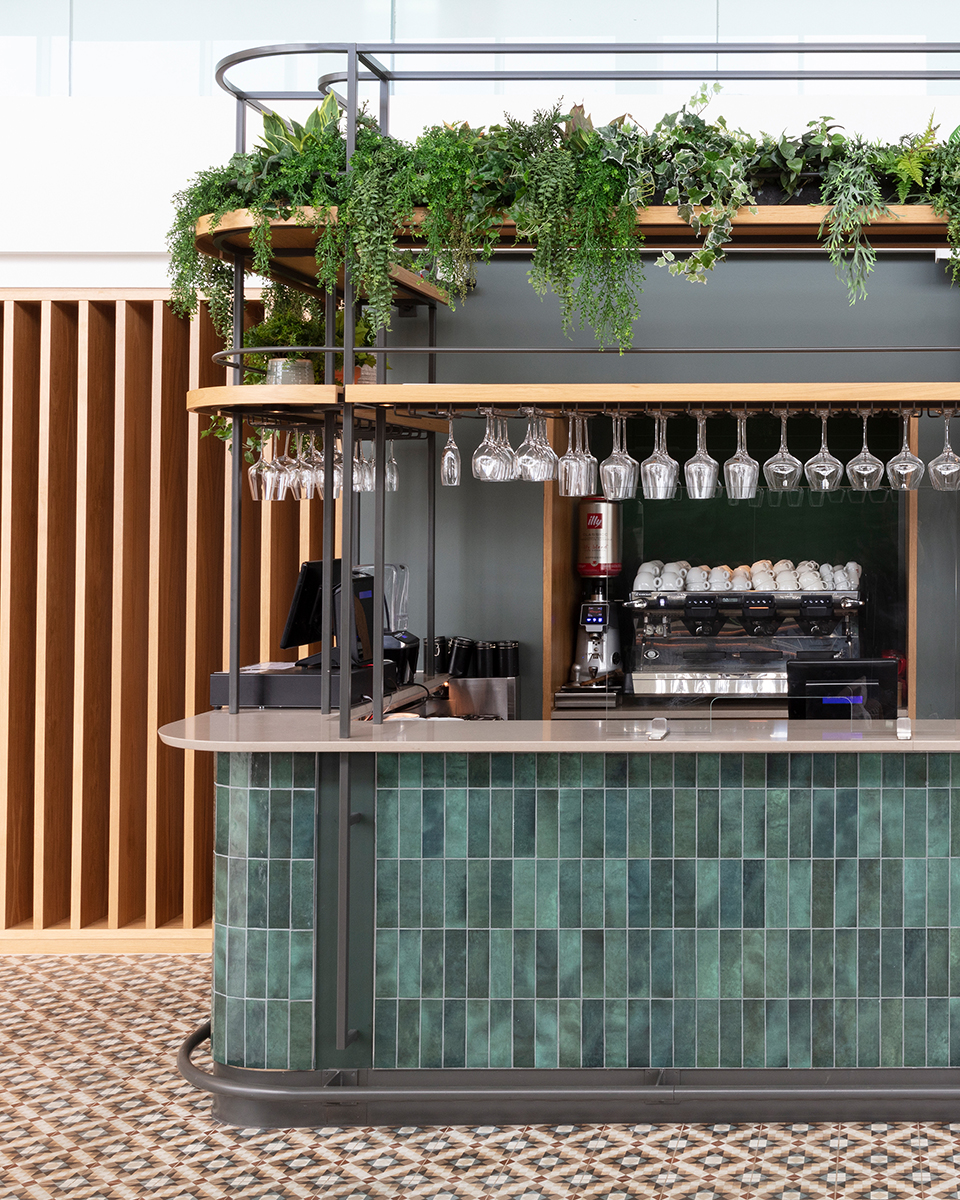 Rich, green tones in an eclectic contemporary feel
Echoing the reception design, the bar design features glazed ceramic tiles from the same range in a mix of rich green tones laid in a vertical grid format. Used at the base of a tall wood and galvanised steel structure adorned with a combination of plants on shelves, the green ceramic tiles add an eclectic contemporary feel to the bar. The same tiles are laid in a brick-bond format as a splashback across the breakfast bar/servery area paired with dark painted walls and wood and metal shelving, for an equally eclectic look.
Counter: Artisan DEAT 09 Gloss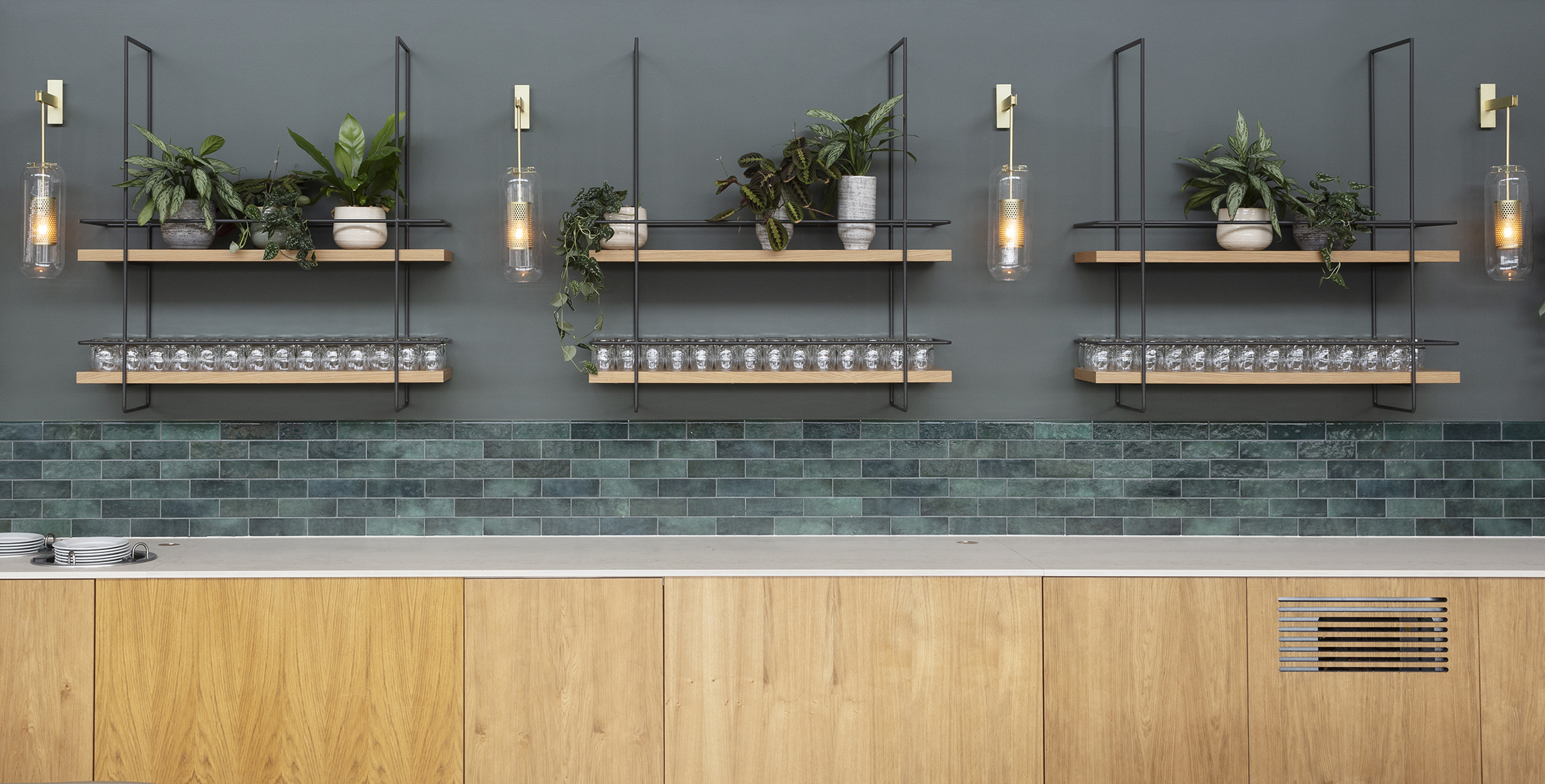 Featuring Ceramic Colours: Artisan DEAT 09 Gloss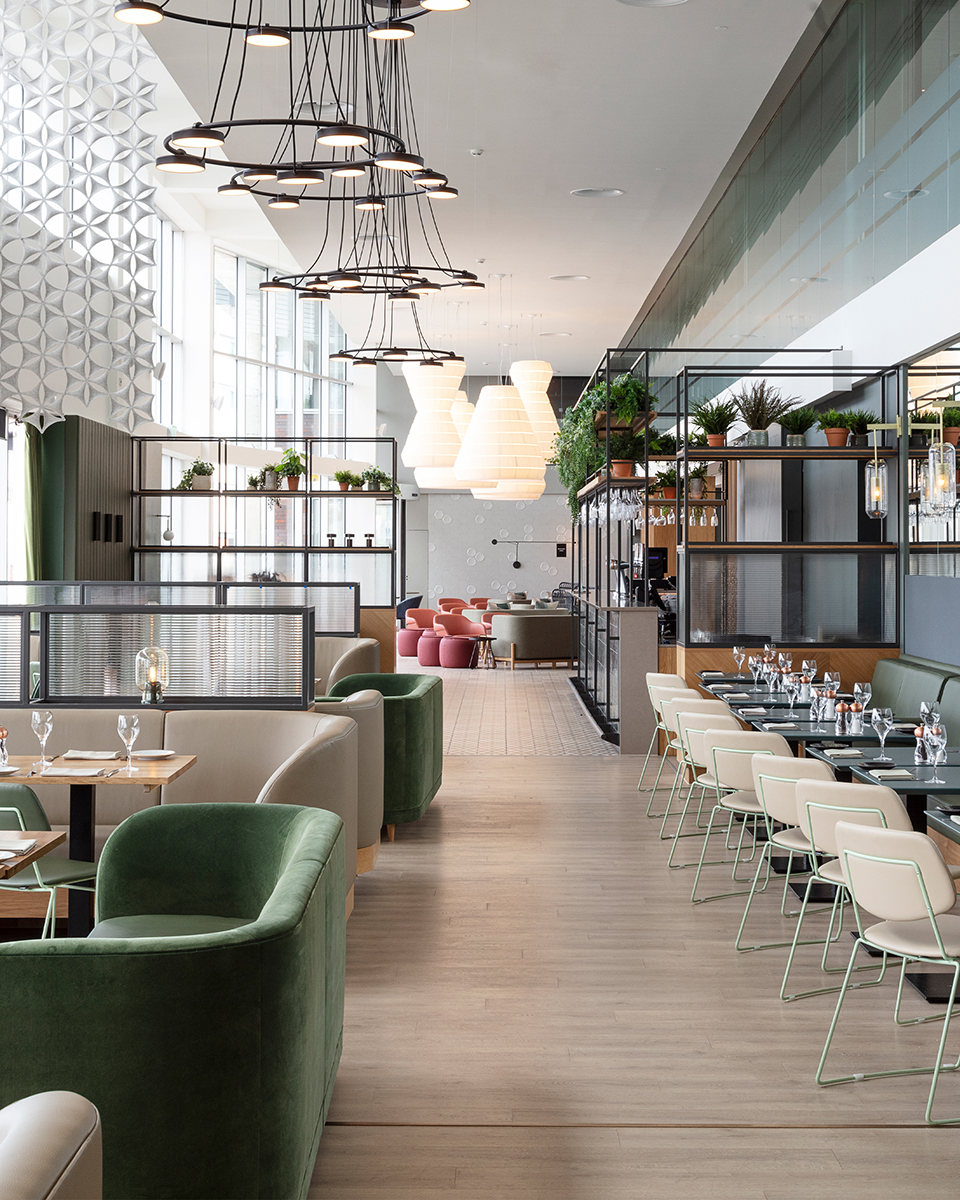 Natural, wood-effect flooring paired with green upholstery
Elsewhere, the main restaurant area uses Pergo Sensation wood-effect laminate flooring. Paired with green and neutral upholstered seating alongside wood and metal structural details, the natural-coloured wood-effect flooring provides a classic base for the modern retro furniture. This practical flooring material offers low price-points along with exceptional design and long-lasting durability, making it ideal for heavy foot-traffic areas. The deep surface embossing replicates the authentic look and feel of wood. At the same time, the laminate is easy to clean and utilises the innovative AquaSafe technology, which creates a closed surface and tight click joint that protects the floor against water and other spillages, making it a perfectly practical choice for the hotel restaurant.
For further information or technical advice please contact us