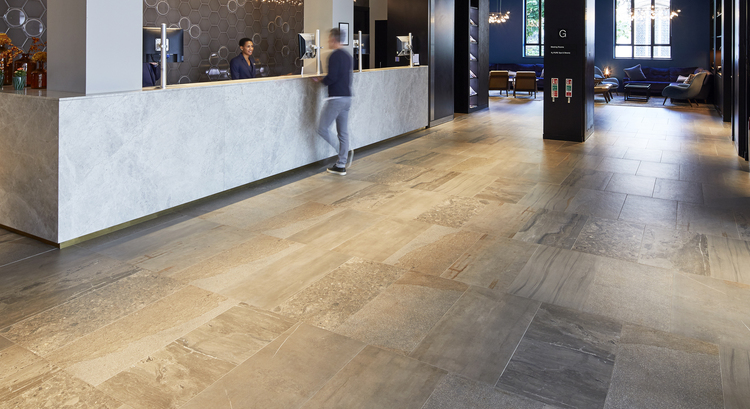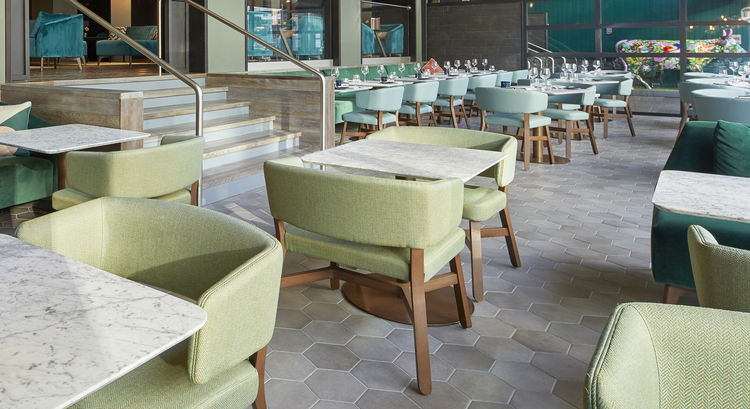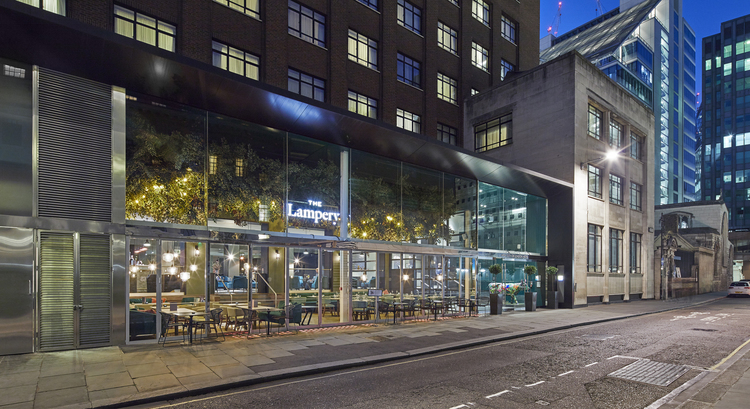 Case studies
Apex Hotel, City of London
Project: Apex Hotel, City of London

Design: Ian Springford Associates

Location: London
Materials used in all areas
A fresh, modern look
Ian Springford Associates (ISA) were responsible for the refurbishment of the public areas of the Apex City of London Hotel, previously converted from an office building to a 210 bedroom 4* Hotel by ISA over a decade ago. The original project created relaxed working and social spaces as well as unifying the disparate parts of the building as the hotel expanded over the years.
The recent refurbishment sees a fresh, modern look throughout the main reception, lounge area, bar and new restaurant - The Lampery. The latter has been designed to cater to local residents and workers as well as hotel guests. Bright jewel colours including sapphire blue and emerald green are used as key accents across the refurbished areas, with upholstered chairs and painted feature walls in an array of eye-catching tones. This use of colour helps to impart a more relaxed, trend-led feel and attract an outside crowd.
Porcelain concrete hexagon shaped tiles add interest and character to the restaurant design scheme
The main floor of the reception and surrounding lounge area is tiled with Domus' Jumble porcelain tiles which replicate a mix of different stone and timber materials, resulting in a visually interesting yet balanced look. Elsewhere, the restaurant is split into two main zones utilising a variety of different surface textures and colours. With high ceilings and a large glass frontage, the light and airy front section of the restaurant uses Rewind porcelain hexagon-shaped tiles on the floor in a soft grey tone and matt cement finish. These provide a neutral yet stylish base for the green and blue upholstered dining chairs.
With a lower ceiling height and soft lighting, the back section of the restaurant has a cosy, more intimate feel. Here, the main walls and pillars use Mediterranea ceramic glazed tiles in muted tones which provide a neutral backdrop to the bright upholstered booth seating. With a crackle glaze finish, these convey a handcrafted aesthetic, reflecting the light and introducing a glossy, fresh look to the space. Separating the two restaurant zones is a lounge area with a central bar tiled with Tex rhombus-shaped tiles in pale grey. Inspired by textiles, Tex is designed to recreate the impression of different tones of yarn, containing three subtly different shades for a statement design.
For further information or technical advice please contact us