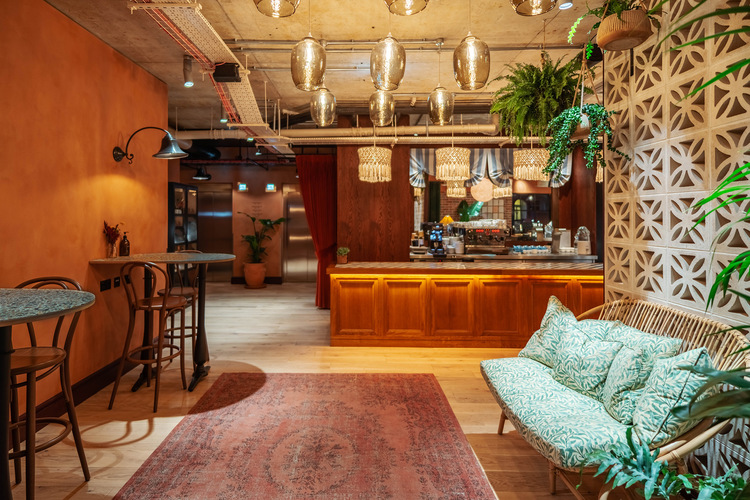 Case studies
Room2 Hotel
Industry-first decarbonisation hotel, using Pergo Laminate flooring
Project: Room2 Hotel

Design: Project Orange; Interiors: Lamington Group

Location: Chiswick, London
World's First Whole-Life Net-Zero Hotel Interiors: Room2
By Lamington Group; Architecture from Project Orange
Using over 3,500 sqm of Pergo Laminate wood-effect flooring from Domus, Room2 Hotel, Chiswick, ushers in the world's first hotel to fully account for its entire carbon footprint – from design, construction and operational use, using 89 per cent less energy per square metre in comparison to other new hotels in the UK.

Made by Belgium-based flooring manufacturer Unilin, Pergo Laminate is PEFC certified (PEFC/16-37-2066); produced via using carefully screened raw materials with a minimum of resources – making it the perfect flooring material to specify for this project.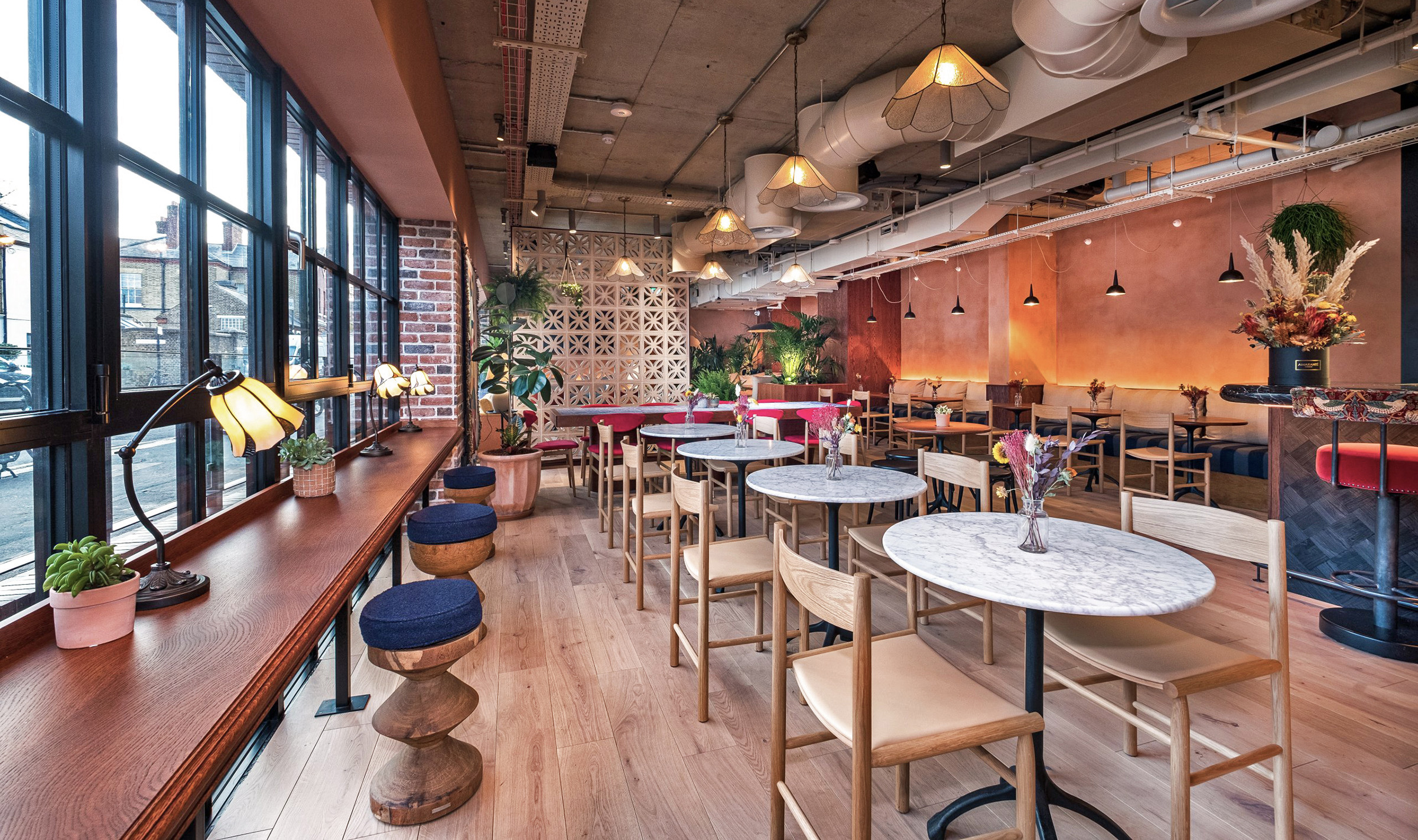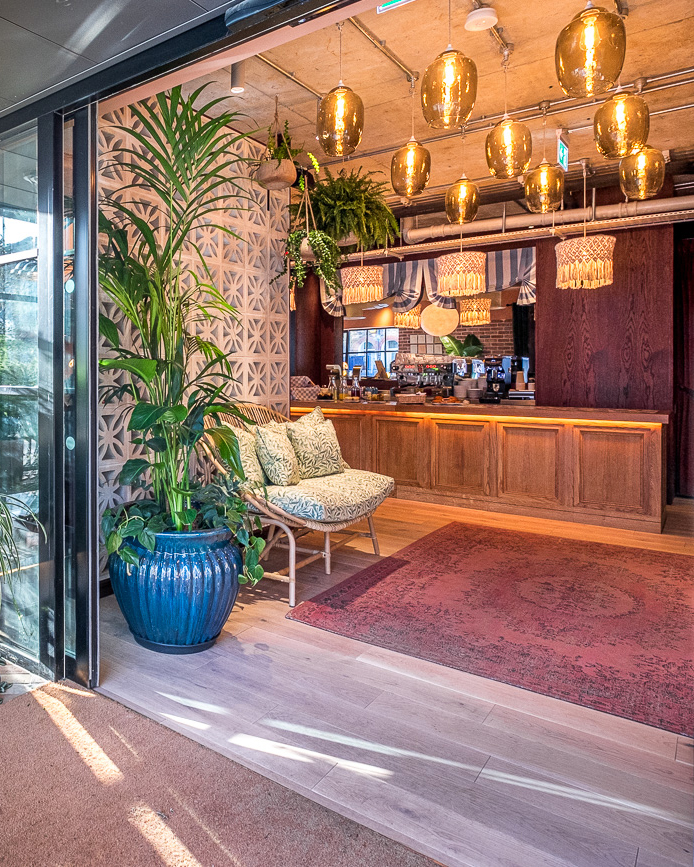 Low embodied carbon design & fit-out
Designed by Room2 owners Lamington Group, with architecture from Project Orange, Room2 Chiswick, South West London, features 86 rooms plus a café cocktail/lounge bar – all powered by solar panels and ground source heat pumps alongside effective insulation, motion-sensor lighting and ultra-energy-efficient appliances. Room2 Chiswick is anticipated to reach net-zero emissions across its entire lifespan from construction to demolition – aided by various sustainable initiatives together with the close level of attention paid to embodied carbon reductions in the design and interior fit-out stages.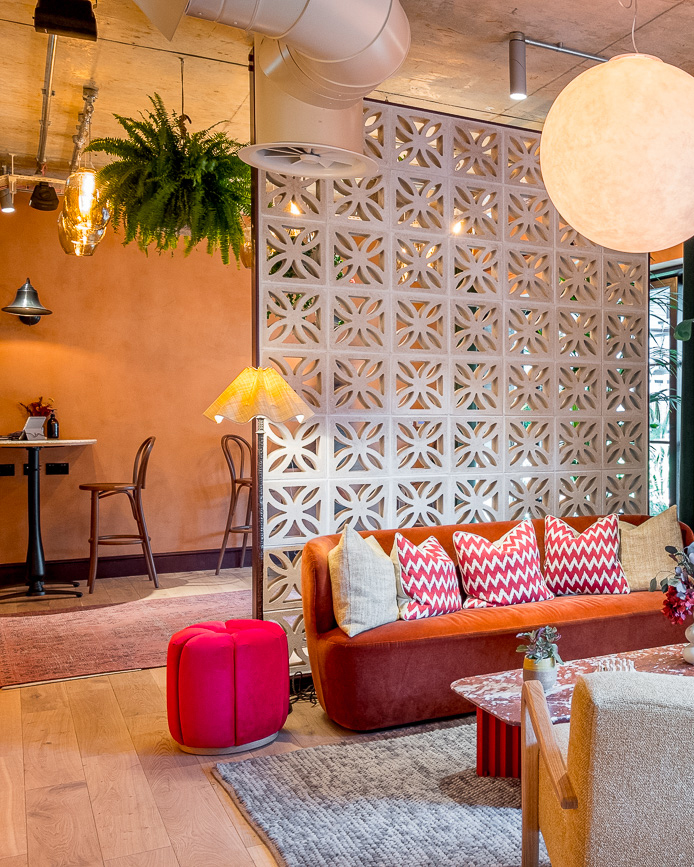 Embodied carbon reductions were prioritised at the design stage by specifying furniture and finishes made from certified wood / wood-based products – including Domus' Pergo Laminate flooring – together with a mix of locally sourced, recycled, reclaimed products and materials.
In focusing on low embodied carbon materials to ensure a sustainable venture, Pergo Laminate flooring was, for many reasons, the ideal choice to use at Room2 Chiswick. Presenting a negative embodied carbon figure of just under 3kg per sqm, Pergo Laminate is a truly sustainable hard flooring material that will undoubtedly fit the brief of any project designed with sustainability in mind…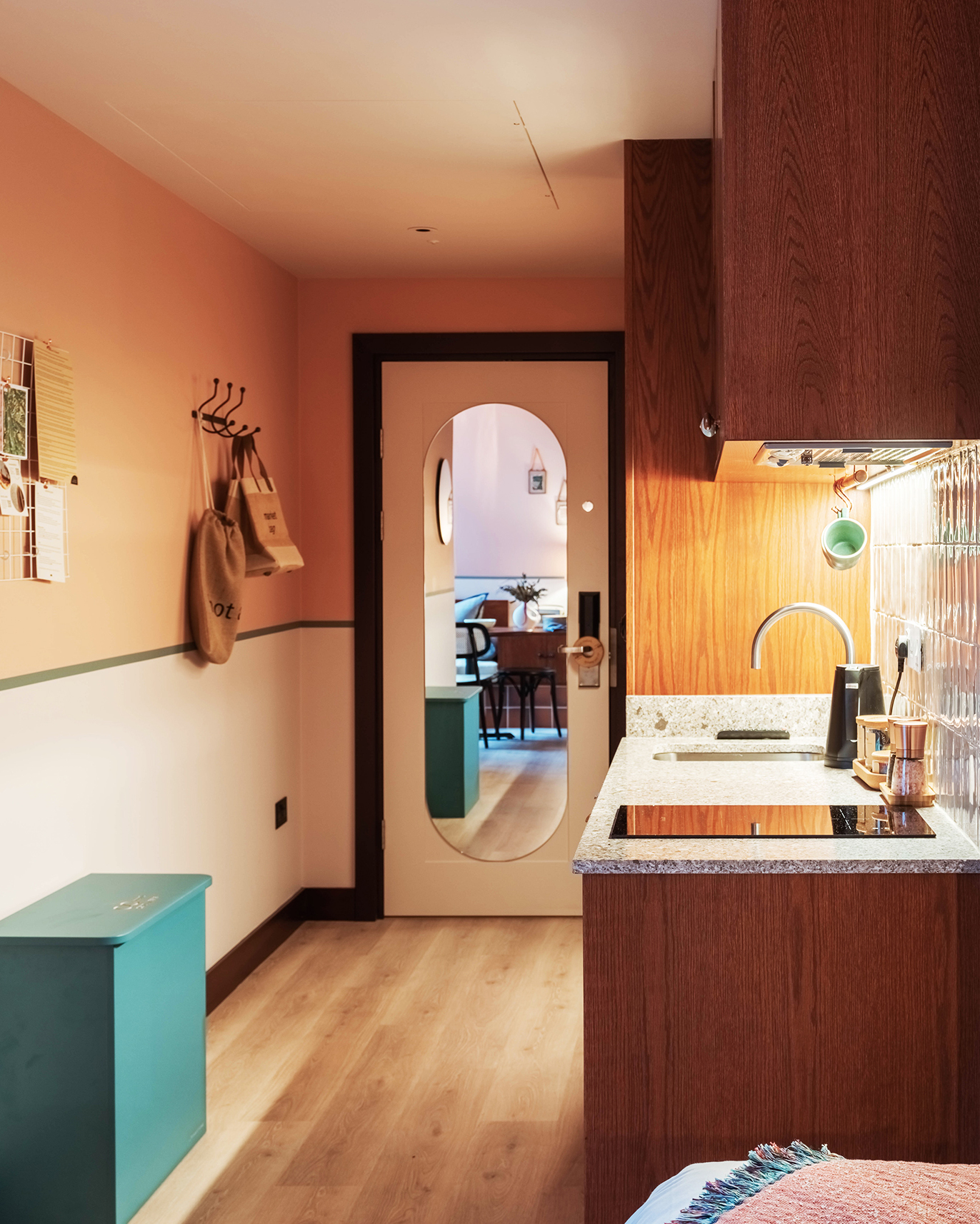 Sustainably produced materials
Built on the site of a former wallpaper factory, the interiors of Room2 Chiswick are inspired by the spirit of Chiswick's present community, together with its historical influence in the Arts & Craft movement.
Providing a step back from the highly-polished prevalent style of the hotel industry, Room2 interiors feel real to the touch, ensuring a sense of connection to the concept of craftsmanship. Consciously specified as part of an overall scheme that focuses on sustainability at its heart, Domus' Pergo Laminate flooring is used within all bedrooms and the café cocktail/lounge bar.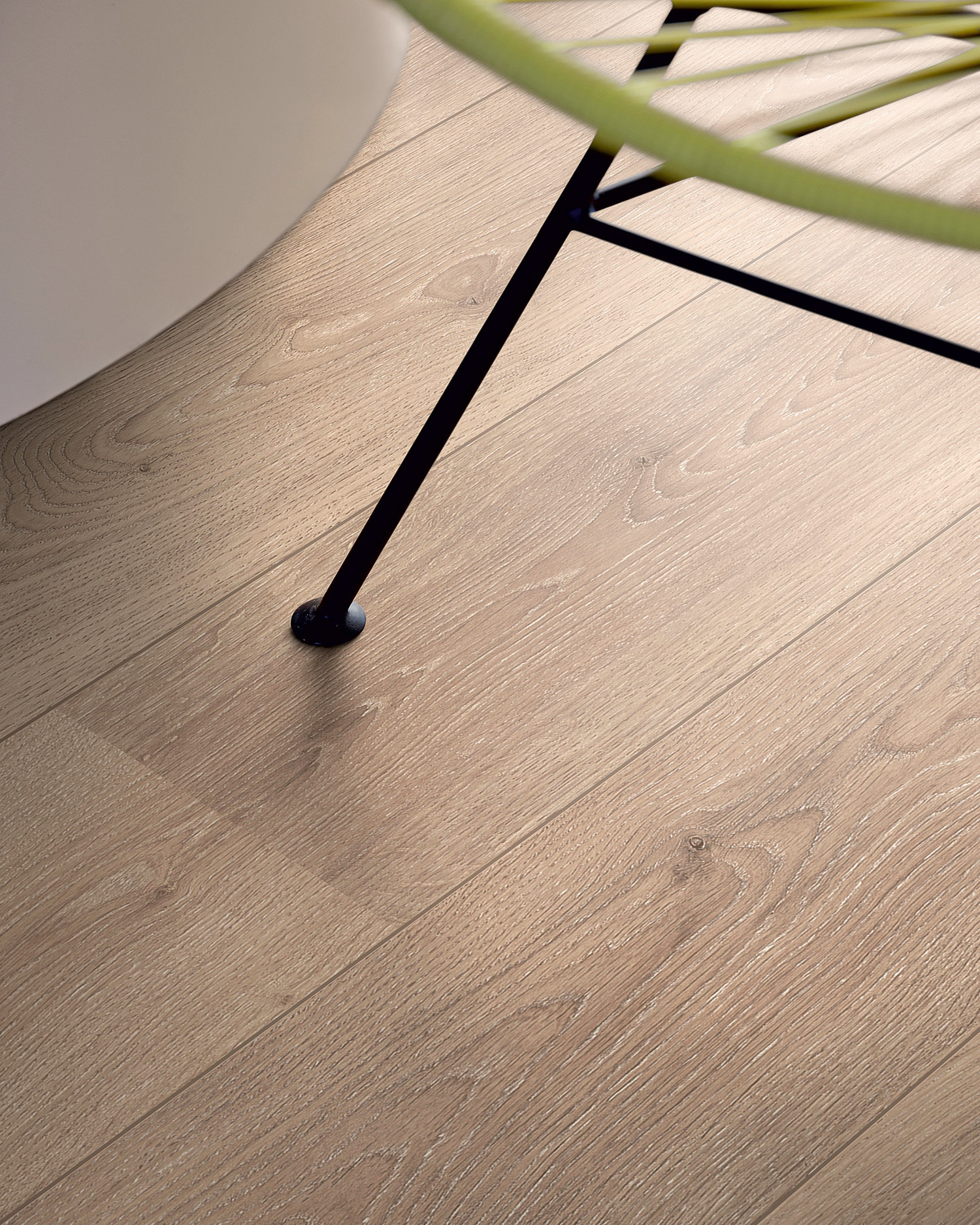 Sitting under an exposed concrete ceiling, enhanced by design elements from local designers, all design elements combine to bring an unfussy informality to the overall scheme – presenting a space that feels suitably eclectic and earthy.
In keeping with the design aesthetic of the hotel, Pergo Laminate offers an authentic, true-to-nature wood effect surface, produced via an innovative, creative 'registered embossing' technique that reproduces the deep grooves of brushed wood to perfection – with a soft matt finish which further enhances the surface texture to replicate that of natural wood.
Extreme durability—fast & easy to install
The Pergo Laminate used at Room2 Chiswick offers extreme durability, including high-wear and public spaces—with a Bfl-s1 fire class rating. The unique multilayer construction of its TitanX™ surface and dense core material provides incredibly high impact resistance for high-wear commercial applications, with superior wear resistance suitable for heavy foot traffic and usage.
In terms of installation, fitting Pergo Laminate flooring couldn't be quicker or easier. Planks are ready to install immediately, requiring no pre-treatment or preparation. An innovative PerfectFoldTM 3.0 click system offers three straightforward installation methods, also enabling easy uplift of planks if necessary. The simplicity and speed of installation guarantee minimum installation time and costs, thus minimising environmental impact at the fit-out stage.
PEFC certified ~ Energy-efficient production
The "Programme for the Endorsement of Forest Certification Schemes" (PEFC) certification bestowed to Pergo Laminate flooring is the largest worldwide independent organisation for the verification of sustainable forest management – with PEFC Chain of Custody (CoC) certification being a verified mechanism for tracking certified materials from forest to final product. Furthermore, 100% of the wood used in Pergo Laminate's content is either recycled or byproducts from other industries; only ever using renewable woods such as pine and spruce, and never exotic woods or wood from forests or rainforests threatened with extinction.


As a basic decree, Unilin comply with all official manufacturing regulations, investing in energy-efficient production whilst seeking new ways to recycle, reduce and renew throughout the laminate manufacturing process. With a 0% landfill policy, the production facility is primarily powered by biomass energy – which accounts for 70+% of all heat requirements whilst preventing 25k tons of fossil fuel CO2 emissions annually. Additionally, 97% of the water supply is from recycled water, with over 1000 m3 of rainwater used annually.

REACH compliant ~ Low VOCs
Manufacturer Unilin applies the most stringent norms when it comes to the use of formaldehyde and the emission of Volatile Organic Compounds (VOCs), which affect indoor air quality. Pergo materials are certified as REACH (Registration, Evaluation, Authorisation and Restriction of Chemicals) compliant; and guaranteed to never contain plasticisers, carcinogenic, mutagenic or reprotoxic substances (class 1A & 1B - candidate list).


In terms of statistics, Pergo Laminate releases far fewer Volatile Organic Compounds than the most recent EU norms. Whilst competitors often source resin binder from external parties, used to create the HDF (High Density Fibreboard) inner core, Unilin produces its resin binder in-house to carefully control and monitor specific substance levels – which amounts to ten times less formaldehyde than the most stringent EU norm.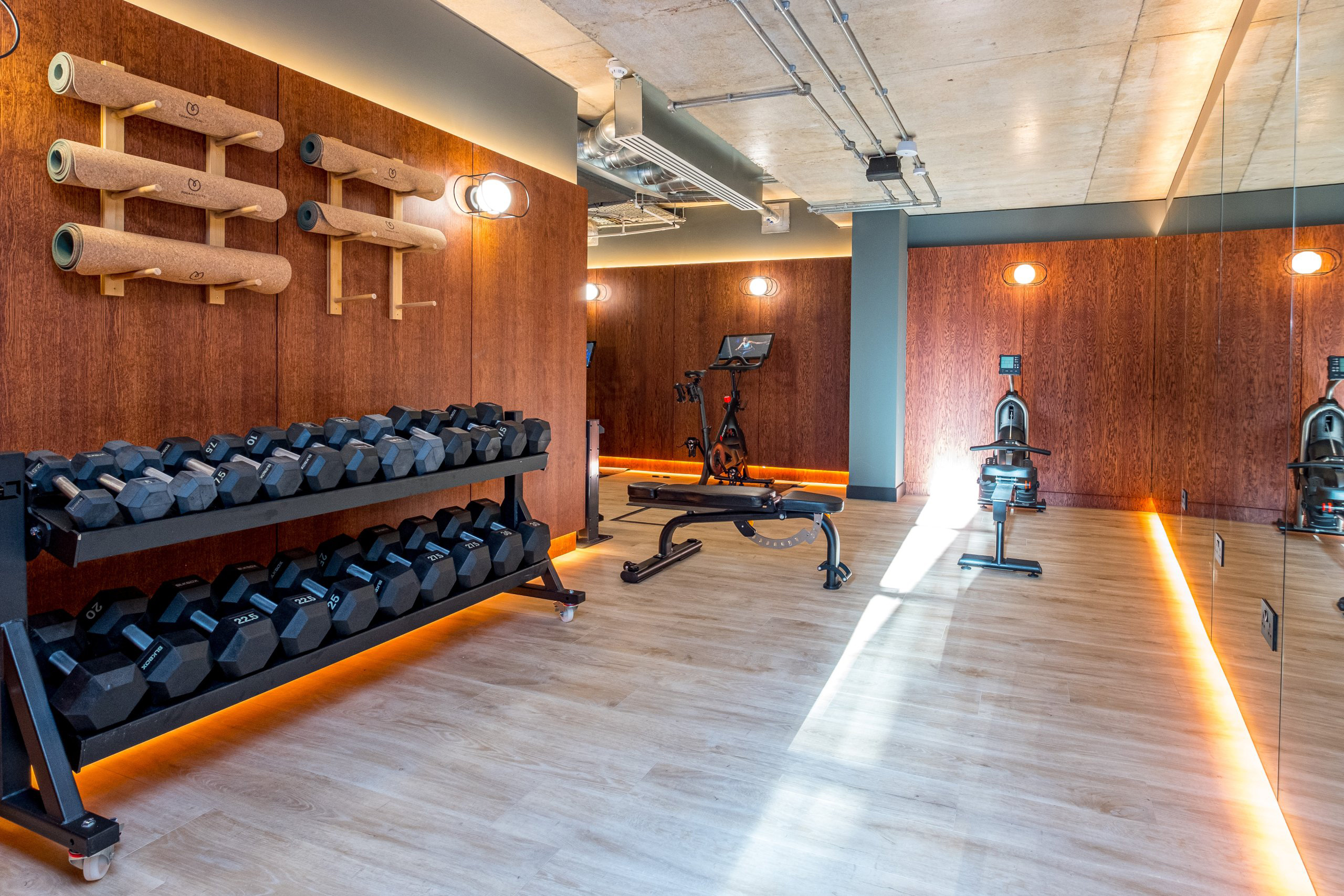 Net-zero hospitality
Aided by the use of Pergo Laminate flooring throughout, Room2 Chiswick undoubtedly raises the bar of environmental responsibility in the hospitality industry – setting a new green standard for hotel design. Proving that net-zero hospitality is achievable on a scale larger than boutique, Lamington Group has announced that it will open new net-zero Room2 hotels in Belfast, York, Glasgow and Manchester within the next 2 – 3 years, with Domus' Pergo Laminate flooring already specified at Room2 Belfast.
Note: Domus considers it imperative that the origin of all wood-based products it sells can be demonstrated through trustworthy, independent Chain of Custody certification based on international standards and norms; and confirms its commitment to implement and maintain chain of custody requirements set out by PEFC, which strives to promote sustainable forest management whilst discouraging unsustainable management practices.
For further information or technical advice please contact us