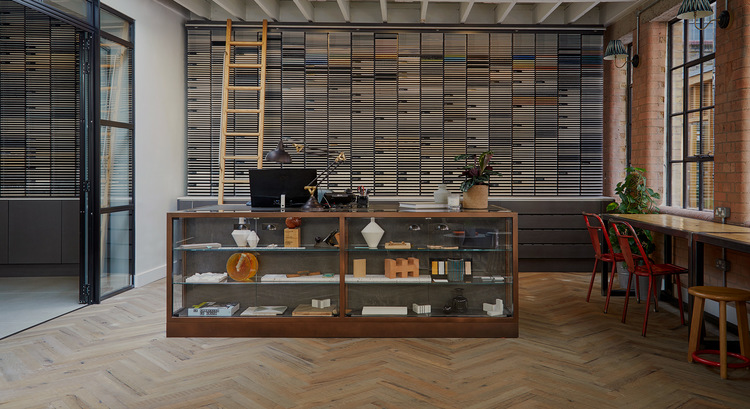 New showroom opened Thursday 16th September
Domus Clerkenwell: 1 Sutton Lane
New Domus showroom now open at 1 Sutton Lane
Marking the start of an exciting new chapter at Domus, we are delighted to confirm that our new Clerkenwell showroom opened on Thursday 16th September. The showroom is located on the site of the former J&A Café bar building on Sutton Lane, in the heart of Clerkenwell. Nestled between Great Sutton Street and Clerkenwell Road, the showroom is accessible from both streets, situated halfway along the Sutton Lane passageway that faces The Slaughtered Lamb pub.
Set back behind the 1930s industrial warehouse buildings of Great Sutton Street, the showroom occupies an old annexe building. The original single-storey annexe structure has been modified with a first floor and two outdoor spaces while retaining the unique character of the existing building and immediate area on Sutton Lane to become an innovative, forward-thinking showroom — a space that better serves our clients' needs in the post-pandemic era.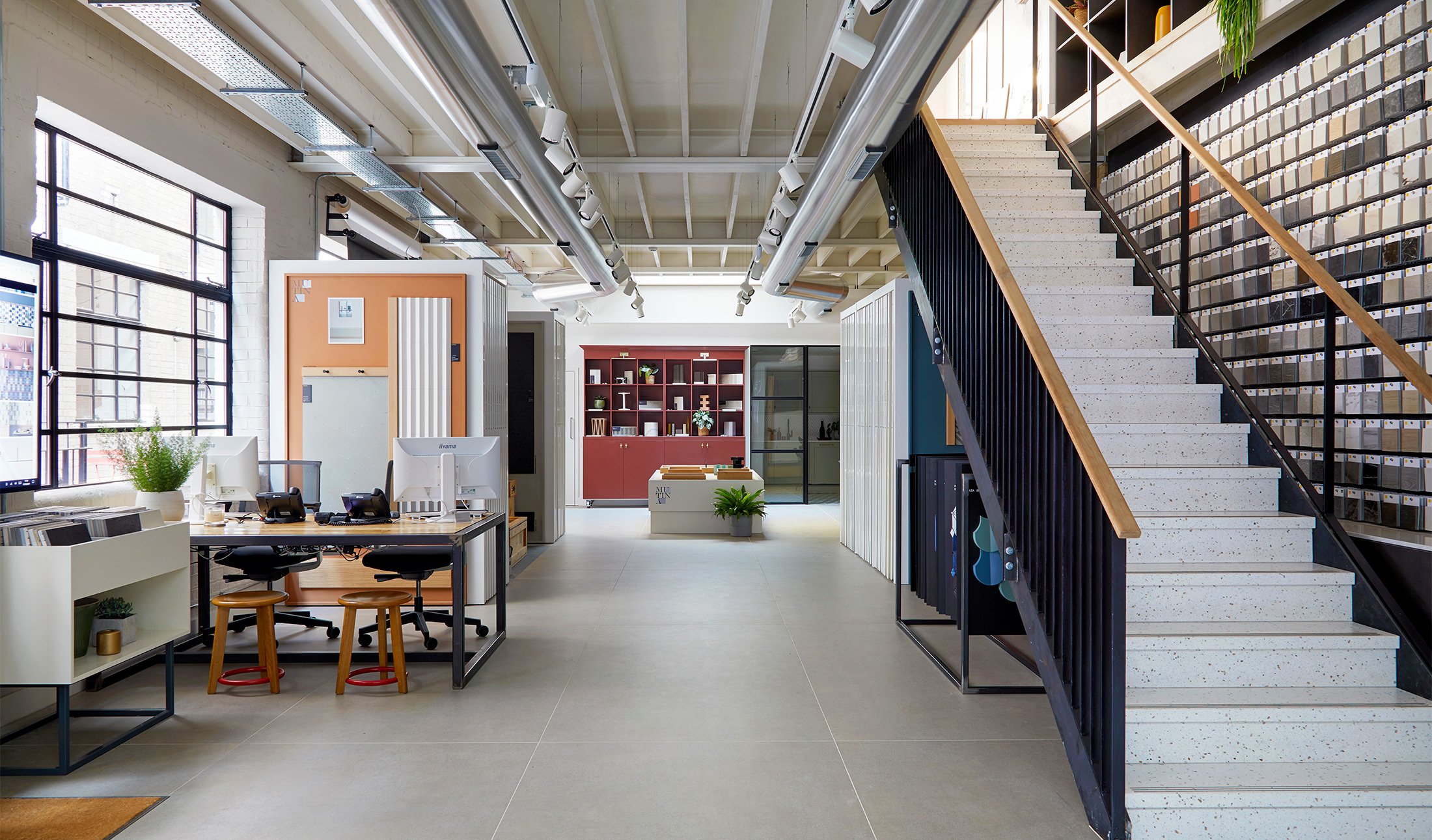 The new showroom design concepts & features
Blending inspiration and ideas via a carefully considered, curated approach, our new home in London's creative heart has been designed to offer architects and designers a stimulating and unique Domus showroom experience. Incorporating new design concept features within a dynamic and collaborative environment, the space is intended to serve as a warm and welcoming creative and social hub, with dedicated zones for client meetings and hot-desking, a restful bar and lounge plus two serene outdoor areas.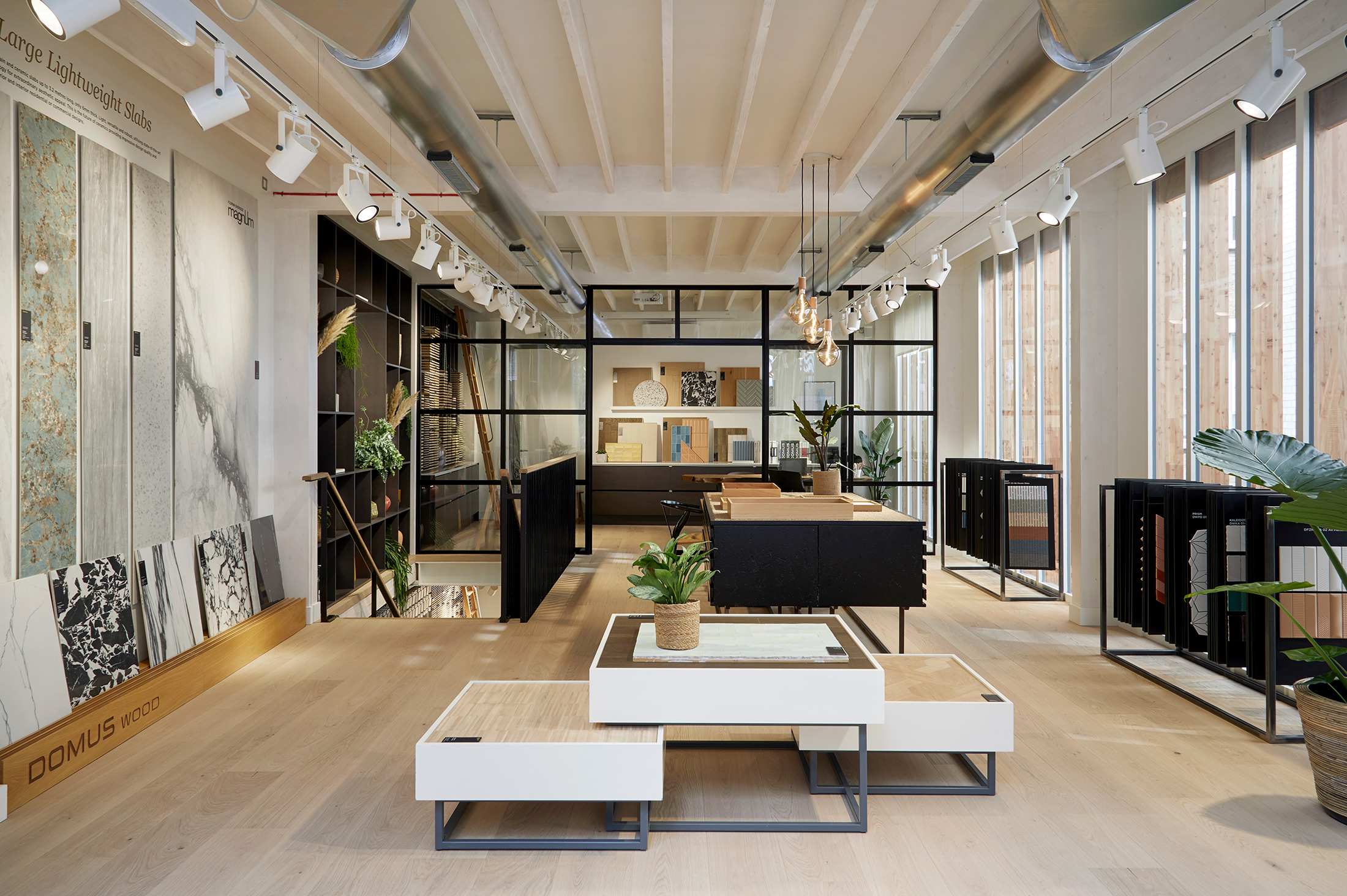 A comprehensive design source for interior designers, architects & specifiers
Housing over 3,000 individual products, a material reference library takes centre stage within the new showroom design concept, providing clients with instantly accessible reference pieces from Domus' extensive tile, wood and engineered flooring collections. Inspired by the style of old dispensaries and containing over 250 ranges in all colour and finish options, the reference library has been designed to help make choosing and selecting surface materials an effortless, intuitive part of the specification process – acting as a convenient and comprehensive design source for interior designers, architects and specifiers.
A dedicated photography booth is another exciting addition to the showroom, allowing clients to easily create and document mood board concepts; providing the space and equipment to visually record material options whilst sourcing products and testing ideas.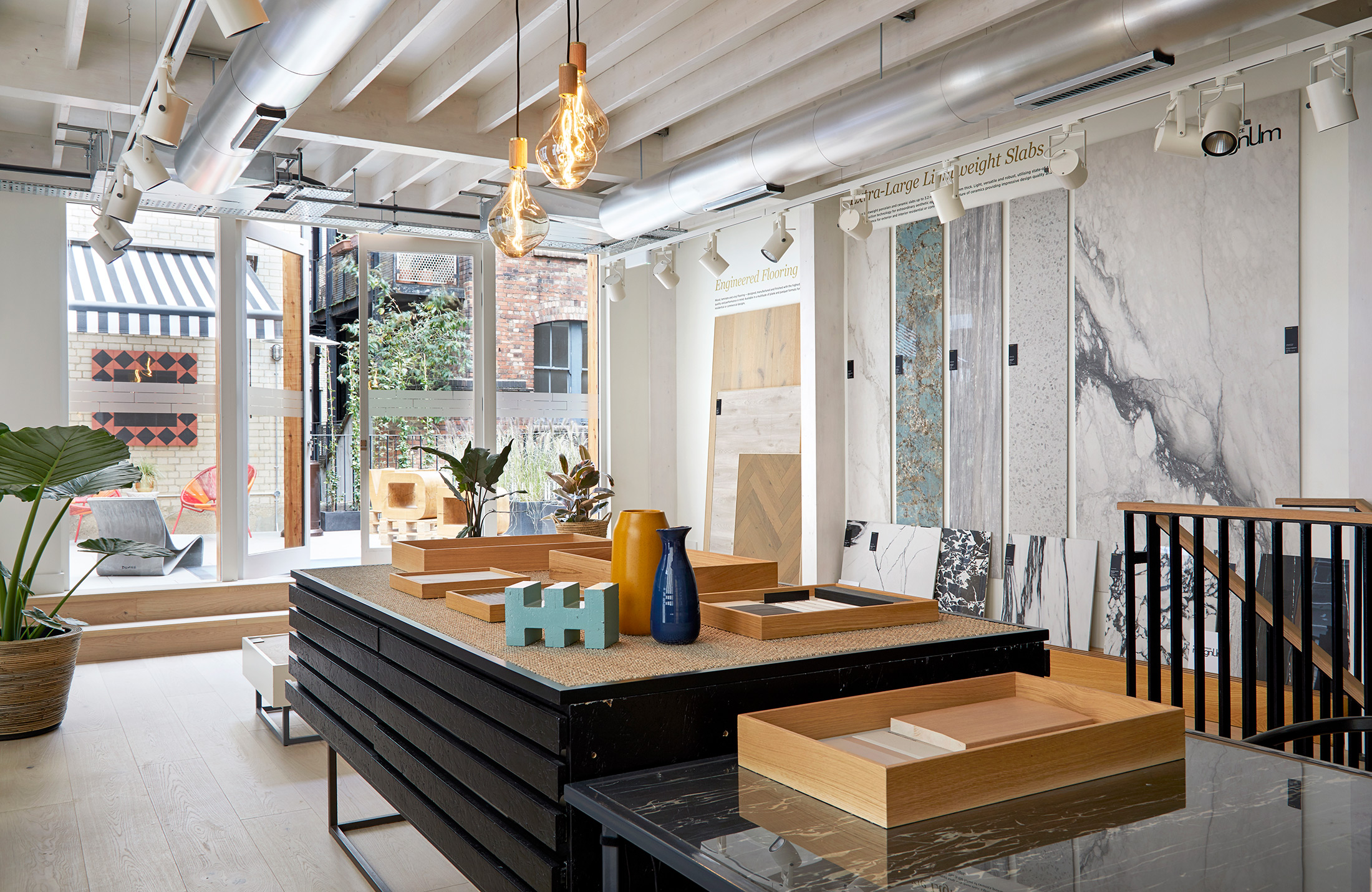 1 Sutton Lane, Clerkenwell, London EC1M 5PU




Opened Thursday 16th September 2021
Monday – Thursday: 9.00 – 17.30
Friday: 9.00 – 17.00




020 7458 4000




[email protected]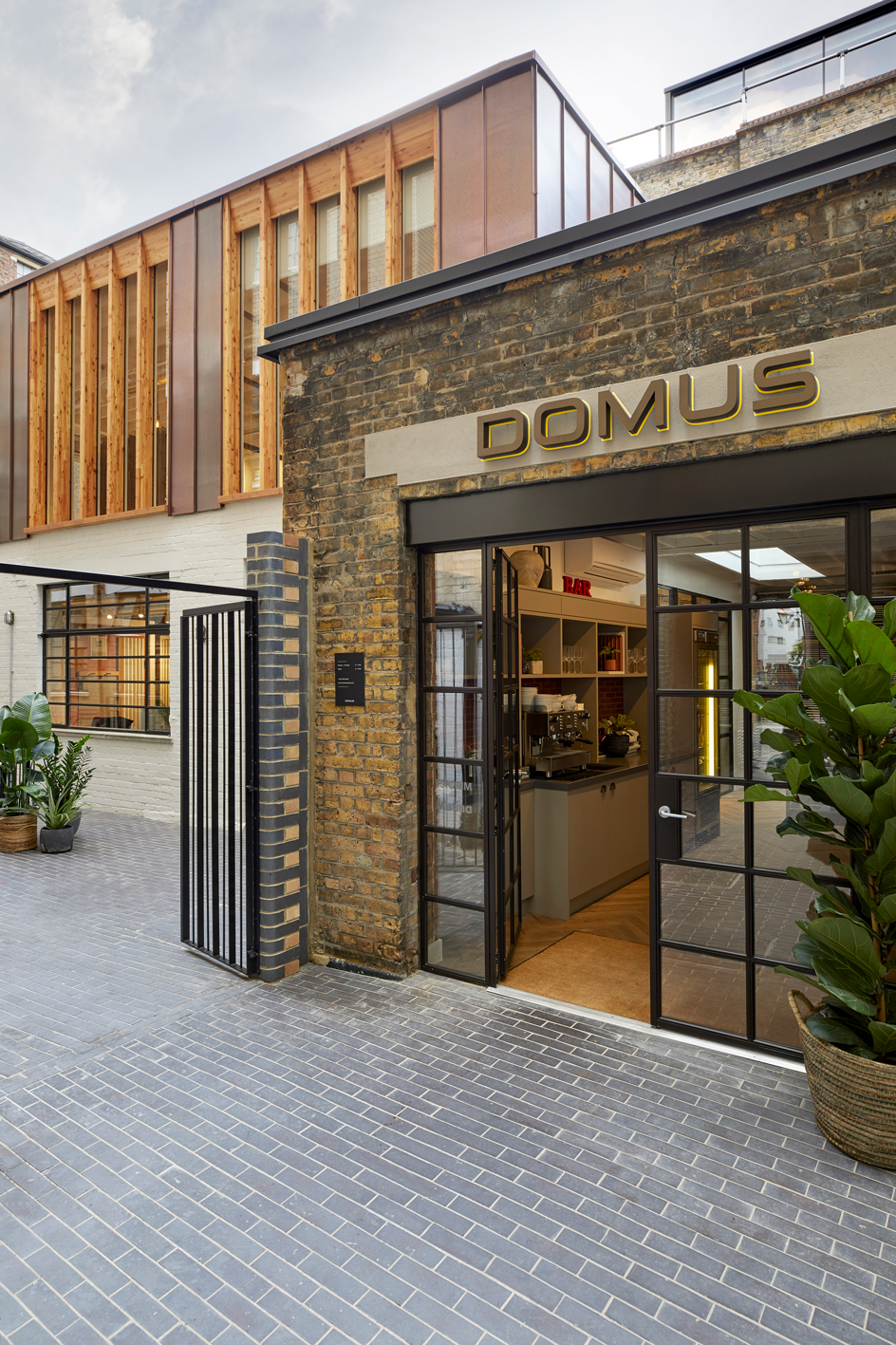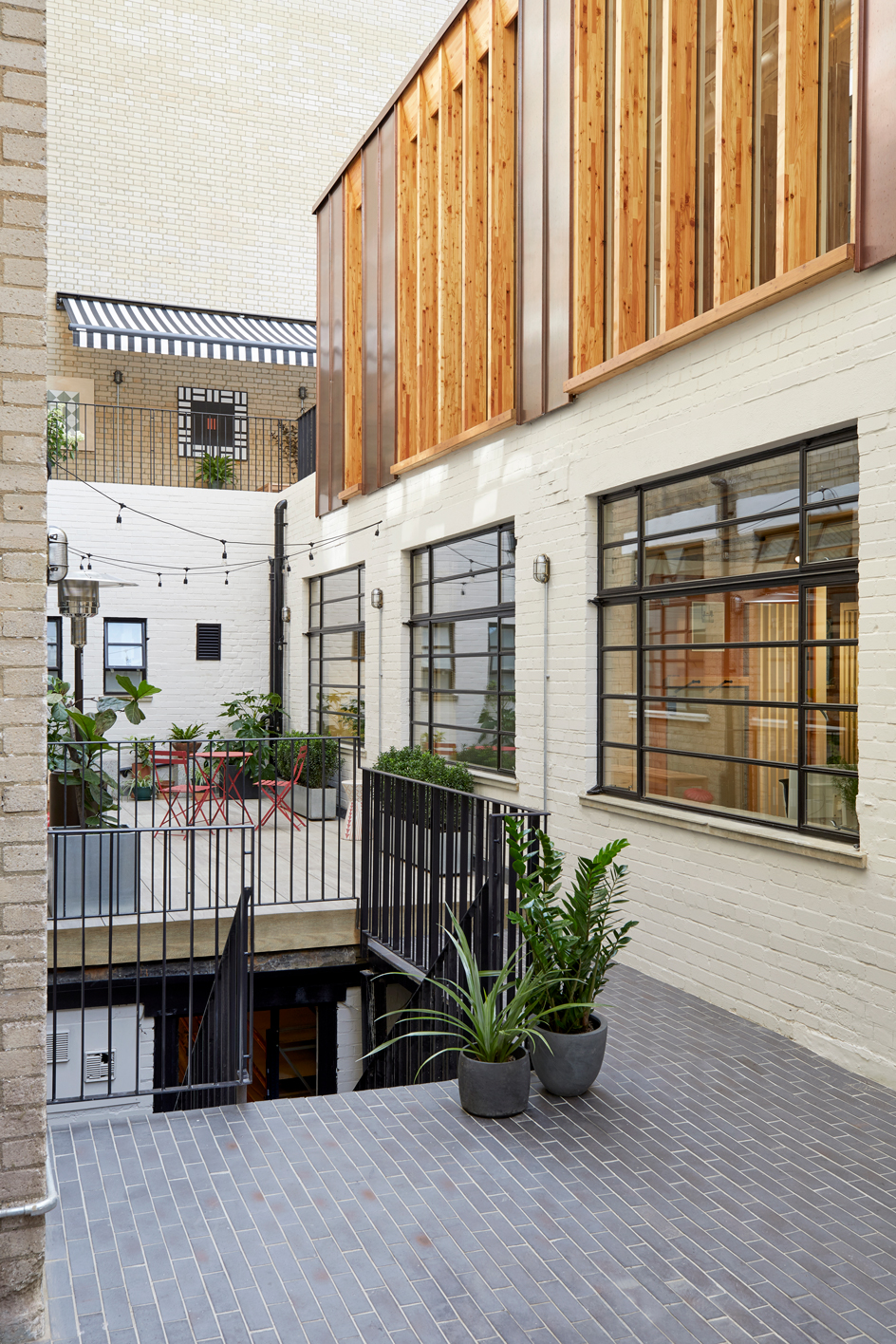 Book your visit to the new Domus Clerkenwell space