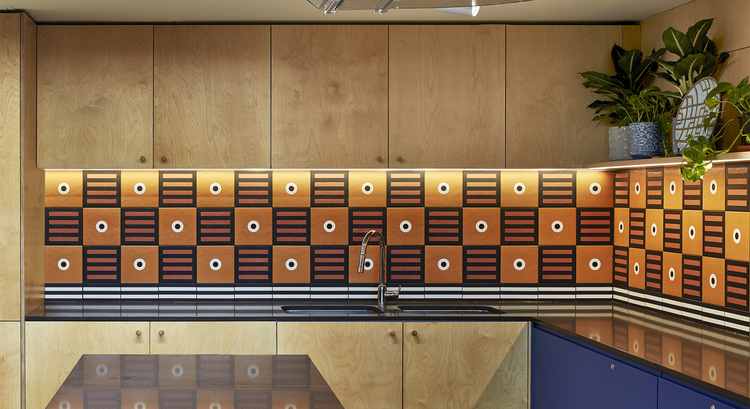 Case studies
Migrateful Cookery School
Project: Migrateful Cookery School

Design: AHMM

Location: Islington, London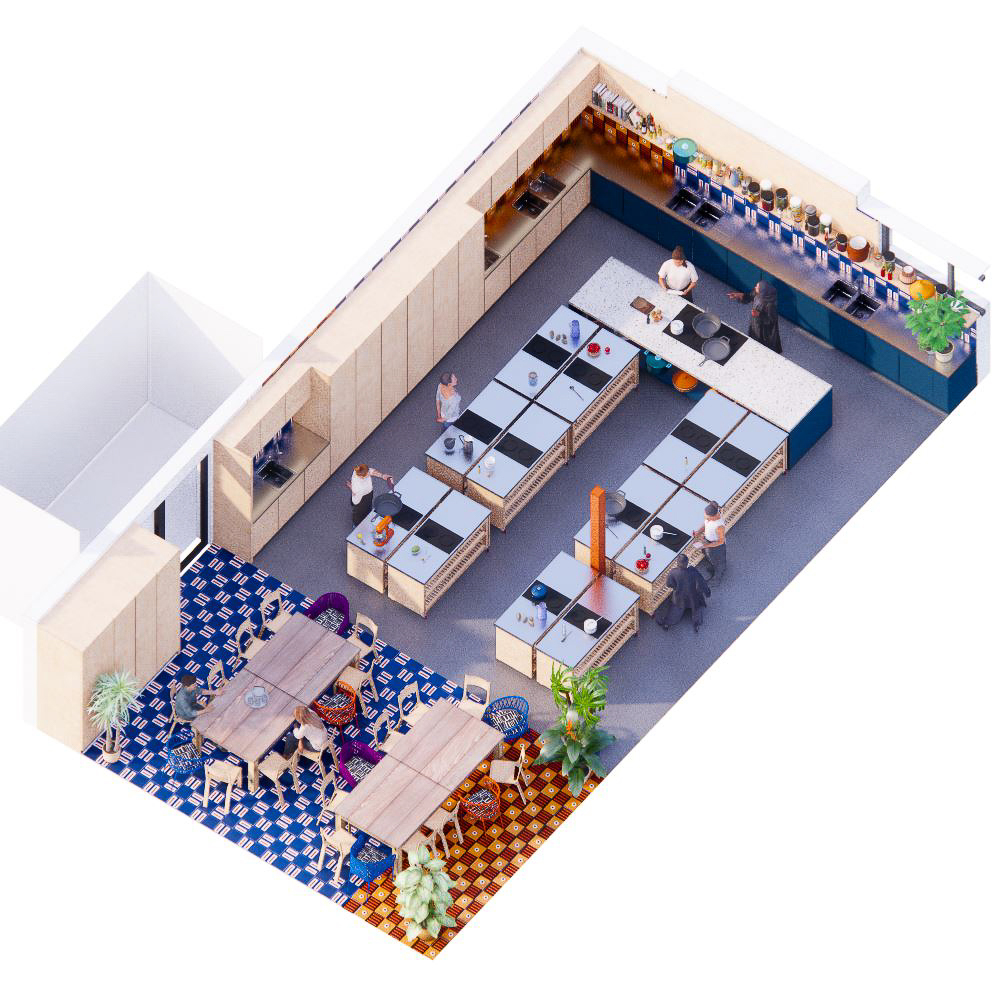 Using a mix of brightly coloured, patterned tiles from our Mattonelle Margherita range as a key design feature within the space, AHMM have transformed a former classroom in the Peel Institute's Three Corners Centre in Islington into a new cookery school for a charity delivering classes led by refugees, asylum seekers and migrants.
The Migrateful Cookery School is a new flexible cookery, teaching, and hosting space — a vibrant venue for events and a home for the Migrateful charity. Set up in 2017, Migrateful's mission is to empower and celebrate refugees and vulnerable migrants on their journey to integration by supporting them to run their own cookery classes.
AHMM has supported Migrateful since 2018, hosting regular cookery classes for staff at its London office. When Migrateful received £45,000 in funding from the Mayor of London to deliver a cookery school, AHMM offered to support the organisation by designing the new school pro bono. As a result, AHMM has created a dynamic space where Migrateful's refugee and migrant chefs can find a sense of community, offering a permanent space for them to develop towards employment and independence.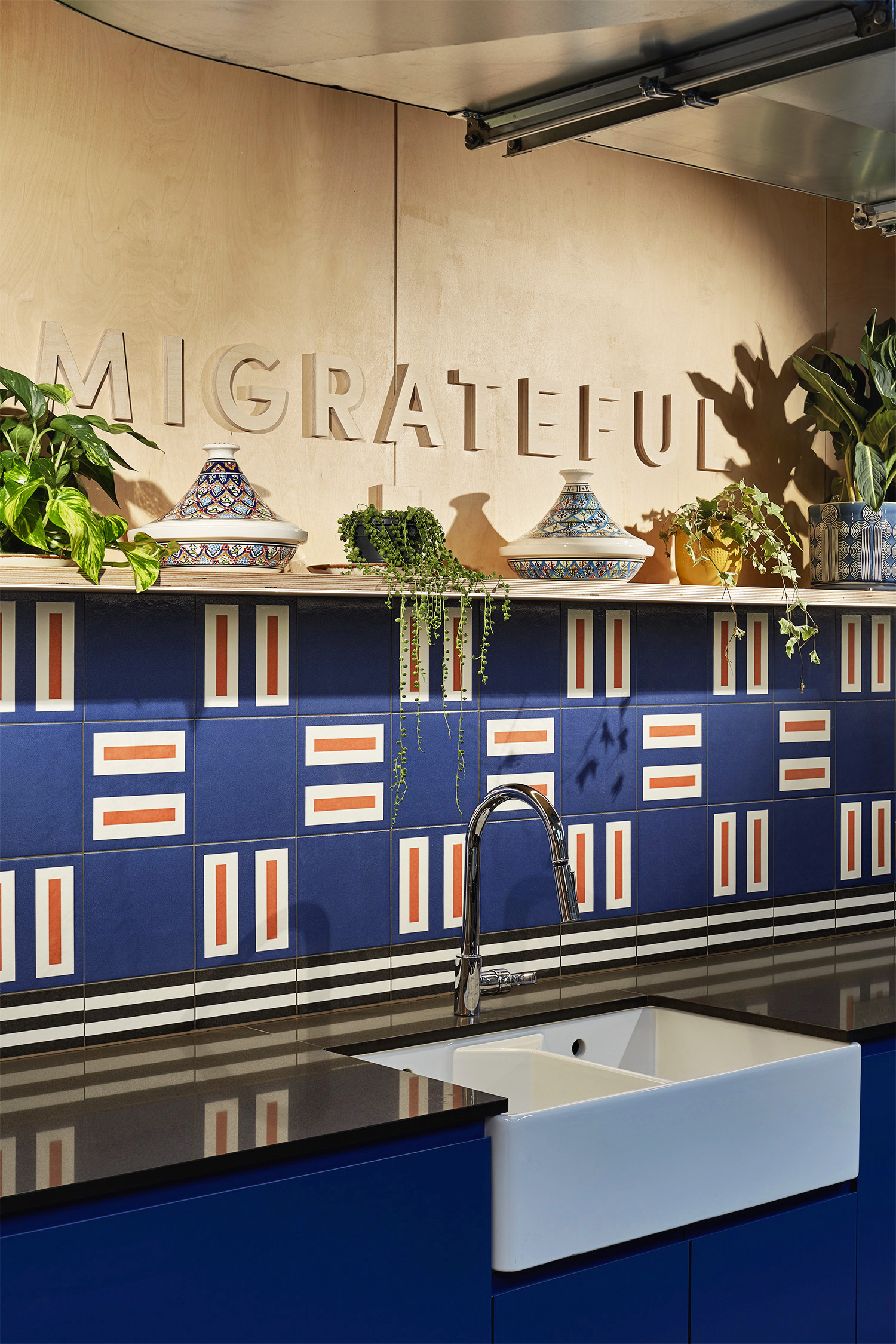 AHMM designed the space with a mix of fixed and reconfigurable elements from traditional kitchen facilities to mobile cooking stations, with the inclusion of an open-plan dining area where attendees can sit together with the tutors at the end of the lessons to enjoy the food they have prepared.
The approach to materials within the space was to create a simple plywood palette highlighted by vibrant tiled zones that celebrate cooking and eating. AHMM used several bold, colourful patterned designs from Domus' Mattonelle Margherita range, designed by Nathalie du Pasquier for Mutina, selected for being reminiscent of traditional African textile patterns, as a celebration of the myriad of different cultures that inspire the cuisines and recipes taught at the cookery school. In a bright, vibrant satin-effect surface finish, the unique and striking glazed porcelain range offers 41 different designs, including 33 patterns and 8 plain options, which can be used together, allowing for endless layouts.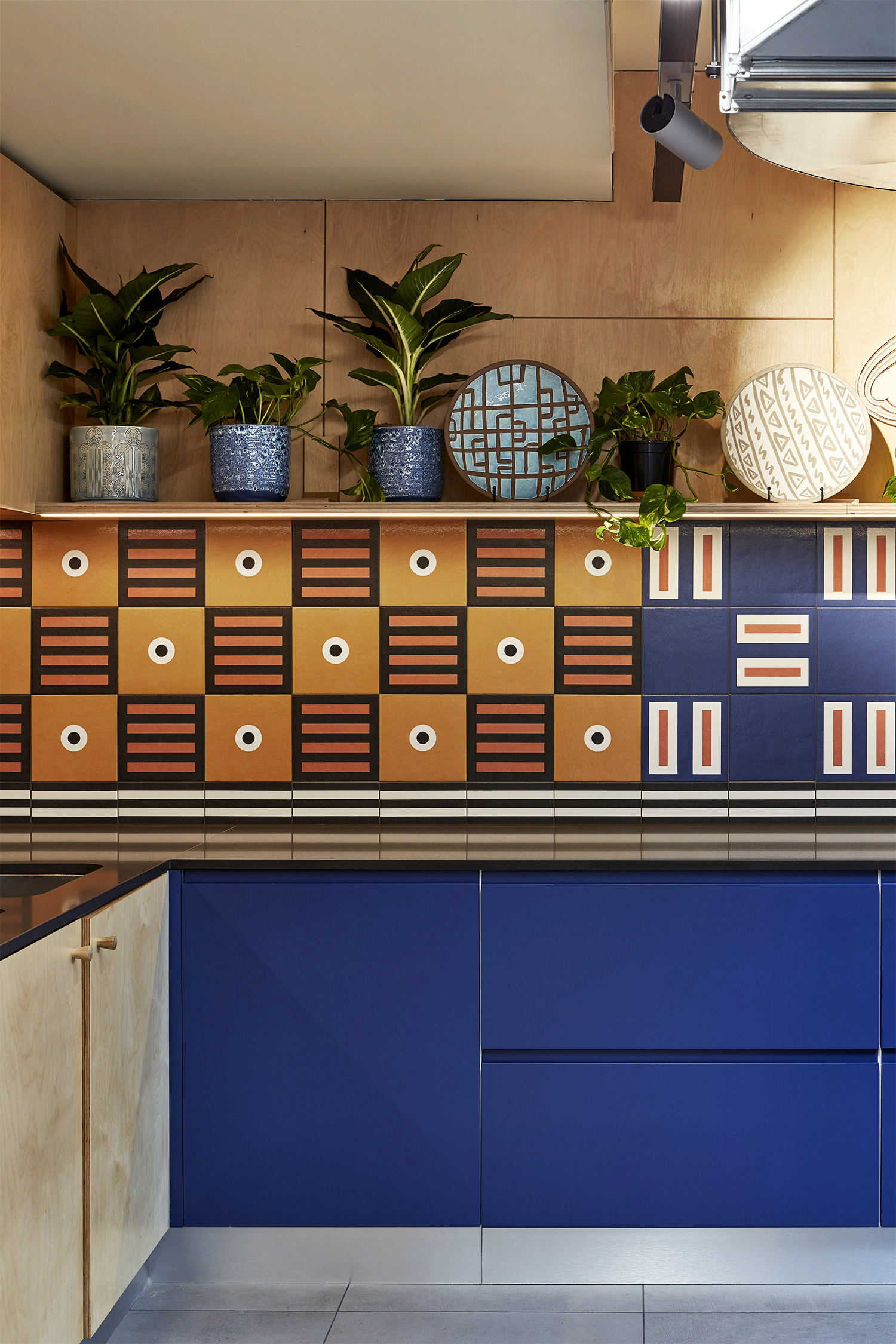 Across the kitchen splashback of the Migrateful Cookery School, AHMM used the Point and Stripes designs in combination, featuring red, black and orange tones, with the Double Red and plain Blue designs used alongside each other featuring blue, white and red tones. The latter combination is also a focal point on the dining area floor, with the rest of the floor tiled with Domus' Industrial porcelain concrete tiles. Domus was delighted to provide all tiles free of charge to the Migrateful Cookery School, a wonderful charity and AHMM's second pro-bono project in London.
Explore the range: Mattonelle Margherita by Mutina
Mattonelle Margherita features vivid glazed porcelain stoneware, offering 41 different patterns, which can be combined with each other to create endless different layouts. Suitable for tiling entire surfaces, or for adding creative accents on door frames, panelling or skirting.
For further information or technical advice please contact us