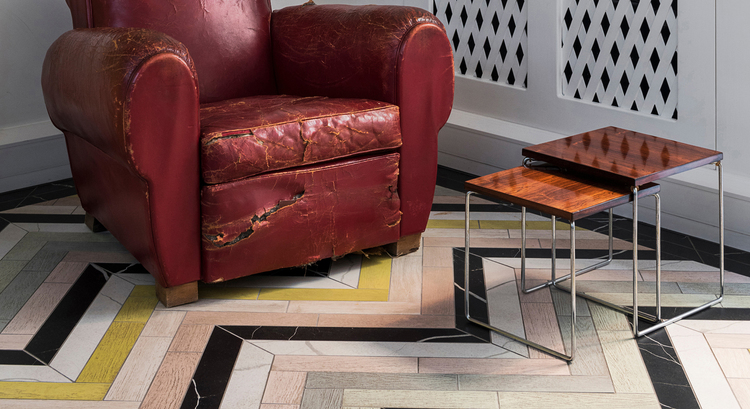 Case studies
Mayfair Townhouse Offices
Striking colour & pattern meets traditional spaces
Project: Mayfair Townhouse Offices

Design: Olivia Outred

Location: London, United Kingdom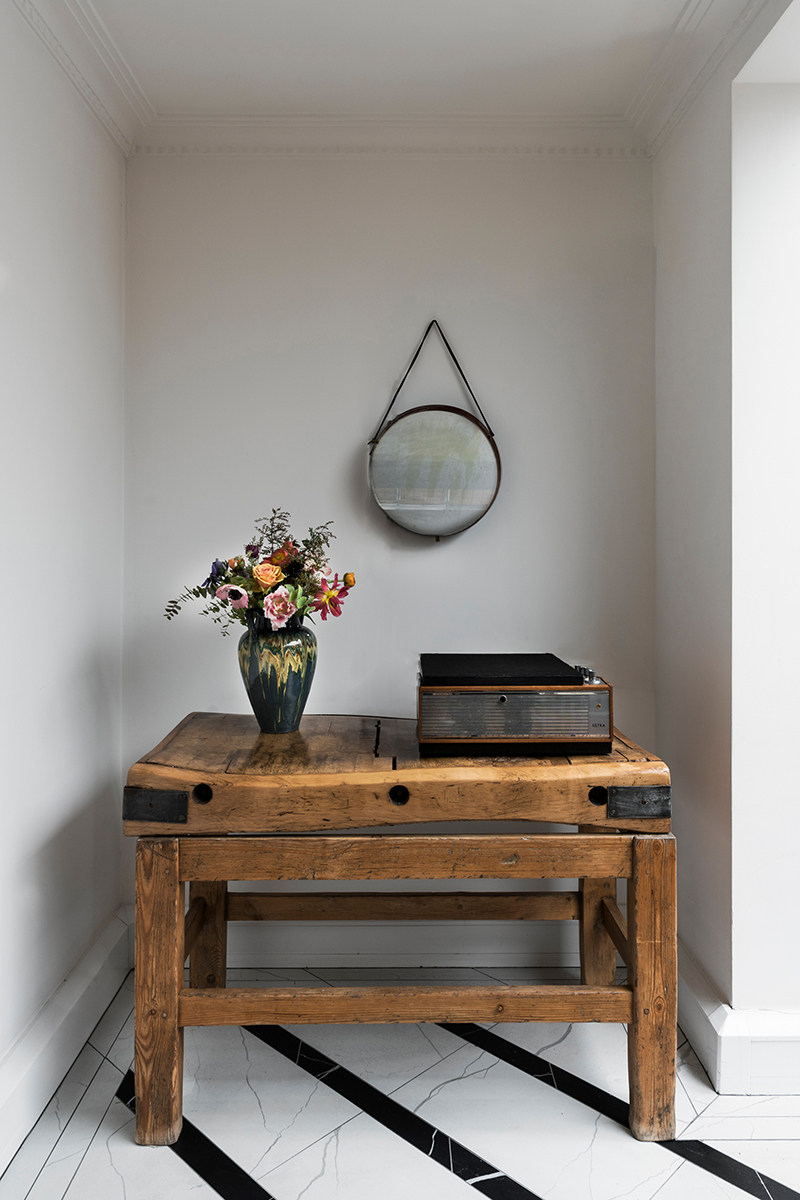 Glamourous aesthetic with unique, one-off furnishings & design
Nestled in London's illustrious Mayfair district is a Queen Ann style townhouse, home to a private art collector's offices. With walls hung with pieces by the likes of Damien Hirst and Mark Wallinger, designer Olivia Outred was tasked with bringing the essence of the art into her interior design. We spoke with Olivia about this unique project and the bespoke designs she created with Domus tiles. "We wanted a laid back, relaxed, glamourous feeling for this office, which resulted in a space that felt more like a private members club than a traditional office", says Olivia. Domus tiles were used in the staff break-out space and the restaurant; Olivia chose to create bespoke chevron patterns for both rooms using our custom water-jet cutting service. In the restaurant space, Domus' Maté, a porcelain design tile, was used to contribute to the glamourous, yet quirky aesthetic.
Floor: Maté DFZT 01 Natural & DFZT 06 Chevron Natural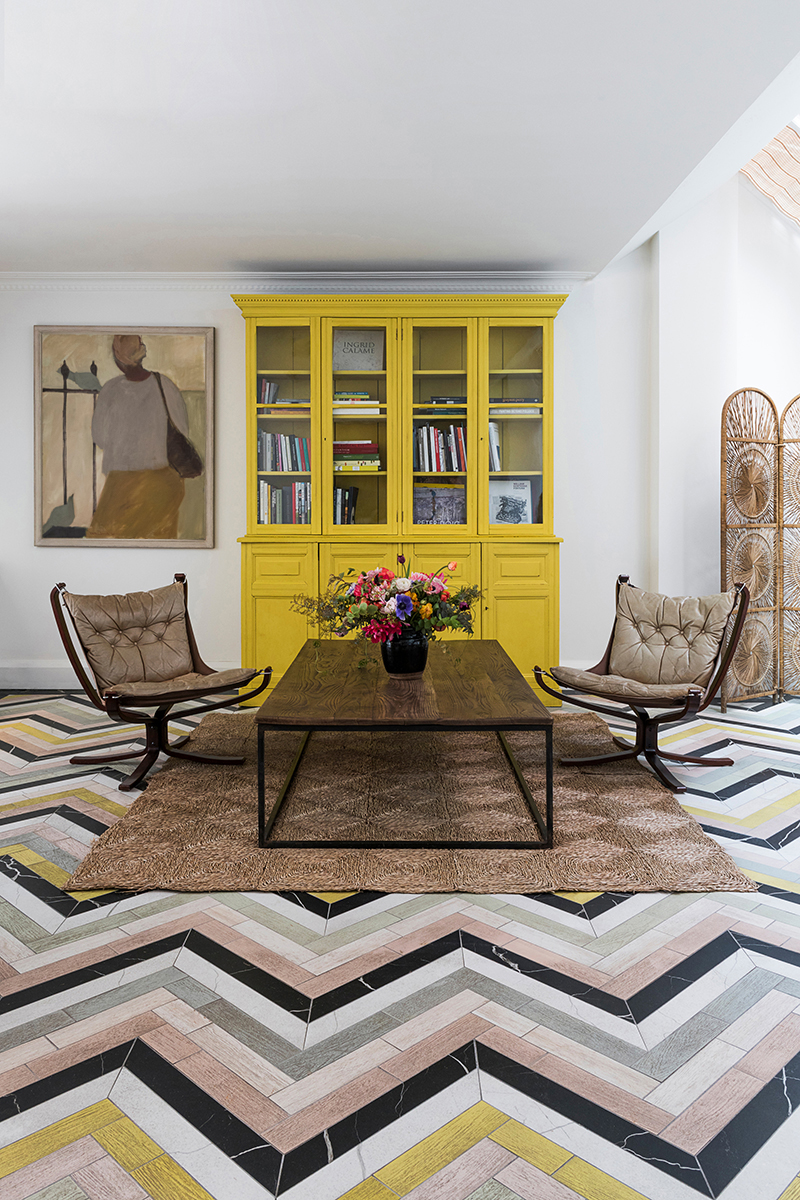 Striking colour & pattern meets traditional spaces
Perhaps the most eye-catching element of this project is the use of Domus' Technicolor. A wood-effect porcelain design range, Olivia chose to stay true to the range's name and blend the available colour options to create a multicoloured floor, using bespoke water-jet cut designs to create a chevron pattern. "Everything chosen was 'one-off' and special; there was not a generic formula. Our client had a wonderful art collection, and we chose what to hang and where to hang it quite early on, and decorated some rooms around specific paintings", Olivia tells us. Technicolor is a boldly graphic and colourful range that offers the durability and low maintenance elements of porcelain, with a subtle, natural character of wood design.
Floor: Mix of Maté & Technicolor tiles
"We loved specifying Domus' tiles, and we will use them again. I love the quality of the tiles, and they are super durable. I would say that thinking outside of the box and selecting tiles from many different colour palettes can result in a strikingly original aesthetic."
— Olivia Outred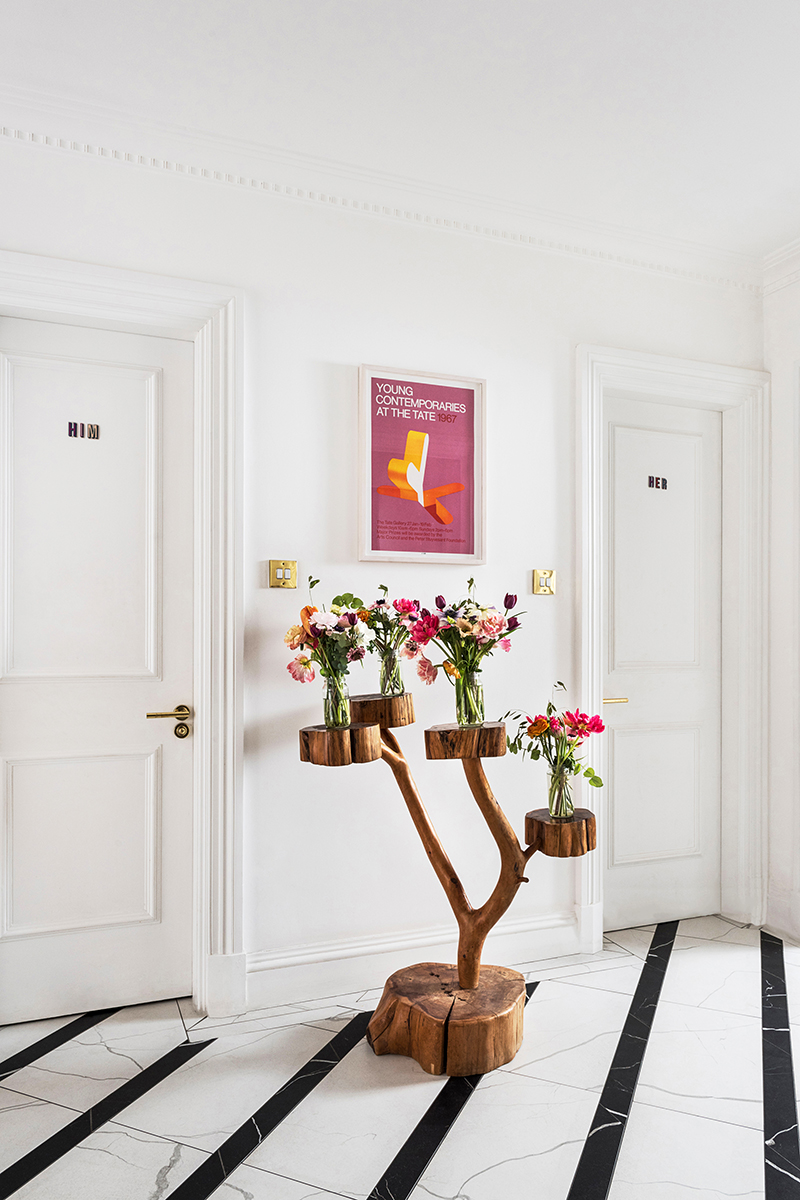 Designing creatively with Domus
The Domus residential team are experts on hand to help our clients, like Olivia, with specifying and installation support. When asked how Domus helped her solve any challenges the project provided, Olivia told us, "...we were nervous that the large batches of tiles that we ordered would vary from the samples that we had selected, but instead, every colour matched and worked harmoniously, and not one tile arrived broken". Using Domus' bespoke water-jet cutting technical solution to create complex patterns with the tiles, Olivia was able to produce a creative and original end result for her client.
Floor: Maté DFZT 01 Natural & DFZT 06 Chevron Natural
Photos by Sebastian Böttcher
Contact our dedicated residential team to find out more about our bespoke technical solutions. Click below to learn more.

For further information or technical advice please contact us