Project: Hive House

Design: Nimtim Architects

Location: Forest Hill
Jessica Spresser and Tim O'Callaghan of Nimtim Architects based in East Dulwich, South London, worked on the rear addition to an Edwardian terraced house in nearby Forest Hill, adding 16 SQM of new space and refurbishing a total of 21 SQM, using Domus' Geometrica patterned tiles as a key feature in the kitchen area.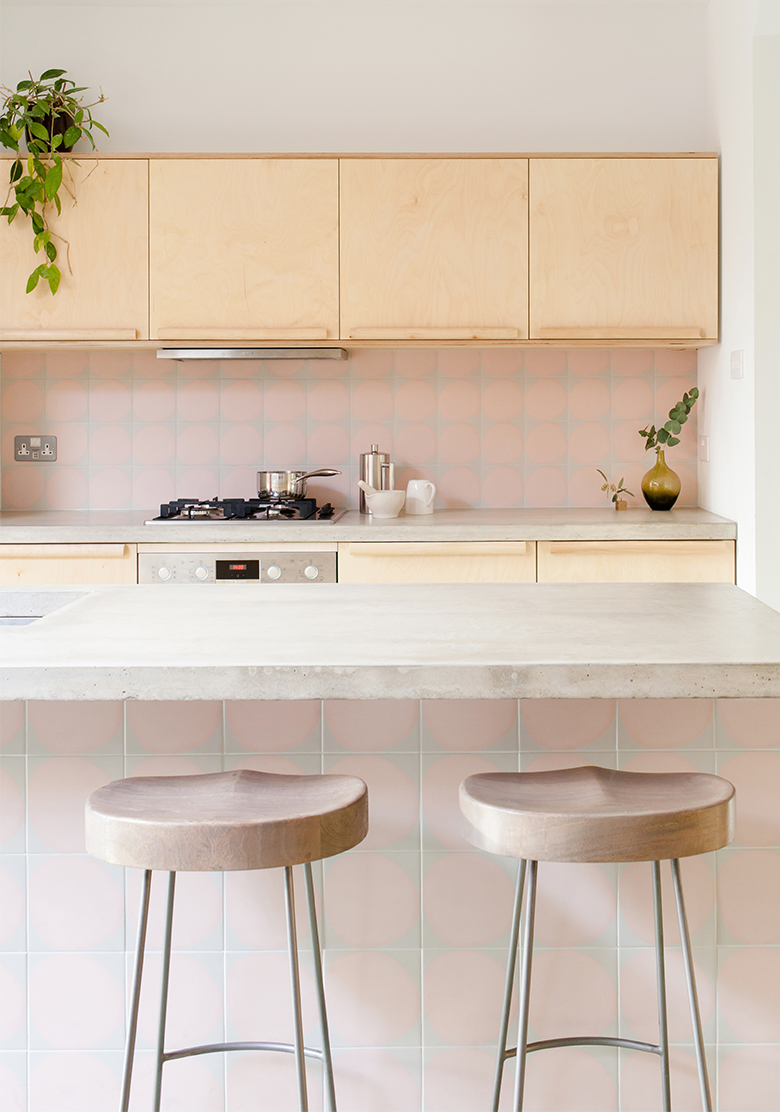 Shared vision….

Driven by the principles of simplicity and honesty and influenced by a modest budget, the architects shared a vision with the owners to create something unpretentious but materially and spatially rich. The objective for the project was to allow and encourage each element of the house to be what it wanted to be, thus doors and windows are a simple dark grey aluminium frame, the fascias above are patinated lead over external plywood, and the floor and worktops are made from cast concrete. Kitchen fronts and storage are formed in structural ply to match the exposed new structure.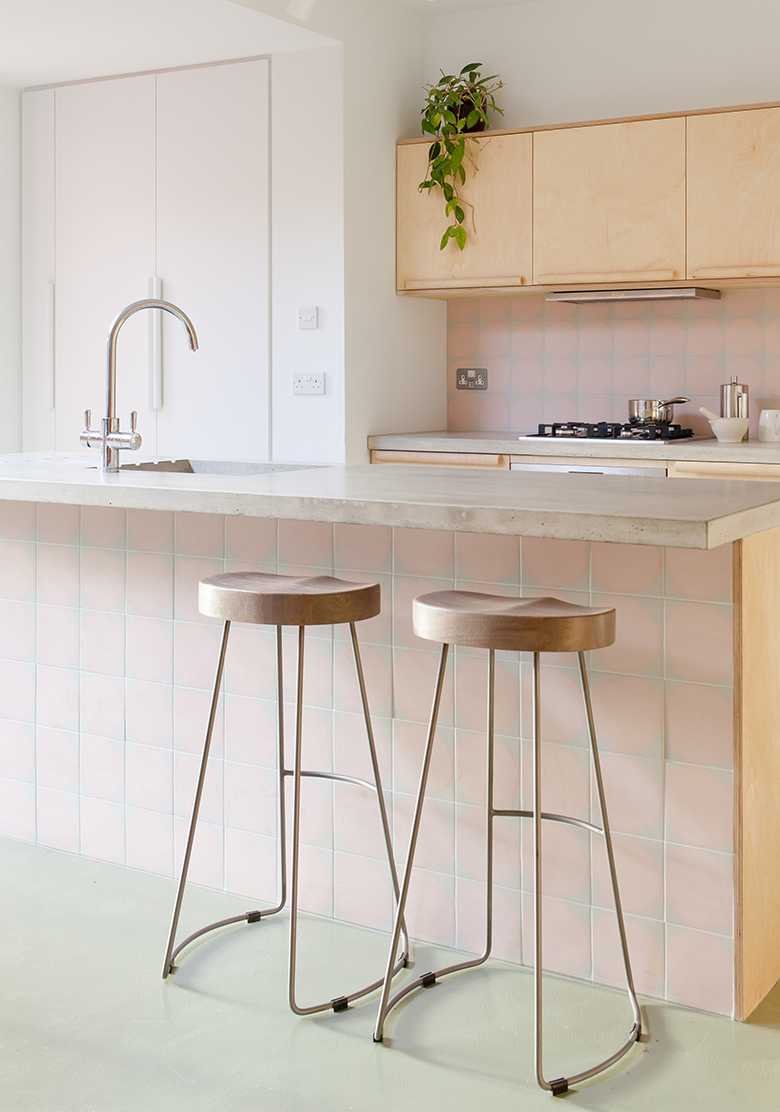 Light-filled space…

The extension is stepped in plan at the rear to respond to existing extensions on either side and reduce impact on neighbours. It creates a new family space by combining the existing rear living room and kitchen with the new additional space to provide kitchen, dining and living areas, each subtly defined within the larger space. The overall result is a light-filled family living space that is both of-its-time but comfortable sitting alongside the original Edwardian architecture of the main house itself.
Raw materials….
A timber structure of exposed structural plywood was used for the extension to reduce steelwork costs and provide something that could act as both structure and exposed internal storage. This lightweight timber grid was then draped in a skin of red brick to provide external cladding and robustness where required. The bricks are constructed using a stack bond with a light, recessed mortar accentuating the geometry of the materials and referencing the structural timber grid internally. Not foregoing attention to details, Nimtim also designed bespoke kitchen handles which were hand cut from dowels and match the exposed plywood door fronts.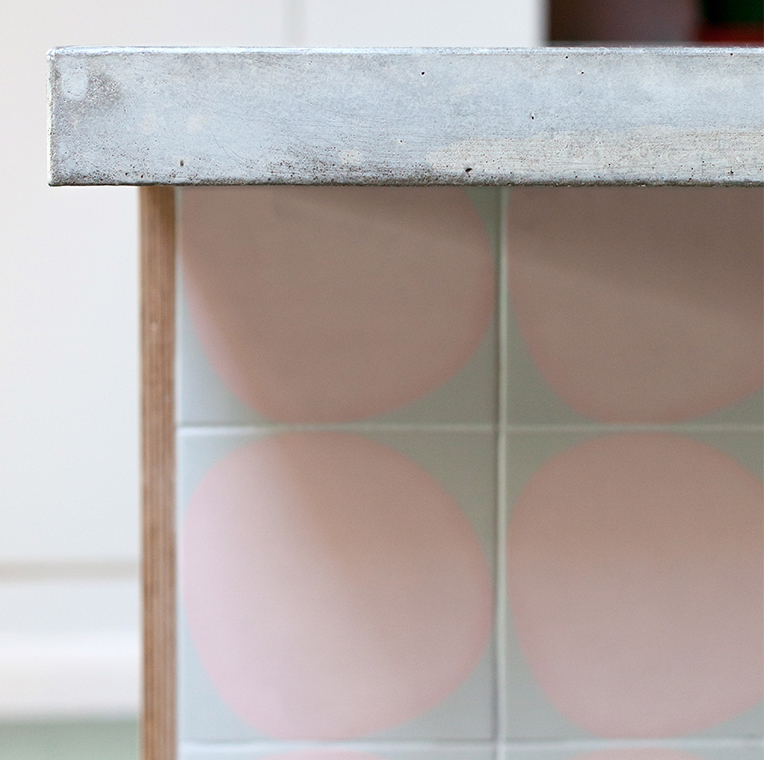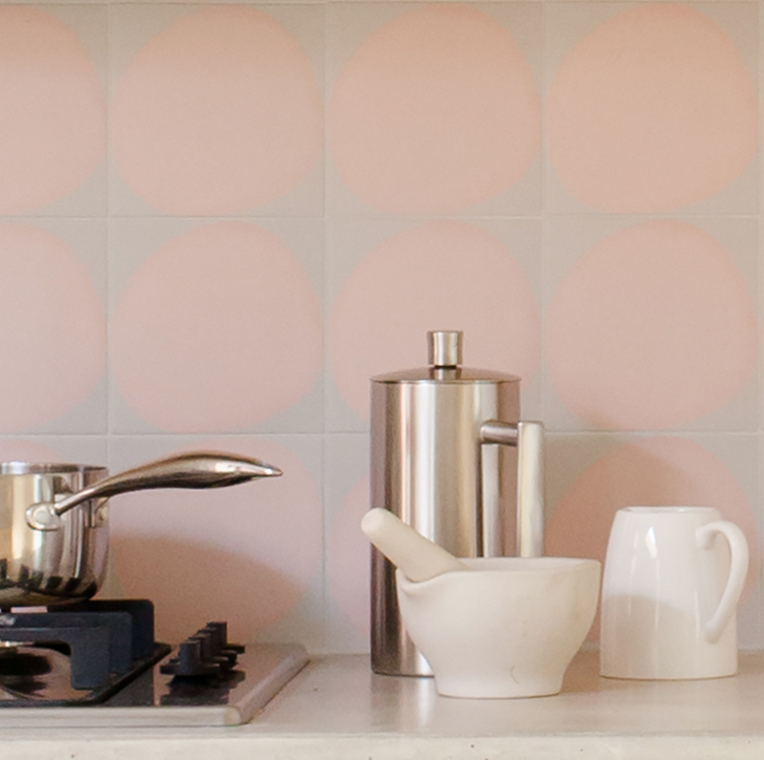 Patterned tiles…
Nimtim chose tiles from Domus' Geometrica collection for the kitchen splashback and central island front which feature a pastel pink circle on a soft grey tile. The square small-format glazed porcelain tiles have a matt concrete effect finish which complements the concrete worktops, while the grid layout ties in with the brickwork and plywood storage. As the colour / material palette of the space in general is quite raw, the pastel coloured tiles help provide an understated pop of colour.
For further information or technical advice please contact us