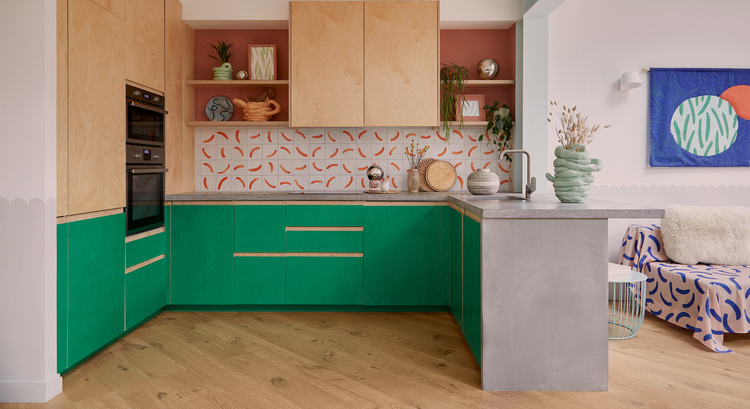 Case studies
Comerford Road
Abstract shapes & warm tones form this unique London home
Project: Comerford Road

Design: King Celia Studio

Location: London, UK
We take a look inside the unique home of Jess Piddock, Designer & Founder of King Celia Studio, who has used a multitude of Domus products to bring her abstract vision to life. The material palette expresses a modern industrial aesthetic whilst embracing a playful and uplifting approach to design. The combinations of bold colours, shapes, patterns and textures almost make the space feel reminiscent of a modern art gallery.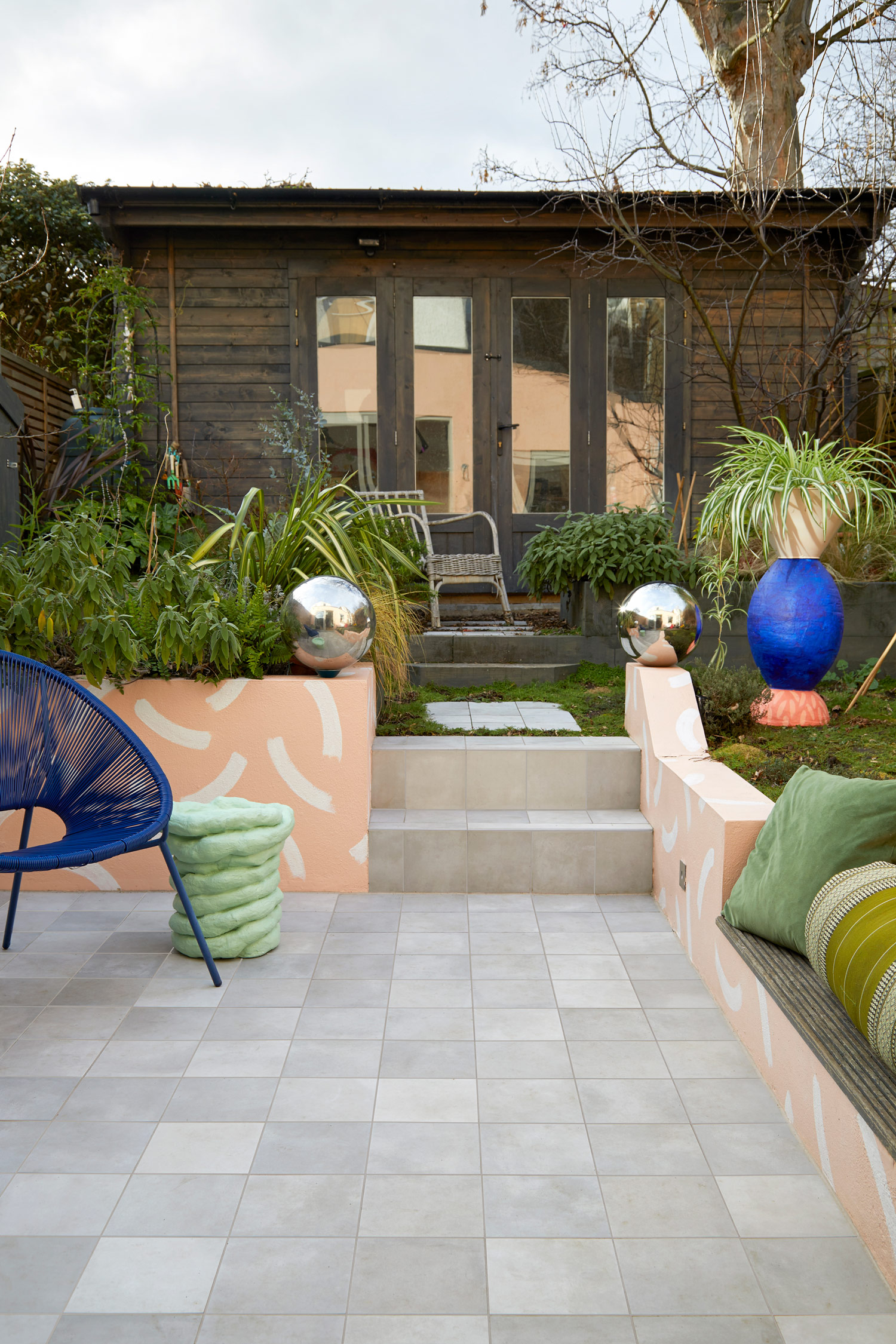 A high-end look on a tight budget
Jess tells us, "I worked at Domus ... at the time of the project, so I knew the products well, ... but it can be much harder designing for yourself because you're less objective, and adapting my preferences to match our budget was a constant challenge too".
When asked how she overcame this budgetary challenge, Jess notes that "the breadth of [Domus'] range is so wide you can combine small quantities of designer products with higher volumes of very cost-effective products. Making it possible to achieve a high-end look even on a tight budget, and only have to go through one supplier", referring to Domus as the "department store of the tile and flooring industry".

Garden Floor Tile: Maté DFZT 03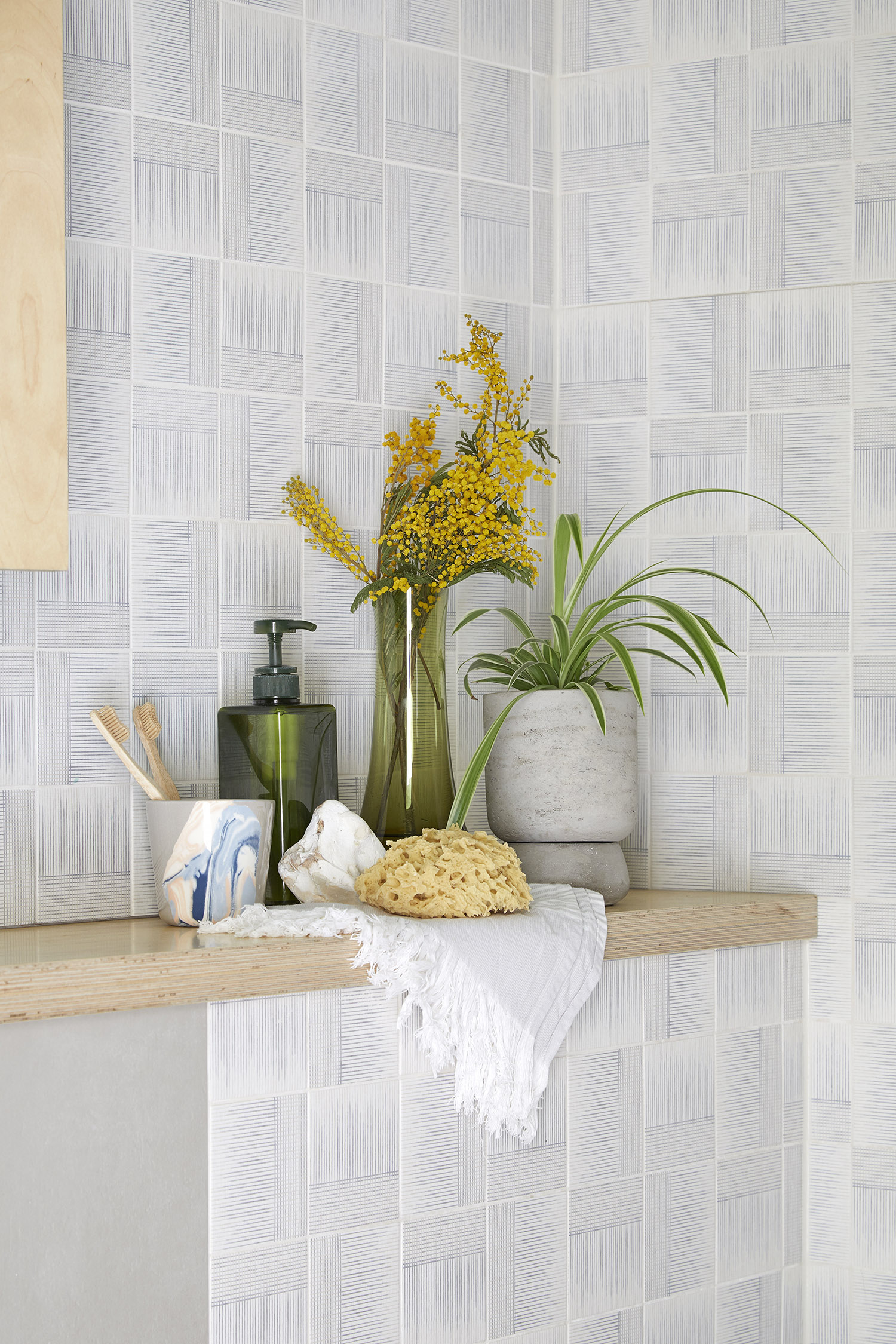 Using colour & texture to create a calming bathroom space
"My biggest design challenge was that to create a light-filled living space sandwiched between a courtyard and the back garden, we needed to forfeit having natural light in the bathroom", says Jess.
Her goal was to create an uplifting and calming bathroom space, despite not having a window, so she decided to use colour and texture to achieve this instead.
"I've always loved Mutina tiles from Domus because the detail is beautifully tactile & they have so many great contemporary designs by some of my favourite designers."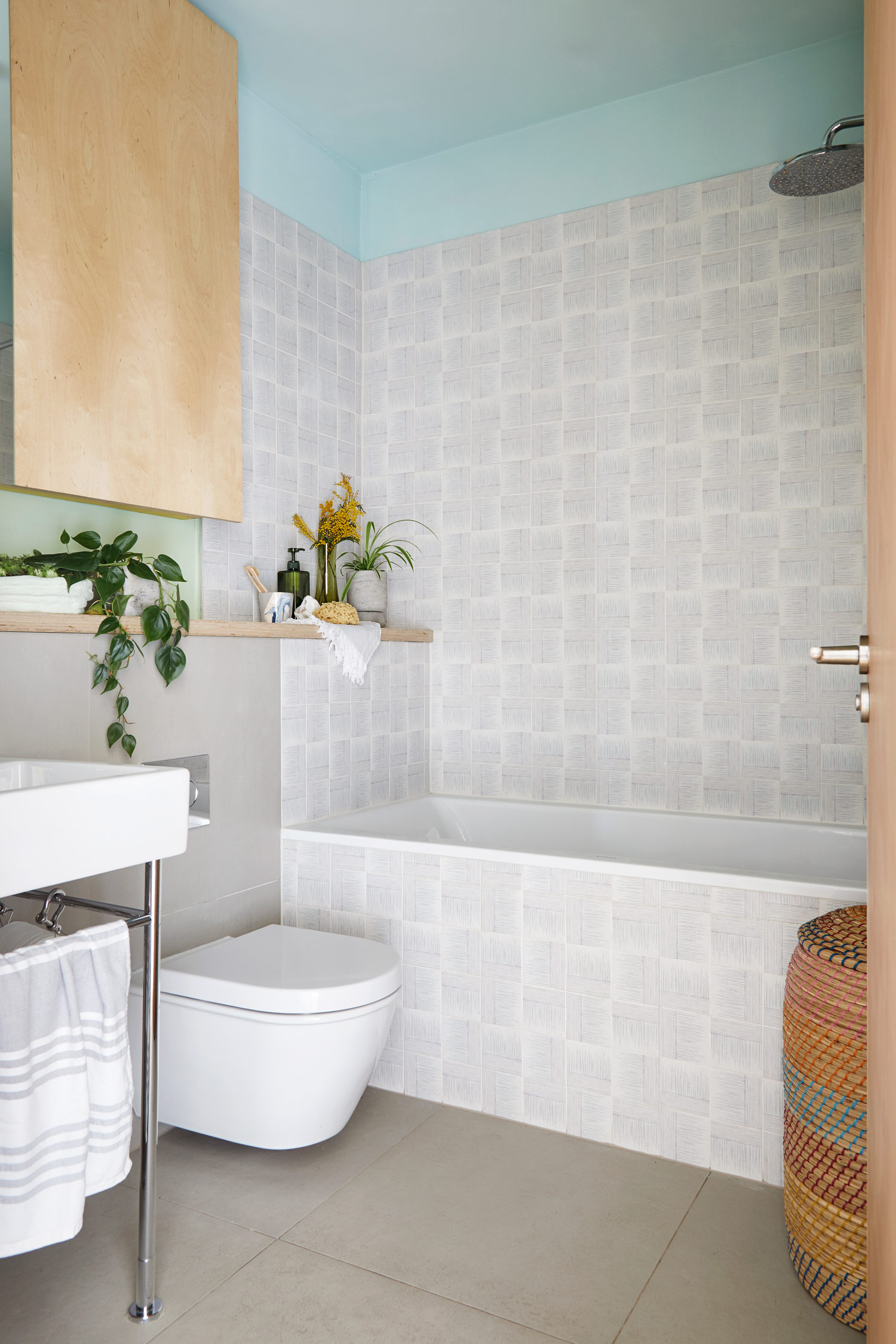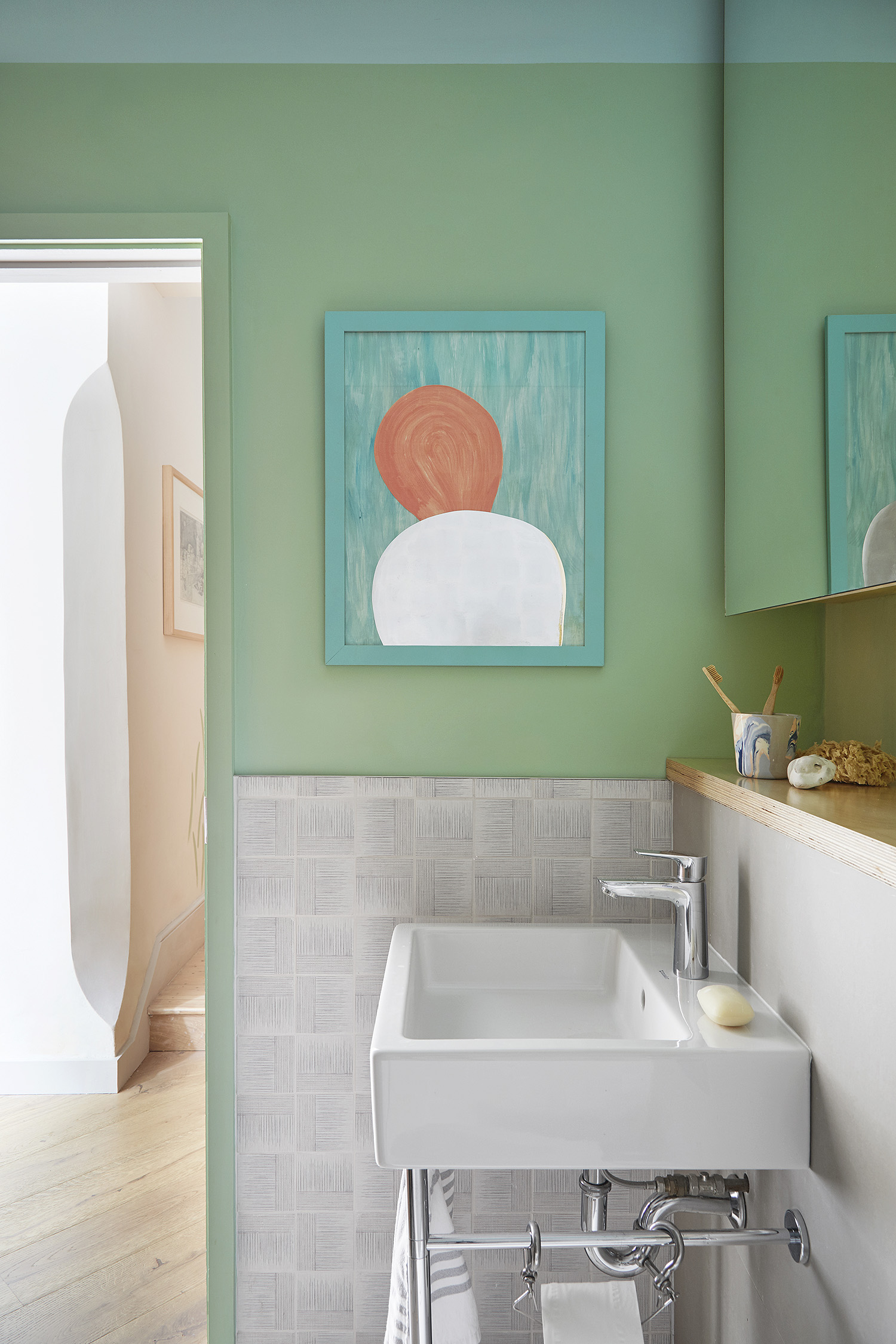 Tratti by Inga Sempé for Mutina was chosen for the shower walls and bathroom detailing. This beautifully matt tile has a handmade quality, exaggerated by the delicate line patterns and textured relief. Their dainty size contributes to the artisan feel, yet their porcelain material means they are sturdy and practical.
Jess combined the Tratti tiles with painted mint green walls, a sky blue ceiling and an oversized mirror to give the space a boost of energy. Creta, a pared-back concrete-effect tile, was specified for the flooring, which provides the room with a modern industrial feel when combined with the raw plywood cabinetry.
Natural oak adds character and a sense of movement
The primary flooring is Pergo engineered wood. Providing a sense of movement through the home, from the hallway into the open plan kitchen and living area, it also gives the room warmth. "I laid the floor on a diagonal to achieve a more dynamic, contemporary look, even though it's a fairly traditional looking oak", says Jess.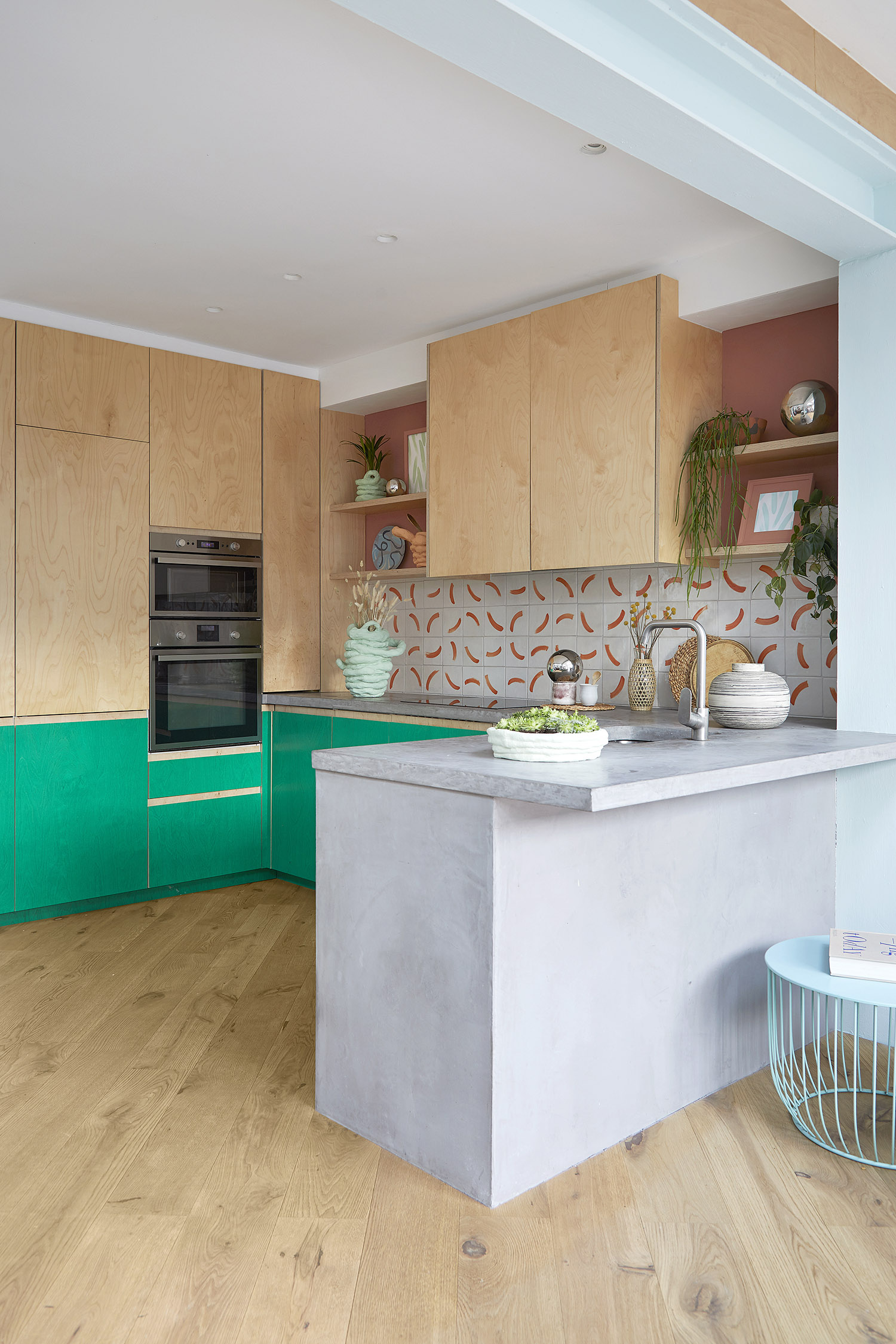 Pergo's wood is a premium natural wood product with minimal colour variation and minimal knots. The prime grade planks are very uniform in colour and structure, while the matt lacquer makes the floor dirt-repellent, easy to clean and resistant to water and household chemicals.
"The specialist engineered wood team at Domus were invaluable in advising me on the suitability, installation and the inherent qualities of engineered flooring, and I went for a very practical finish for everything", Jess tells us.
Uniquely, Pergo Wood utilises innovative and patented PerfectFold™ 3.0 click-system technology for fast and straightforward installation; planks can be clicked together with no risk of damage and are removable if they need to be lifted and reinstalled.
For more information on Domus' engineered flooring, please contact Rob Alexander and the Residential team:

Email: [email protected]
Tel: 020 8481 9500
For further information or technical advice please contact us