Case studies
Samsung KX
A unique retail and venue space at Coal Drops Yard
Project: Samsung KX

Design: KSS / Brinkworth / Portview

Location: Coal Drops Yard, King's Cross, London
New retail concept
A unique Samsung concept space has opened at Coal Drops Yard, just north of King's Cross St Pancras in London. Known as Samsung KX, the store and venue space uses over 2000 sqm of Domus' 'Urban Style' tiles in a bespoke laminated 20mm format, making them suitable to be dry-laid on a raised floor system.
This new brand showcase blends local heritage buildings with futuristic architectural details to create a flagship retail and venue space. The 20,000sq ft. space blends innovation and local culture into its design to create a place of discovery for guests. The internationally renowned London-based Heatherwick Studio has reimagined London's formerly derelict Victorian warehouses immediately north of St Pancras train station, now known as 'Coal Drops Yard', into the 'kissing' rooftops.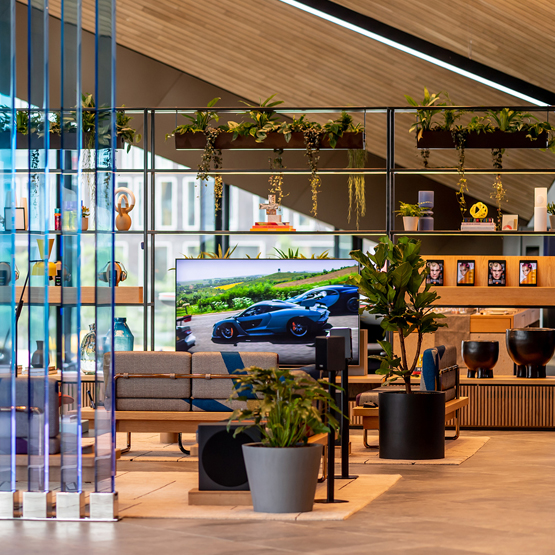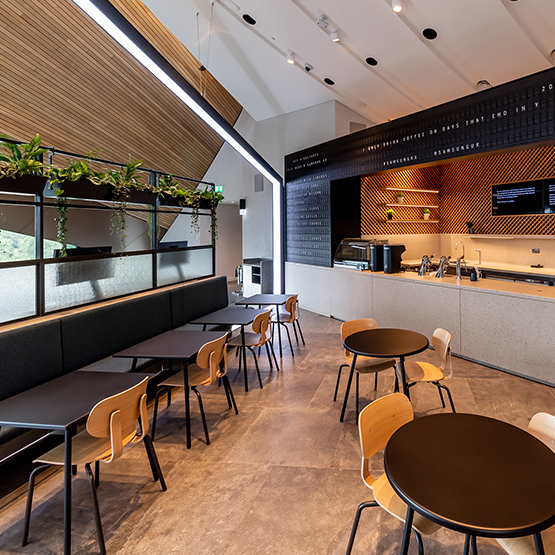 Fusing pioneering design with local heritage
The external design extends the inner gabled roofs of two heritage rail buildings from the 1850s, with a new, technical structure to form a floating upper level. The studio's design includes staggered glass panels which flood the space with natural light, illuminating the Samsung store, which boasts iconic views of the retail district and beyond.
For the interior, Samsung collaborated with local studios KSS, Brinkworth, and Portview to create an innovative retail and venue space centred around flexibility. For this purpose, everything inside the space can be easily adjusted for guests to discover new experiences. The space boasts a monolithic ceiling which is adaptable in height and un-grouted porcelain stone tiles from Domus which have been used on a dry-lay system in order to easily access and adjust the electrical wiring underneath. Local architects KSS specified Domus' Urban Style dark grey porcelain stone tiles for their high colour and texture variation, which provides visual interest across the expansive floor area.
To enable these standard 10mm tiles to be used on a dry-lay system, Domus created a bespoke technical product especially for this project, whereby two tiles were 'double-bonded' together to create a 20mm piece. In addition, a cork backing and PVC edge bonding were added to each piece. The outer edge PVC bonding has an essential anti-shock function to reduce friction between adjacent slabs, and also facilitates the lifting of the slabs once the tiles are installed, allowing Samsung to easily move the tiles and access and adjust the wiring of electrical products in the store. The cork backing ensures equal distribution of weight / impact, and provides acoustic insulation.
Since the store sits within the floating 'bridge' section above the central courtyard, under the iconic 'kissing point' of Coal Drops Yard, there are strict weight parameters with the flooring itself. The weight of the bespoke product created had to be under 50kg per SQM and had to conform to specific loading requirements. This was tested by UKAS (United Kingdom Accreditation Service), an independent accreditation and test facility, to verify that the bespoke product could take the weight required.

Elsewhere, a combination of materials has been used throughout the space, including stained oak, concrete and mirrored metals offset with soft booths and upholstery with steel seating – a nod to London's infamous recording studios and underground network. It features bespoke industrial concrete furniture designed by Brinkworth, which can be easily configured to create an auditorium set-up for up to one hundred guests, and pieces by up-and-coming British designers Lily Pearmain, Helena Lacy and Tom Dixon.
Samsung KX has been built with local heritage at its heart and this is reflected heavily in the design; right from the roof to the floor tiles. This is a destination which absolutely embodies the community of London while boasting pioneering design and challenging architectural norms. We want to be a destination of culture and innovation and that starts from the building and interior design itself.

Tanya Weller, Director of Samsung Showcase
For further information or technical advice please contact us